On-Road Price by Variants
Ex-showroom
₹

13,31,100

Insurance
₹

50,090

RTO Amount
₹

1,66,387

TCS
₹

13,311

Est On-Road Price*
₹

15.61 Lakh
Ex-showroom
₹

13,35,300

Insurance
₹

50,228

RTO Amount
₹

1,66,912

TCS
₹

13,353

Est On-Road Price*
₹

15.66 Lakh
Ex-showroom
₹

14,35,400

Insurance
₹

53,532

RTO Amount
₹

1,79,425

TCS
₹

14,354

Est On-Road Price*
₹

16.83 Lakh
Ex-showroom
₹

14,39,600

Insurance
₹

53,670

RTO Amount
₹

1,79,950

TCS
₹

14,396

Est On-Road Price*
₹

16.88 Lakh
Ex-showroom
₹

15,97,900

Insurance
₹

58,894

RTO Amount
₹

1,99,737

TCS
₹

15,979

Est On-Road Price*
₹

18.73 Lakh
2.7 VX MT 7-Seater Touring Sport
Ex-showroom
₹

17,63,400

Insurance
₹

64,356

RTO Amount
₹

2,20,425

TCS
₹

17,634

Est On-Road Price*
₹

20.66 Lakh
Ex-showroom
₹

18,84,900

Insurance
₹

68,365

RTO Amount
₹

2,35,612

TCS
₹

18,849

Est On-Road Price*
₹

22.08 Lakh
2.7 ZX AT 7-Seater Touring Sport
Ex-showroom
₹

20,46,500

Insurance
₹

73,698

RTO Amount
₹

2,55,812

TCS
₹

20,465

Est On-Road Price*
₹

23.96 Lakh
Ex-showroom
₹

13,52,600

Insurance
₹

50,799

RTO Amount
₹

1,69,075

TCS
₹

13,526

Est On-Road Price*
₹

15.86 Lakh
Ex-showroom
₹

13,56,900

Insurance
₹

50,941

RTO Amount
₹

1,69,612

TCS
₹

13,569

Est On-Road Price*
₹

15.91 Lakh
Ex-showroom
₹

14,36,300

Insurance
₹

53,561

RTO Amount
₹

1,79,537

TCS
₹

14,363

Est On-Road Price*
₹

16.84 Lakh
Ex-showroom
₹

14,40,500

Insurance
₹

53,700

RTO Amount
₹

1,80,062

TCS
₹

14,405

Est On-Road Price*
₹

16.89 Lakh
Ex-showroom
₹

15,58,400

Insurance
₹

57,591

RTO Amount
₹

1,94,800

TCS
₹

15,584

Est On-Road Price*
₹

18.26 Lakh
Ex-showroom
₹

15,62,600

Insurance
₹

57,729

RTO Amount
₹

1,95,325

TCS
₹

15,626

Est On-Road Price*
₹

18.31 Lakh
Ex-showroom
₹

17,03,100

Insurance
₹

62,366

RTO Amount
₹

2,12,887

TCS
₹

17,031

Est On-Road Price*
₹

19.95 Lakh
Ex-showroom
₹

17,07,300

Insurance
₹

62,504

RTO Amount
₹

2,13,412

TCS
₹

17,073

Est On-Road Price*
₹

20 Lakh
Ex-showroom
₹

18,85,700

Insurance
₹

68,392

RTO Amount
₹

2,35,712

TCS
₹

18,857

Est On-Road Price*
₹

22.09 Lakh
2.4 VX MT 7-Seater Touring Sport
Ex-showroom
₹

19,60,600

Insurance
₹

70,863

RTO Amount
₹

2,45,075

TCS
₹

19,606

Est On-Road Price*
₹

22.96 Lakh
Ex-showroom
₹

20,07,900

Insurance
₹

72,424

RTO Amount
₹

2,50,987

TCS
₹

20,079

Est On-Road Price*
₹

23.51 Lakh
2.8 ZX AT 7-Seater Touring Sport
Ex-showroom
₹

22,14,600

Insurance
₹

79,245

RTO Amount
₹

2,76,825

TCS
₹

22,146

Est On-Road Price*
₹

25.93 Lakh
Toyota Innova Crysta Overview
Toyota Innova Crysta Reviews
We pit the new generation Toyota Innova Crysta with its closest competitor the Renault Lodgy to see if the new MPV still holds the podium in the MPV segment or can the Lodgy finally take over. Read More

We drive the all-new Toyota Innova Crysta to see what does this new gen model of the popular MPV brings to the table. Read More
Very Very poor service also very very poor

Bad suspension ruff road staring vobling complain pls don't by this car pls pls really any body contact me 09626119696

Innova crysta review

This car is very good at performance. It's interesting to drive.

Good mileage and comfort

Good pickup, comfort, and mileage.

One of the best MPV in its segment

Value for money vehicle.

Very Excellent MPV

Very Excellent family car
All Toyota Innova Crysta User Reviews (9)
User Reviews
Average Based on 9 Reviews
Write a Review
Elegant New Grille

With a 3D trapezoidal design for a powerful impression

Automatic LED Projector Headlamps

With auto levelling, follow-me-home and LED clearance lamps adds to the innovative appearance

17 Inch Alloy Wheels

With triple-spoke composition for a sharp and sporty look

Wood Finish Interior Panels

For a premium and luxurious look

3-Dimensional Combination Meter with 4.2 Inch TFT MID

With drive information, cost calculator and telephone / navigation display adds to the car's intelligence

User-friendly 7 Inch Touchscreen Audio

With navigation and trip information

Start & Stop Button

For the convenience of starting the car at the touch of a button

Ambient Illumination

Gives the cabin a luxurious look and feel

Shark Fin Antenna and Integrated Rear Spoiler

Adds to the overall aerodynamics

Back Door Easy Closer

To effortlessly close the back door

Welcome Lamps

Provide a warm welcome every time you approach the Innova Crysta

Rear Unique Inverted Lights

With L-shaped silhouette and aero stabilising fins

Premium Design Smart Entry Key

With blue accents to match interior illumination

Chrome Window Lining

Powerful New Diesel Engine

Has improved fuel economy performance while torque in the low and medium speed ranges have been considerably increased

6 Super ECT with Sequential Shift

6 speed super intelligent electronically controlled automatic transmission that draws out the engine's maximum potential

Easy Slide Front Passenger Seat

To adjust the rear legroom

Rear AC Auto Cooler with Digital Display

One Touch Tumble Second Row Seat

Makes access to the third row seats easy. One touch space-up third row seat makes room for extra storage
Toyota Innova Crysta Specifications
Dimensions
| | |
| --- | --- |
| Length | 4735 mm |
| Width | 1830 mm |
| Height | 1795 mm |
| Wheelbase | 2750 mm |
| Ground Clearance | 167 mm |
| Boot Space | 400 L |
| Kerb Weight | 1868 Kg |
| | |
| --- | --- |
| Gross Weight | 2450 Kg |
| Front Track | 1530 mm |
| Rear Track | 1530 mm |
| Minimum Turning Radius | 5.40 m |
| No. Of Doors | 5 |
| Seating Capacity | 7 |
Wheels & Tyres
| | |
| --- | --- |
| Wheel Type | Alloy Wheels |
| Tyre Type | Tubeless |
| | |
| --- | --- |
| Front Tyre Size | 205/65 R17 |
| Rear Tyre Size | 205/65 R17 |
Braking System
| | |
| --- | --- |
| Rear Brake Type | Leading-Trailing Drum |
Suspension
| | |
| --- | --- |
| Front Suspension | Double Wishbone With Torsion Bar |
| | |
| --- | --- |
| Rear Suspension | 4-Link With Coil Spring |
Steering
| | |
| --- | --- |
| Power Steering | Yes |
| Steering Type | Electric Power Steering |
| | |
| --- | --- |
| Adjustable Power Steering | Yes |
Toyota Innova Crysta Features
2.7 GX MT 7-Seater | 2.7 GX MT 8-Seater
Airbags

Passenger Airbags

ABS

Electronic Brakeforce Distribution

Brake Assist

Engine Immobilizer

Central Locking

Child Safety Lock

Power Door Lock

Turn Indicators On ORVM

Rear Wiper

Headlamp Beam Adjuster
12 Safety & Security features Features
2.7 GX AT 7-Seater | 2.7 GX AT 8-Seater
2.7 GX MT 7-Seater Features
6 Super ECT with Sequential Shift
13 Safety & Security features Features
2.7 VX MT 7-Seater
2.7 GX AT 7-Seater Features
Automatic Headlamps

Back Door Easy Closer

Premium Design Smart Entry Key

Elegant New Grille

Start & Stop Button
18 Safety & Security features Features
2.7 VX MT 7-Seater Touring Sport
2.7 VX MT 7-Seater Features
Side Airbags

17 Inch Alloy Wheels

Wood Finish Interior Panels
21 Safety & Security features Features
2.7 ZX AT 7-Seater | 2.7 ZX AT 7-Seater Touring Sport
2.7 VX MT 7-Seater Touring Sport Features
Hill Assist

Electronic Stability Program
23 Safety & Security features Features
2.7 GX MT 7-Seater | 2.7 GX MT 8-Seater | 2.7 GX AT 7-Seater | 2.7 GX AT 7-Seater | 2.7 GX AT 8-Seater
Air Conditioner

Heater

Steering Adjustment

Power Outlets 12V

Rear Parking Sensor

Electrically Adjustable Rear View Mirror

Front Armrest

Rear Armrest

Upholstery

Front Cup Holders

Keyless Entry

Shark Fin Antenna and Integrated Rear Spoiler

One Touch Tumble Second Row Seat
13 Comfort & Convenience Features
2.7 VX MT 7-Seater
2.7 GX MT 7-Seater Features
Steering Mounted Audio

Rear Parking Camera

Push Start Stop Button

Height Adjustable Driver Seat

Climate Control

Rear AC Auto Cooler with Digital Display

Automatic LED Projector Headlamps

Ambient Illumination
21 Comfort & Convenience Features
2.7 VX MT 7-Seater Touring Sport
2.7 VX MT 7-Seater Features
Chrome Window Lining

Easy Slide Front Passenger Seat
23 Comfort & Convenience Features
2.7 ZX AT 7-Seater | 2.7 ZX AT 7-Seater Touring Sport
2.7 VX MT 7-Seater Touring Sport Features
24 Comfort & Convenience Features
2.7 GX MT 7-Seater | 2.7 GX MT 8-Seater | 2.7 GX AT 7-Seater | 2.7 GX AT 7-Seater | 2.7 GX AT 8-Seater
Light Type

Rear Fog Lamps

Rear Unique Inverted Lights
3 Lights Features
2.7 VX MT 7-Seater | 2.7 VX MT 7-Seater Touring Sport | 2.7 ZX AT 7-Seater | 2.7 ZX AT 7-Seater | 2.7 ZX AT 7-Seater Touring Sport
2.7 GX MT 7-Seater Features
Front Fog Lamps

Welcome Lamps
5 Lights Features
2.7 GX MT 7-Seater | 2.7 GX MT 8-Seater | 2.7 GX AT 7-Seater | 2.7 GX AT 7-Seater | 2.7 GX AT 8-Seater
Average Fuel Efficiency Indicator

Seat Belt Warning

Low Fuel Warning

Door Ajar Warning
4 Instrumentation & Communication Features
2.7 VX MT 7-Seater
2.7 GX MT 7-Seater Features
3-Dimensional Combination Meter with 4.2 Inch TFT MID
5 Instrumentation & Communication Features
2.7 VX MT 7-Seater Touring Sport
2.7 VX MT 7-Seater Features
User-friendly 7 Inch Touchscreen Audio
6 Instrumentation & Communication Features
2.7 ZX AT 7-Seater | 2.7 ZX AT 7-Seater Touring Sport
2.7 VX MT 7-Seater Touring Sport Features
7 Instrumentation & Communication Features
2.7 GX MT 7-Seater | 2.7 GX MT 8-Seater | 2.7 GX AT 7-Seater | 2.7 GX AT 7-Seater | 2.7 GX AT 8-Seater
2.7 VX MT 7-Seater | 2.7 VX MT 7-Seater Touring Sport | 2.7 ZX AT 7-Seater | 2.7 ZX AT 7-Seater | 2.7 ZX AT 7-Seater Touring Sport
2.7 GX MT 7-Seater Features
Music System

CD/DVD Player

Radio

USB Support

Bluetooth Support
6 Entertainment Features
2.4 G MT 7-Seater | 2.4 G MT 8-Seater | 2.4 GX MT 7-Seater | 2.4 GX MT 7-Seater | 2.4 GX MT 8-Seater
Airbags

Passenger Airbags

ABS

Electronic Brakeforce Distribution

Brake Assist

Engine Immobilizer

Central Locking

Child Safety Lock

Power Door Lock

Turn Indicators On ORVM

Rear Wiper

Headlamp Beam Adjuster

Powerful New Diesel Engine
13 Safety & Security features Features
2.8 GX AT 7-Seater | 2.8 GX AT 8-Seater
2.4 G MT 7-Seater Features
6 Super ECT with Sequential Shift
14 Safety & Security features Features
2.4 VX MT 7-Seater | 2.4 VX MT 8-Seater
2.8 GX AT 7-Seater Features
Automatic Headlamps

Start & Stop Button

Back Door Easy Closer

Premium Design Smart Entry Key

Elegant New Grille
19 Safety & Security features Features
2.4 ZX MT 7-Seater | 2.4 VX MT 7-Seater Touring Sport | 2.8 ZX AT 7-Seater | 2.8 ZX AT 7-Seater Touring Sport
2.4 VX MT 7-Seater Features
Side Airbags

Hill Assist

Electronic Stability Program

17 Inch Alloy Wheels

Wood Finish Interior Panels
24 Safety & Security features Features
2.4 G MT 7-Seater | 2.4 G MT 8-Seater
Air Conditioner

Heater

Steering Adjustment

Power Outlets 12V

Rear Parking Sensor

Electrically Adjustable Rear View Mirror

Rear Armrest

Upholstery

Front Cup Holders

Keyless Entry

One Touch Tumble Second Row Seat

Shark Fin Antenna and Integrated Rear Spoiler
12 Comfort & Convenience Features
2.4 GX MT 7-Seater | 2.4 GX MT 8-Seater | 2.8 GX AT 7-Seater | 2.8 GX AT 7-Seater | 2.8 GX AT 8-Seater
2.4 G MT 7-Seater Features
13 Comfort & Convenience Features
2.4 VX MT 7-Seater | 2.4 VX MT 8-Seater
2.4 GX MT 7-Seater Features
Steering Mounted Audio

Rear Parking Camera

Push Start Stop Button

Height Adjustable Driver Seat

Climate Control

Rear AC Auto Cooler with Digital Display

Automatic LED Projector Headlamps

Ambient Illumination
21 Comfort & Convenience Features
2.4 ZX MT 7-Seater | 2.4 VX MT 7-Seater Touring Sport | 2.8 ZX AT 7-Seater | 2.8 ZX AT 7-Seater Touring Sport
2.4 VX MT 7-Seater Features
Cruise Control

Chrome Window Lining

Easy Slide Front Passenger Seat
24 Comfort & Convenience Features
2.4 G MT 7-Seater | 2.4 G MT 8-Seater | 2.4 GX MT 7-Seater | 2.4 GX MT 8-Seater | 2.8 GX AT 7-Seater | 2.8 GX AT 7-Seater | 2.8 GX AT 8-Seater
Light Type

Rear Fog Lamps

Rear Unique Inverted Lights
3 Lights Features
2.4 VX MT 7-Seater | 2.4 VX MT 8-Seater | 2.4 ZX MT 7-Seater | 2.4 VX MT 7-Seater Touring Sport | 2.8 ZX AT 7-Seater | 2.4 ZX MT 7-Seater | 2.4 VX MT 7-Seater Touring Sport | 2.8 ZX AT 7-Seater | 2.8 ZX AT 7-Seater Touring Sport
2.4 G MT 7-Seater Features
Front Fog Lamps

Welcome Lamps
5 Lights Features
2.4 G MT 7-Seater | 2.4 G MT 8-Seater | 2.4 GX MT 7-Seater | 2.4 GX MT 8-Seater | 2.8 GX AT 7-Seater | 2.8 GX AT 7-Seater | 2.8 GX AT 8-Seater
Average Fuel Efficiency Indicator

Seat Belt Warning

Low Fuel Warning

Door Ajar Warning
4 Instrumentation & Communication Features
2.4 VX MT 7-Seater | 2.4 VX MT 8-Seater
2.4 G MT 7-Seater Features
3-Dimensional Combination Meter with 4.2 Inch TFT MID
5 Instrumentation & Communication Features
2.4 ZX MT 7-Seater | 2.4 VX MT 7-Seater Touring Sport | 2.8 ZX AT 7-Seater | 2.8 ZX AT 7-Seater Touring Sport
2.4 VX MT 7-Seater Features
GPS Navigation

User-friendly 7 Inch Touchscreen Audio
7 Instrumentation & Communication Features
2.4 G MT 7-Seater | 2.4 G MT 8-Seater | 2.4 GX MT 7-Seater | 2.4 GX MT 8-Seater | 2.8 GX AT 7-Seater | 2.8 GX AT 7-Seater | 2.8 GX AT 8-Seater
2.4 VX MT 7-Seater | 2.4 VX MT 8-Seater | 2.4 ZX MT 7-Seater | 2.4 VX MT 7-Seater Touring Sport | 2.8 ZX AT 7-Seater | 2.4 ZX MT 7-Seater | 2.4 VX MT 7-Seater Touring Sport | 2.8 ZX AT 7-Seater | 2.8 ZX AT 7-Seater Touring Sport
2.4 G MT 7-Seater Features
Music System

CD/DVD Player

Radio

USB Support

Bluetooth Support
6 Entertainment Features
Toyota Innova Crysta Photos & Videos
Toyota Innova Crysta Preview
Toyota Innova Crysta range is available with diesel engine options mated to a five-speed manual gearbox and six-speed automatic unit. With the fresh dose of updates bestowed on the MPV it looks more up-market than its predecessor. Spruced up interior gets significant design tweaks and packs in vital features like 4.2-inch TFT Multi Information Display, 7-inch touch-screen system with DVD player, dedicated AC vents for second and third row etc . Power comes from a 2.4 litre GD diesel engine developing 147bhp along with 343Nm and a 2.8 litre unit producing 171bhp and 360Nm.

Available at Rs 13.84 lakh (ex-showroom, Mumbai), Toyota Innova Crysta has surpassed rivals in terms of looks, space and performance. Toyota Innova's journey started in India around a decade ago, when Toyota brought the people mover to India as a replacement of Qualis. The competition was less as customers were reluctant to splurge a hefty amount on MPVs back then, but fortunately for Innova it gained ground in the hatchback obsessed Indian market. Innova reigned for years with almost no competition unless the compact MPVs came into existence, the threat however was temporary and Innova sailed through the rough patch safely, but this jolt was necessary for the carmaker to realise that it was time to give Innova a much needed update and so we have the second generation Innova with an additional suffix-Crysta. This additional suffix defines the premium look it carries, something that was missing earlier. Coming to the new generation model, it has received thorough cosmetic upgrades on the exteriors, additions have also been made to the cabin and Innova now comes with a whole lot of goodies. Engine set up comprises of two diesel powertrains, the petrol unit has been skipped for now. Power output has increased significantly and the transmission duties rely on a manual unit along with an auto box available on select variants.
Toyota Innova Crysta Exteriors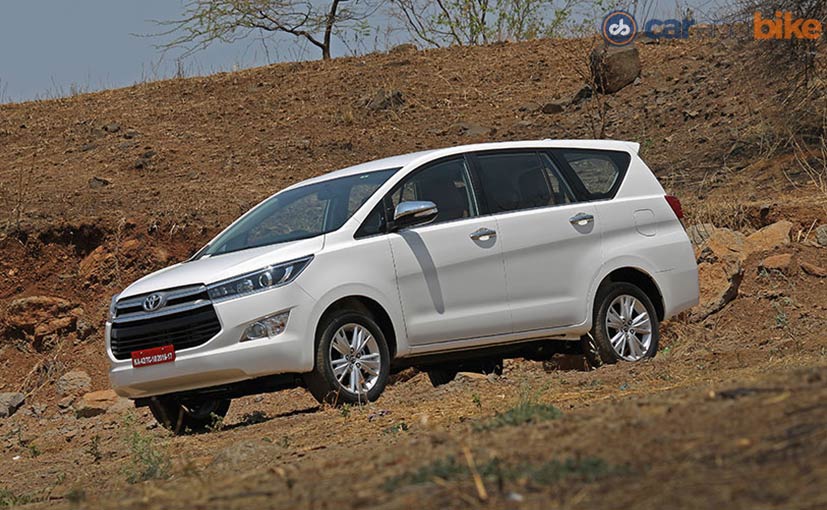 The best part about the new Innova is that it looks nothing like a van unlike before; it is leaner and gets contemporary treatment. The front end in particular steals the limelight as its gets the frame-less grille followed by multiple slats. Good part is that despite the lean look, the MPV gets key elements that retain the muscularity. Head lamps are long, sleek and pulled back and LEDs add a sense of modish touch to it.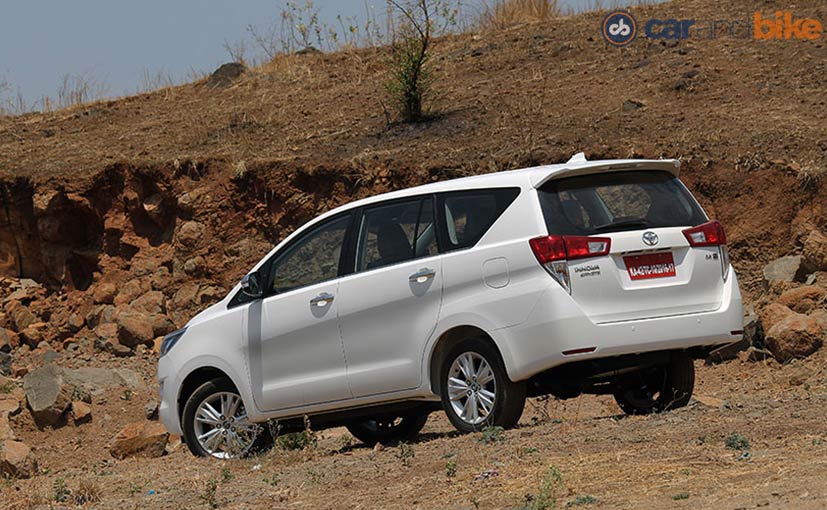 Toyota has not overdone the chrome work particularly in front. Side profile is familiar to the preceding model, although the tapering window frame lends a modish flair to it. 17 inch wheels are tucked under the muscular fenders. At the back there is a prominent integrated spoiler atop and boomerang shaped wrap around tail lamps.
Toyota Innova Crysta Interiors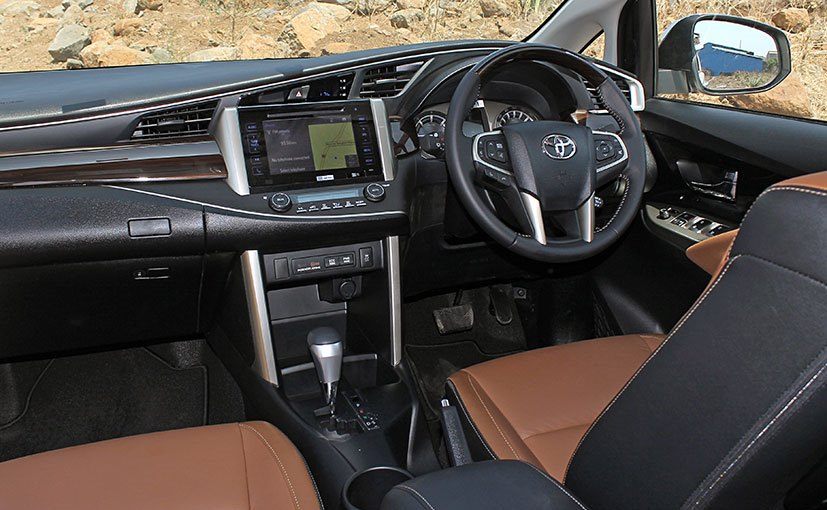 There is no change in the wheelbase, which means there is still a lot of space inside for occupants. The cabin is spruced up, dashboard gets a new design, but what really doesn't go well with the otherwise finished cabin is the low quality plastic used on the glovebox.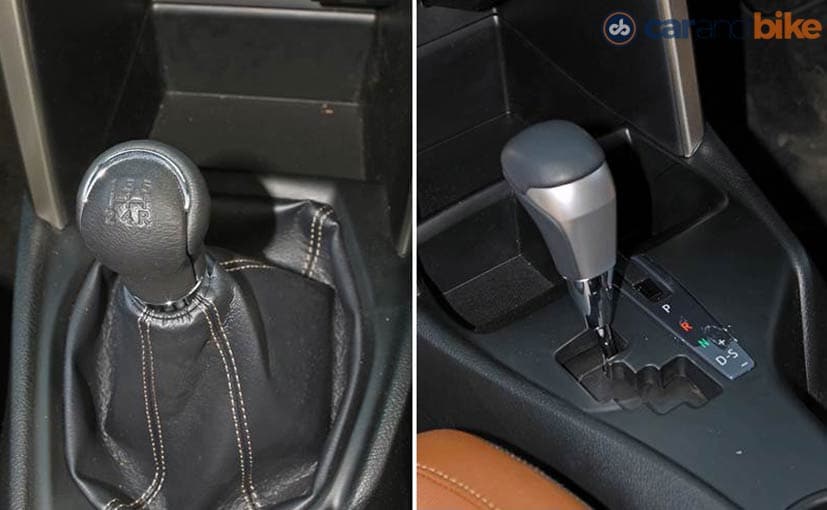 Chrome is used amply inside and there is a large touch-screen on the console, temperature dials are placed right below the screen. Storage space is generous with about 20 bottle holders inside the cabin and dedicated AC vents are provided in second as well as third rows.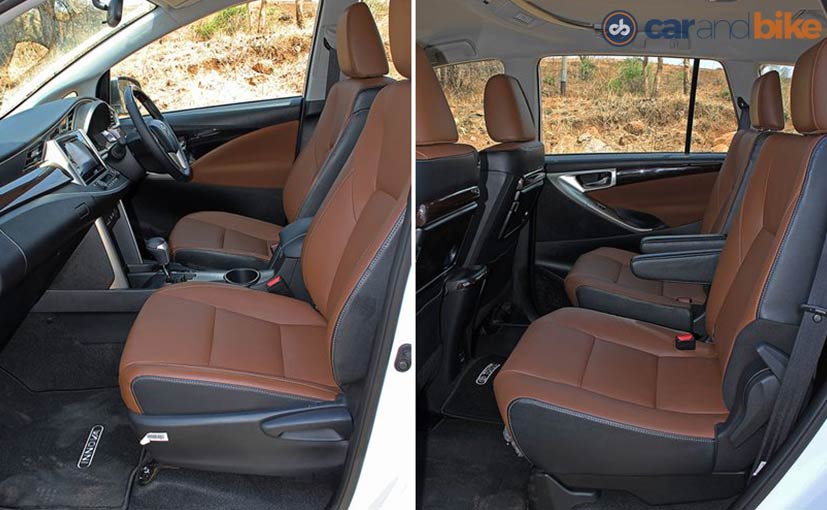 Foldable seat back table are provided at the back which can be used for keeping a small laptop. First and second rows are spacious, but third row can accommodate two adults easily leaving less room for the third occupant. The MPV is available with seven and eight seat layout.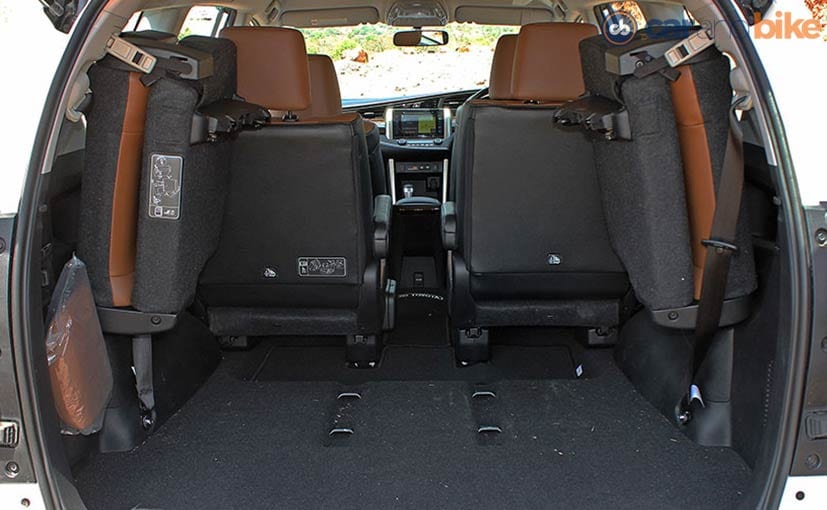 Toyota Innova Crysta Engine Specifications & Transmission
| | |
| --- | --- |
| Engine | 2.4-Litre |
| Displacement | 2393 CC |
| No. of Cylinders | 4 |
| Power | 148bhp@3400rpm |
| Torque | 343Nm@1400-2800rpm |
| Drive Train | FWD |
| Transmission | 5-speed |
| Fuel Tank Capacity | 55 Litre |
Toyota Innova line-up is available only in diesel range; Toyota might introduce a petrol option later. As of now, the MPV is available with a 2.4 litre and 2.8 litre units. There is a considerable increase in the power output, the 2.4 litre GD diesel engine produces 147bhp which is much more than 101bhp offered by the previous 2.5 litre engine.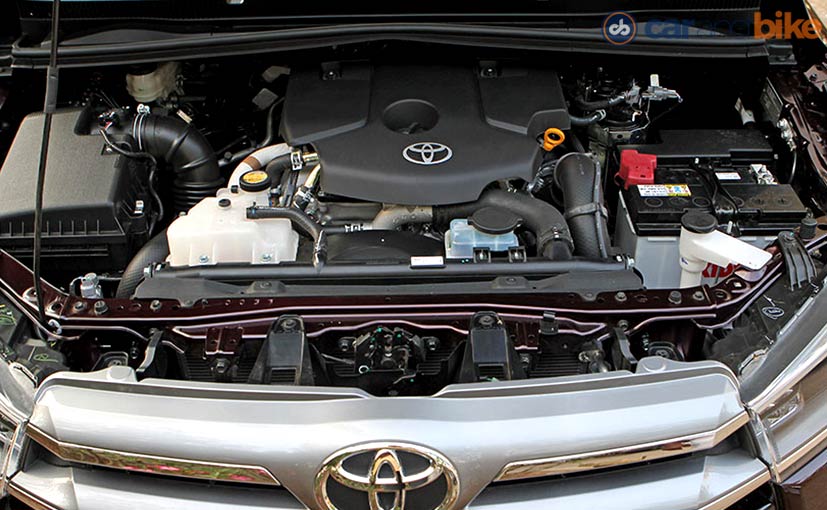 Torque developed is around 343Nm and the engine comes paired to a five-speed manual gearbox. The higher displacing 2.8 litre unit puts out 171bhp along with 360Nm of torque and gets a six-speed automatic transmission for directing power to wheels. Transmission options include a five-speed manual unit, whereas the automatic gearbox is available only on the top-spec variants.
Toyota Innova Crysta Features
Exteriors get chrome finished front grille with high gloss lower grille, automatic projector headlamps with LED treatment and power adjustable & retractable ORVMs with welcome lights and side turn indicators. Cabin features indirect blue illumination ambient illumination, instrument panel, speedometer, multi-information display, cooled-glove box and console box with lid.
Toyota Innova Crysta Performance & Mileage
The high capacity diesel engines deliver decent mileage, the 2.4 litre GD diesel unit is claimed to return 15.10 km/l and fuel economy for the 2.8 litre diesel engine is rated at 14.29 km/l.
2.4L GD Diesel Manual
Mileage ARAI
15.10kmpl
Mileage City
9 (Average of Users' input)
Mileage Highway
10 (Average of Users' input)
2.8L Diesel Automatic
Mileage ARAI
14.29kmpl
Mileage City
8 (Average of Users' input)
Mileage Highway
9 (Average of Users' input)
Toyota Innova Crysta Accessories & Infotainment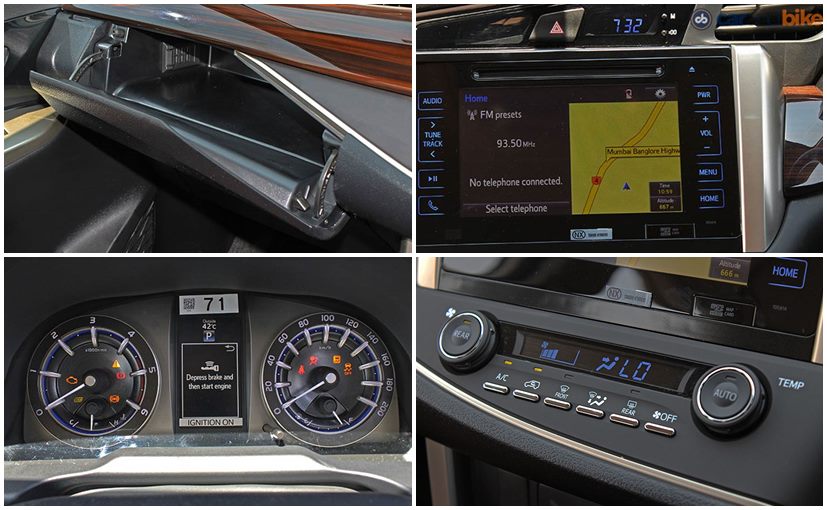 Inside the cabin, there is a 4.2-inch TFT Multi-Information Display which provides drive information and also gets audio display, navigation display, phone caller display etc. There is also a 7 inch touch-screen system which comes with a DVD player. Leather wrapped steering wheel with wood finish has a large gripping area and gets mounted controls.
Toyota Innova Crysta Braking & Handling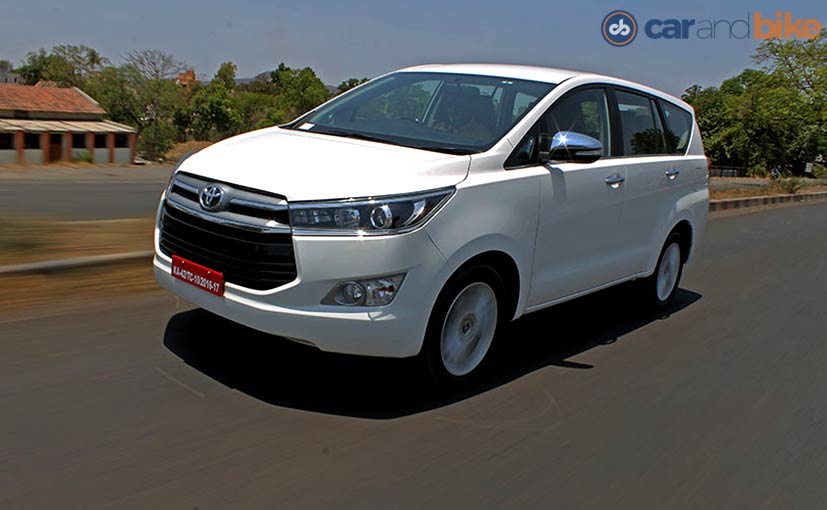 Braking duties are handled by disc unit in front and drum brakes at rear. Anti-lock-braking system with electronic brakeforce distribution is standard across variants.
Toyota Innova Crysta Safety & Security
Innova range gets three airbags including driver airbag, co-passenger airbag and there is a knee-bag as well. Vehicle stability control and hill start assist control are available only on the range topping variants. Other safety features that are also available on Innova include seat belts in front and rear, child restraint system, back monitor, clearance and back sonar, seat belt warning, door ajar warning and immobilizer.
Toyota Innova Crysta Comfort & Convenience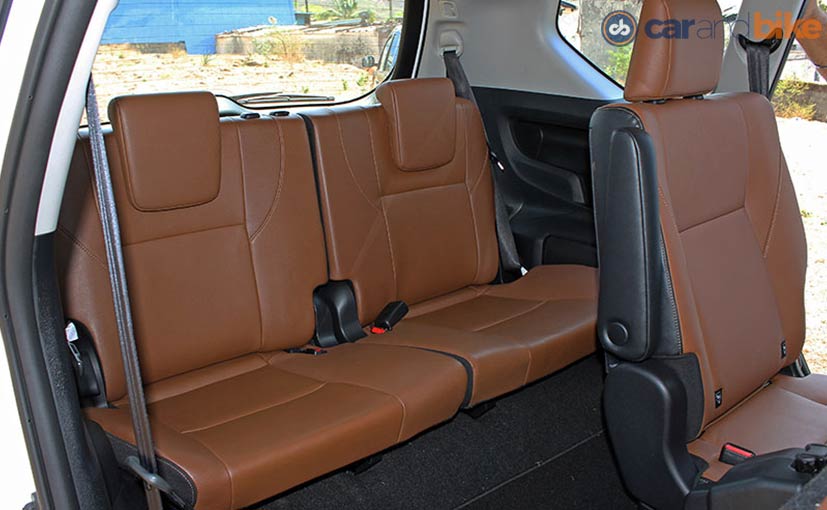 Toyota has added more features to the second generation Innova, among the comfort features, the MPV gets air conditioner, AC vents for second & third row, separate seats in front row with slide and recline function. Features like eight way power adjustable driver seat and passenger seat easy slide are available on the top-of-the-line variants. Vital features aboard include smart entry system, wireless door lock, speed sensing door lock, cruise control, tilt & telescopic power steering, power windows among others.
Toyota Innova Crysta Wheels & Tyres
Tyres are larger than the outgoing model and provide better grip and hold on the road. Alloy rims are offered in two options - 16 and 17 inch.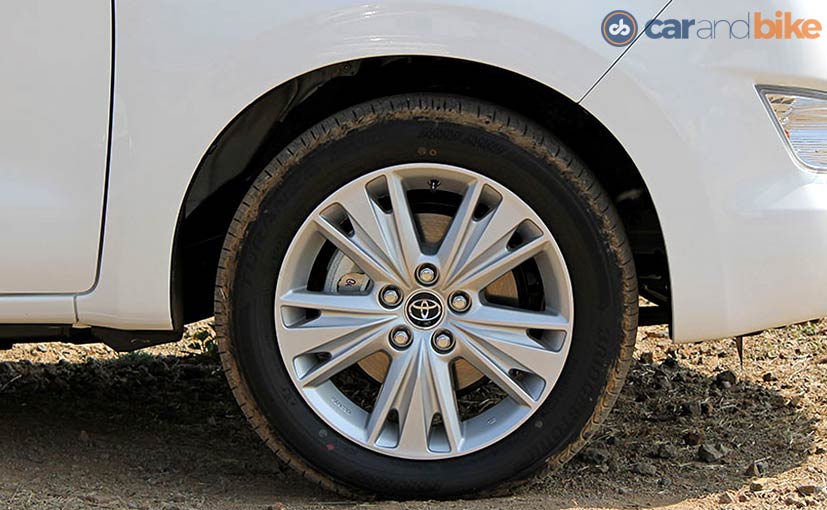 Toyota Innova Crysta Competition
With the fresh dose of updates, Innova has surpassed the current line of options in the MPV segment and has entered the league of premium MPVs where it does not have a direct rival to defy. The MPV however will take on the likes of Tata Hexa and Renault Lodgy in Indian market.
Pros
The new Toyota Innova Crysta is more spacious
Luxurious & comfortable than the outgoing model
The MPV gets a host of impressive safety features such as three airbags
Vehicle stability control & hill start assist control to name a few
The 2.8 litre diesel engine delivers a healthy power output of 171bhp
Comes paired to an auto tranny.
Cons
With all that changes and new additions Toyota Innova Crysta is pricier than before
One of the other areas where Innova Crysta lags behind is refinement.
Read More
Read Less
Book Test Drive for Toyota Innova Crysta
Toyota Innova Crysta Comparison
(On-Road Price New Delhi)
Displacement

2694 CC

Power

164 bhp@5200 rpm

Mileage

9.89 kmpl

Transmission

Manual
Toyota Innova Crysta Price By Variants
Variant
On Road Price
Spec
Compare

2.7 GX MT 7-Seater

₹

15.61 Lakh

Manual, Petrol, 9.9 Kmpl

2.7 GX MT 8-Seater

₹

15.66 Lakh

Manual, Petrol, 9.9 Kmpl

2.7 GX AT 7-Seater

₹

16.83 Lakh

Automatic, Petrol, 10.8 Kmpl

2.7 GX AT 8-Seater

₹

16.88 Lakh

Automatic, Petrol, 10.8 Kmpl

2.7 VX MT 7-Seater

₹

18.73 Lakh

Manual, Petrol, 9.9 Kmpl

2.7 VX MT 7-Seater Touring Sport

₹

20.66 Lakh

Manual, Petrol, 9.9 Kmpl

2.7 ZX AT 7-Seater

₹

22.08 Lakh

Automatic, Petrol, 10.8 Kmpl

2.7 ZX AT 7-Seater Touring Sport

₹

23.96 Lakh

Automatic, Petrol, 10.8 Kmpl

2.4 G MT 7-Seater

₹

15.86 Lakh

Manual, Diesel, 15.1 Kmpl

2.4 G MT 8-Seater

₹

15.91 Lakh

Manual, Diesel, 15.1 Kmpl

2.4 GX MT 7-Seater

₹

16.84 Lakh

Manual, Diesel, 15.1 Kmpl

2.4 GX MT 8-Seater

₹

16.89 Lakh

Manual, Diesel, 15.1 Kmpl

2.8 GX AT 7-Seater

₹

18.26 Lakh

Automatic, Diesel, 14.3 Kmpl

2.8 GX AT 8-Seater

₹

18.31 Lakh

Automatic, Diesel, 14.3 Kmpl

2.4 VX MT 7-Seater

₹

19.95 Lakh

Manual, Diesel, 15.1 Kmpl

2.4 VX MT 8-Seater

₹

20 Lakh

Manual, Diesel, 15.1 Kmpl

2.4 ZX MT 7-Seater

₹

22.09 Lakh

Manual, Diesel, 15.1 Kmpl

2.4 VX MT 7-Seater Touring Sport

₹

22.96 Lakh

Manual, Diesel, 15.1 Kmpl

2.8 ZX AT 7-Seater

₹

23.51 Lakh

Automatic, Diesel, 14.3 Kmpl

2.8 ZX AT 7-Seater Touring Sport

₹

25.93 Lakh

Automatic, Diesel, 14.3 Kmpl
Apply Loan for Toyota Innova Crysta
Price
₹

13,31,100

(Ex-showroom price in

New Delhi

)
Loan Amount

Interest Payable

Total loan payment
Calculated on Ex-showroom Price
Change Car
Or Choose From Similar Cars
or select from popular cities