Mahindra KUV100, which has been launched in India at ₹ 4.42 lakh (ex-showroom, Pune), is a name (that like its stable-mates the TUV300 and XUV500) will take quite a lot of getting used to. The KUV nomenclature comes from Cool Utility Vehicle (yes cool with a k!) and is in line with Mahindra's obsession of forcing alphanumeric names down our throats, even when names like Scorpio and Bolero were attractive, iconic and unique! But that being said, soon we will be used to it anyway, so let me also quickly tell you that the plan from Mahindra is simple. All monocoque vehicles that share a platform with the current XUV500 in the future will carry the XUV prefix, those that share the ladder frame platform of the Scorpio will be badged TUV-something and the compact cars on the new S101 platform will be branded KUV.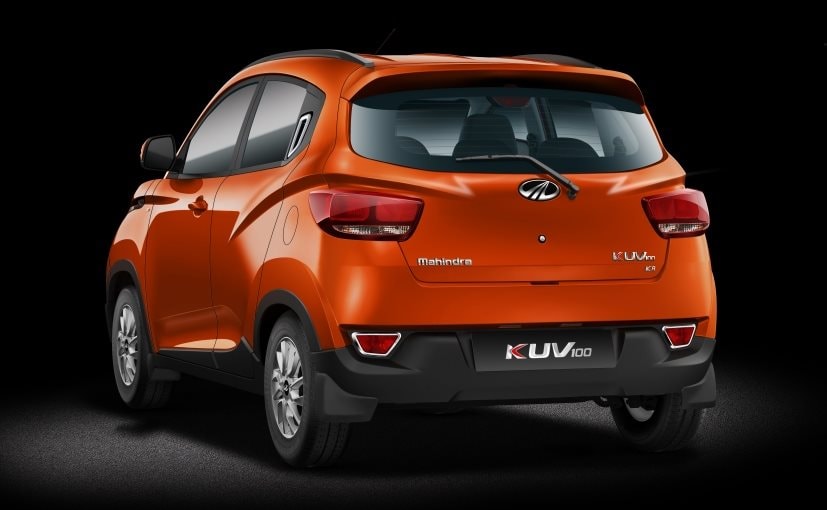 4.88 Lakh *
On Road Price (New Delhi)
The part that I once again applaud Mahindra for is sticking to the promise made two years ago. EVERY variant of EVERY new launch will have optional if not standard safety equipment. We saw that with the Scorpio, the TUV300 and now the KUV100 carries that forward. The KUV100 in fact also has ABS as standard across the range anyway - a big plus in this segment. We have seen that Mahindra's bold and progressive stance on safety has made consumers more aware and interested. M&M sales show that more of them opt for the safety rather than skimp on it by the way, which is very heartening. It has also compelled the competition to rethink safety - In 2014 we saw M&M, Toyota and VW get proactive on safety, and in 2015 it was finally the market leaders Maruti and Hyundai that have also got in line. So kudos again Mahindra!
The Mahindra KUV100 can now be booked on the carandbike website. Click here to book yours today!
So now let me tell you all about the new KUV100. The car is a subcompact crossover - I guess that is how it is positioned. But look closer and you realise that the company that said it will never make cars, only UVs has made a small car! The KUV100 has entry hatchback proportions, and sits below 4 metres in length at 3675mm. It is tall though at 1655mm (inclusive of the roof rails which are available only on the top two variants). In terms of looks the KUV100 is bold and modern - though as usual Mahindra has erred on the side of overstyling than opting for the subtle route. Having said that, the KUV100 is appealing, and has much better build and metal surfacing than existing Mahindras. The Evoquesque headlamp cluster that extends all the way back over the fender and wheel arch is distinct, and also carries the car's name. The daytime running LEDs are only the preserve of the top-end K8 variant sadly.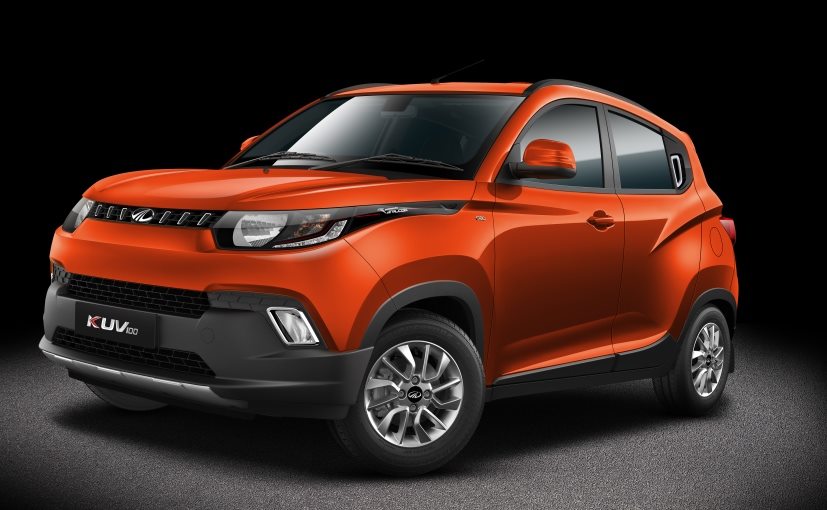 The K8 variant also gets alloy wheels, and the start-stop function for enhanced efficiency. It also gets chromed accentuated fog light housing and rear door handles. Speaking of those, the handles at the rear are like those in the Chevrolet Beat, built into the window/quarter glass area. I actually like them in black - as the whole point of putting them there is to conceal them! Oh well!
The KUV100 marks Mahindra's serious entry into the petrol segment. While M&M has offered petrol options in the past on models like the Scorpio, this is the first indigenous petrol engine it has designed and built by Mahindra at its Chakan plant. The mFalcon engine development programme began 5 years ago, and has delivered new leaner modular diesel and petrol engines to both Mahindra and SsangYong. The 1.2 litre iteration of the petrol engine badged G80 has gone into the KUV100, while its 1.6 litre avatar does duty in the SsangYong Tivoli. Similarly the 1.2 litre diesel engine badged D75 is what we are getting now, while there are 1.5 litre (future M&M products) and 1.6 litre iterations (SsangYong Tivoli) of that engine too.

Also Read: Things You Need To Know About Mahindra KUV100

I drove both the engines, and in a gist let me say that they do impress. Power delivery on the diesel is smooth, it also sounds growly and offers plenty of torque. The peak torque of 190 Nm kicks in as low as 1750 rpm, and affords good driveability - even in city type stop and go traffic. The 5 Speed manual gearbox does well, though a car of this size would do well with an automatic too - and I mean automatic (read AISIN 6 speed auto like the Tivoli's) not an AMT. But price pressures may mean when Mahindra decides to go auto with the KUV100 it will end up being an AMT like the TUV's. For now though all you get is a manual car.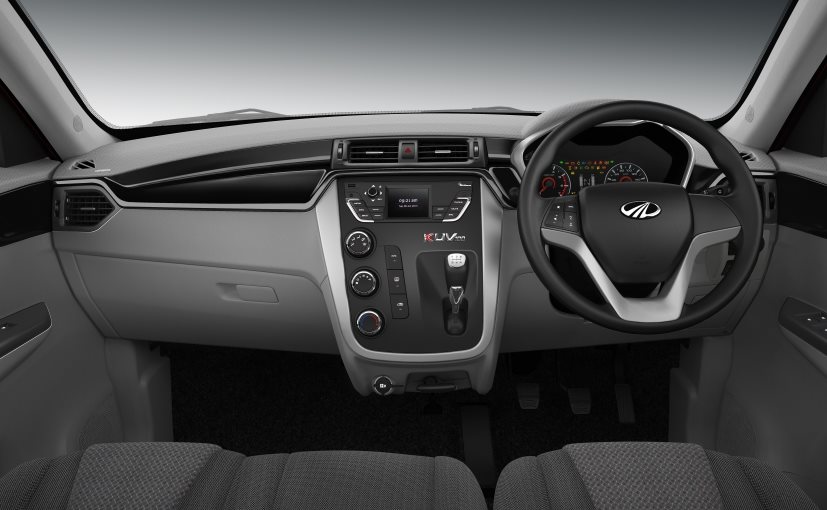 The petrol is also growly - and that is a bit of a surprise, but drive the car for a bit and you realise it is not like this is an unrefined engine, it just is its nature. The car accelerates quicker with this engine, and there is a lot of power on hand, especially when you're in the 3500 and 5500-rpm band. The specs compare well with the rival hatches, but even so in comparison to the EcoSport. The car's suspension and ride quality will also impress. I do think the Grand i10 handles better, and the KUV100 could've used a smoother steering though. But the comfort factor - especially when sitting at the back, was a positive surprise for me. The cabin in fact is comfy. Overall sense of space is good, and Mahindra has stayed with the darker tones. Material quality is good, but the perceived sense of quality you get from the Grand i10 is missing. Overall dash and console design though is modern and quite funky - an intentional brief to the designers. That is because the KUV100 is being targeted at upwardly mobile and younger buyers - those who may be choosing their first vehicle, or upgrading from an entry level hatch. And that is why it also has features like Bluetooth and iPod connectivity, steering mounted controls that such buyers look for.

Also Read Specs Comparison: Mahindra KUV100 vs Hyundai Grand i10 vs Maruti Suzuki Swift

The KUV100 comes in 4 variants: K2, K4, K6 and K8 (there are K4+, K6+ variants that have dual airbags). Interestingly the K2 and K4 do not have any of the cladding that accentuate the car's SUV like stance. I would actually like to take a look at those, to see how hatch-like the KUV100 then looks. The car is being sold as a 6 or 5 seater. The base K2 variant only comes in the 6-seater configuration, while you can opt for the 5 or 6-seat configuration in the other variants. So how does the 6th seat work? The front seat is bench-like, and Mahindra insists is safe for a 3rd, middle occupant. The middle seat has its own seatbelt and when not in use, its back can be collapsed to provide an armrest for the front passengers. It is just a lap belt though, and not a 3-point belt, which is a miss for me. Now before you jump to visions of the Datsun Go, also consider better-equipped and safer cars like the Fiat Multipla, which also had 3 front seats in Europe. What I do need to know from Mahindra is whether or not the dual airbags in the 6-seater version carry a wider passenger side airbag than the 5 seat variant - like the Multipla has for instance.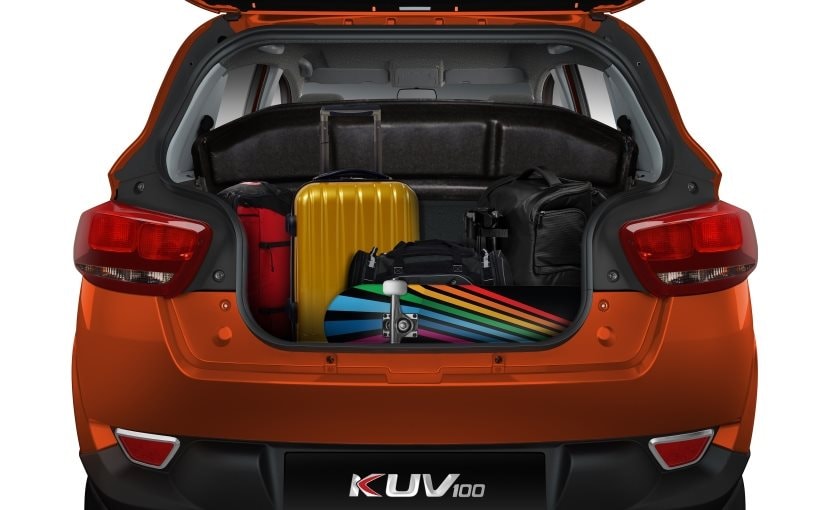 The KUV100 is available in 7 colours - the orange, red, grey, aqua blue, and the inevitable silver, white and black. I have to say the orange looks good, but I think the grey will be my second favourite. Will the KUV100 get an AMT is a question I am hearing a lot - and the answer is Mahindra wants to wait and assess customer feedback before jumping into a hasty decision. In the long run, it may be better for M&M and SsangYong to get into a larger (read more lucrative) sourcing deal for an automatic gearbox, which may prove more successful than an AMT. But given the initial response, I reckon Mahindra will already be thinking of variants and value adds for the KUV100.
Mahindra KUV100 Mileage: 25.32Km/l (Diesel) and 18.15Km/l (Petrol)
Watch Our First Drive Review of the All-New Mahindra KUV100 Here -
| | | |
| --- | --- | --- |
| Mahindra KUV 100 Specs | | |
| | 1.2-litre Petrol | 1.2-litre Diesel |
| Displacement | 1,198cc | 1,198cc |
| Power | 82bbhp | 77bhp |
| Torque | 115Nm | 190Nm |
| Transmission | 5-speed manual | 5-speed manual |
Mahindra KUV 100 Features:
a. Body-coloured door handles, ORVMs, and bumpers
b. Door Puddle Lamps
c. DRLs with LED
d. Multi-functional steering wheel
e. Cooled glove box
f. Alloy wheels
g. Follow-me-home lamps
h. Driver Seat Height Adjustment
i. Micro Hybrid technology
j. 4 Speaker + 2 Tweeter Infotainment system
k. Dual airbags
l. ABS with EBD
m. Anti-theft security system
0 Comments
Mahindra KUV100 Price (ex-showroom, Pune)
Petrol
Diesel
K2: Rs 4.42 lakh
K2: Rs 5.22 lakh
K4: Rs 4.77 lakh
K4+: Rs 5.57 lakh
K4+: Rs 4.99 lakh
K4+: Rs 5.79 lakh
K6: Rs 5.36 lakh
K6: Rs 6.21 lakh
K6+: Rs 5.58 lakh
K6+: Rs 6.43 lakh
K8: Rs 5.91 lakh
K8: Rs 6.76 lakh
For the latest auto news and reviews, follow CarandBike on Twitter, Facebook, and subscribe to our YouTube channel.