It's an important model for Audi because it signals a departure from its usual sedan strategy and introduces the brand to a different kind of buyer. Now the thing with the A3 sedan is that just with the way it looks, you have to say it's rather aspirational. Clean lines, smart profile, and good proportions. The downside is that that like all Audis, the styling gets really ubiquitous and so you have to think twice when you see an Audi coming down the road - "hang on, what model is that?" There is a little individuality though and that of course comes from the headlamp cluster and daytime running LED signature.
What I especially do like is the rather unusual negative metal surfacing done on the wheel arches. Typically you have wheel arches that bulge or curve outwards to imply sportiness. On the A3 what you see is that the metal has actually been punched inside, and it certainly does add its own sporty dynamism to the fender - makes the car look light and not heavy. That's a nice little touch and I have to say something that is very different and pretty intelligent too.
38.68 Lakh *
On Road Price (New Delhi)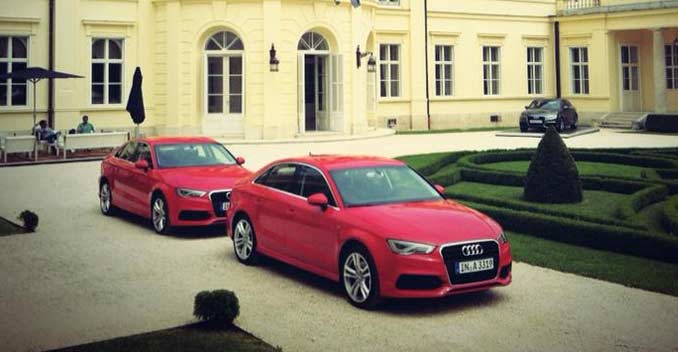 Its very much an Audi on styling and proportions. But does it deliver on the road, right? That was my primary question as I headed into the countryside on the open road, with this car. The car has several engine options and I did get the chance to drive more than one. The car I got first had the 1.6 litre TDI engine under the hood. I did get lucky with a 6 speed manual gearbox, which is mated rather smartly to this unit, but in India I suspect we will get the automatic . The manual may arrive a year or so down the line, when we get a lower entry price variant. Now in India I also expect the 2.0 TDI rather than the 1.6, which is also a bit of a pity. The 1.6 is ample and very capable but Audi will err on the side of doing more than less as it's a new segment its creating with a compact premium sedan. The CLA from Mercedes-Benz will follow next year, and so Audi would not like to be left wanting for power.
The petrol lineup is also impressive and in fact both the 1.4 and 1.8 TSI are offered with the S-Tronic auto gearbox. In India expect only the latter though - again a pity! In my view this is a golden opportunity to show how sporty and dynamic even the smaller engine displacement range can be, and could therefore open a new avenue for premium car makers to explore a new consideration set. So the 180 bhp 1.8 TFSI is what we get for starters then.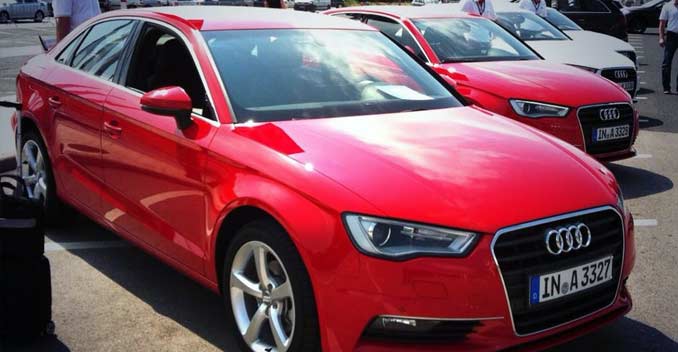 Audi India I hope you're listening! At least with subsequent variants, you have a chance here to really do something different, and not go down the cliched road! We would actually want to see something a little more brave, a little more inventive, more flexible, more exciting which also lets you play around with different price points. Based on the size of the car - the very well proven 1.4 TSI and 1.6 TDI (already available in different iterations on other VW products in India), would be just great to have as options. But oh well, I know I will probably not be heard on this point! Even though it's a different, younger, self-driving type who would look to buy this car! Audi Drive Select is an option, as is active cruise control, lane departure warning, etc. But lets wait and see what Audi chooses to put into the India-model. Audi will offer Quattro all-wheel-drive as an option.
The A3 drives very well. The suspension is tight, yet not hard, and the whole car feels taut given its size. This translates to a very precise and dynamic feel on the road. The car's steering is very well balanced and is also very precise. The handling is sporty, and the car has the agility to go exactly where you want it to. I did enjoy the 1.8 TFSI for its instant burst of power. It si also mated very well to the dual-clutch sport gearbox. Acceleration on the 2.0 TDI is also good, though there is a very small - almost negligible sense of lag. The car does well on uneven surfaces and bumpy roads too.
The size of the car is again something that will certainly matter here in India. Luckily the design is such that you get a wheelbase which visually doesn't look cramped - especially when you're comparing to cars like the B-Class and 1 Series (which are hatches but pretty much what you have at the similar price point). So the cabin doesn't feel cramped at all. You get a sense of a really well-appointed cabin and yet one that throws in a little bit of that sportiness. I hope and I hope really sincerely that Audi doesn't give us beige and doesn't give us wood inserts, this is the package that should come to India because you should try to encourage more and more people to drive this car themselves and not sit in the back and hand the keys to a chauffeur. So which is why the point of throwing in a little metal everywhere is a good thing. Now in terms of equipment, you get pretty much what you would expect on an Audi. The screen pops up, that's a nice little touch. I'm hoping there's navigation on the car in India as well. The AC vents are certainly something that are going to attract your attention. It's cool how you can turn them on and off with a twist.
Again I feel this is a segment which becomes important, because to the buyer who is buying this car it's not just about the back seat - and yet they want their family to be fairly comfortable at the back. 3 adults will be a little cramped here in the back but 2 adults + 1 child, will be no problem! And yes the seats are fairly comfortable. There are rear AC vents, and a drop-down arm rest. In Europe Audi offers three trims, the base version called Attraction is unlikely to make it to us. The top-end has two trims. Ambiente and Ambition - Ambiente has luxurious tones with the beige and wood trim, while Ambition is the sporty package with metallic finish surfaces and dark colours. The A3 has a reasonably generous boot with a 425 litre volume. 60 litres more than its hatch sibling. Fold the rear seats and you get 880 litres!
So it's a very well loaded car. Audi has confirmed to us that it will be arriving in India in a few week's time. While the company had initially planned to target prices below Rs 25 lakh, I now fear prices will hover closer to Rs 30 lakh. This would be short-sighted and unfortunate in my view. But then yes a lot has changed since the time the car was first planned for India. This includes not just markest conditions and rupee volatility, but also buyer sentiment and needs. If only Audi had really gone all-out-aggressive and given us a base manual 1.4 TSI at Rs 19.99 lakh - it would totally blow everyone out of the water! If only.
It is a formidable car indeed - has even snapped up the World Car of The Year 2014 prize! Now lets see how Indian buyers like it!
0 Comments
For the latest auto news and reviews, follow CarandBike on Twitter, Facebook, and subscribe to our YouTube channel.