Mercedes-Benz is at the top of its game when it comes to the automotive world. Back to back world championships in Formula 1 and a slew of successful launches for the mainstream luxury car buyer sums it up for the German automaker. But to all the sanity, there is a bit of madness. And when automotive madness is German, it is usually very very potent. The AMG division is Mercedes-Benz's in-house tuner. In fact, AMG cars are no longer badged Mercedes-Benz but are badged Mercedes-AMG. And so we come to the flagship, the Mercedes-AMG GT. While the range was launched over a year and a half internationally, we here in India only got the GT S. And then the already crazy engineers decided to turn it up to 11 and give us something even crazier. The Mercedes-AMG GT R.

Also Read: Mercedes-AMG GT R Launched In India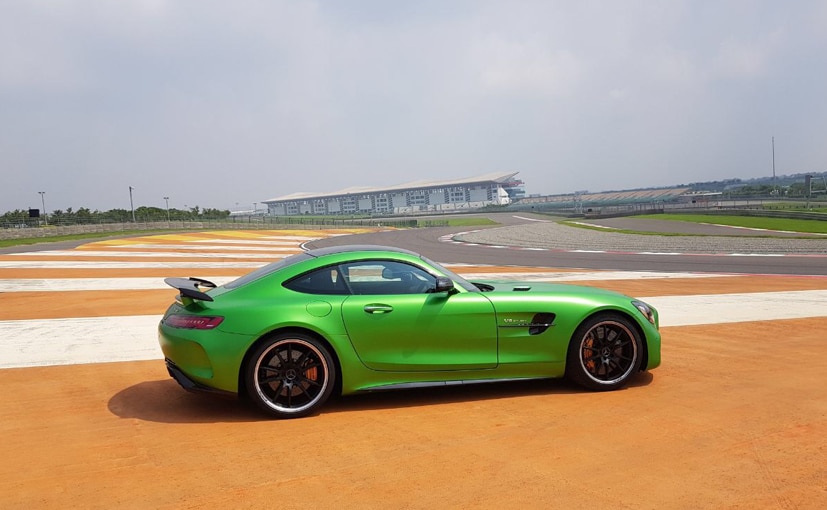 Not to be confused with the Nissan GT-R, the Mercedes-AMG GT R is the most track focused and hardcore version of the Mercedes-AMG GT family so far. Nicknamed the 'Beast of the Green Hell' for currently holding the lap record for any rear wheel drive production car at the Nurburgring, the AMG GT R is basically a standard GT S on a cocktail of steroids. So lets take you through all that's new on this rather green and rather mean GT supercar.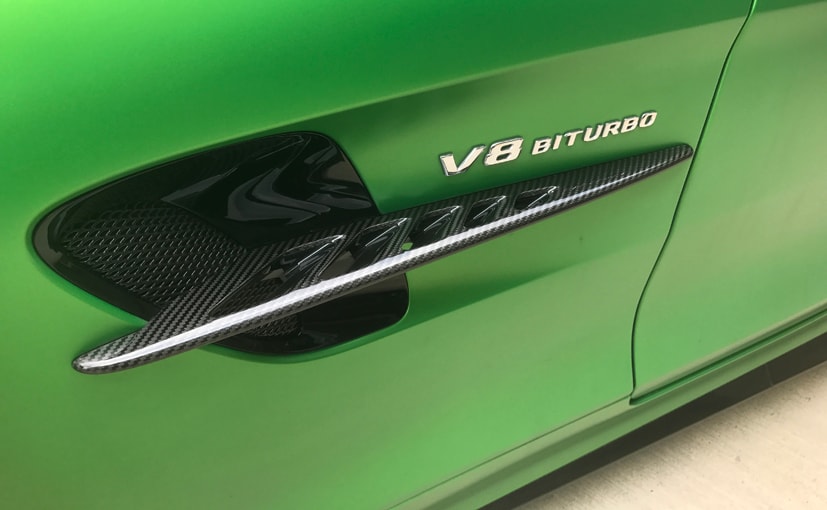 Exterior Design
Lets begin with the most obvious new addition, the paintwork. The 'AMG Green Hell Magno' is a custom shade of satin green that is available exclusively on the GT R and is a very very expensive option! The car is also longer and wider than the standard with a snout-like front end and a larger front bumper for active downforce. The new grille, which is a hark back to the good ol' fashioned racecars that dominated the Panamericana races in the 1950's looks ridiculously cool too. The AMG GT R also gets new black and polished lipped wheels which have a staggered setup and a fixed carbonfibre (adjustable) rear wing instead of the electronic one that the standard cars get.
Also Read:
Mercedes-AMG GT C Roadster Review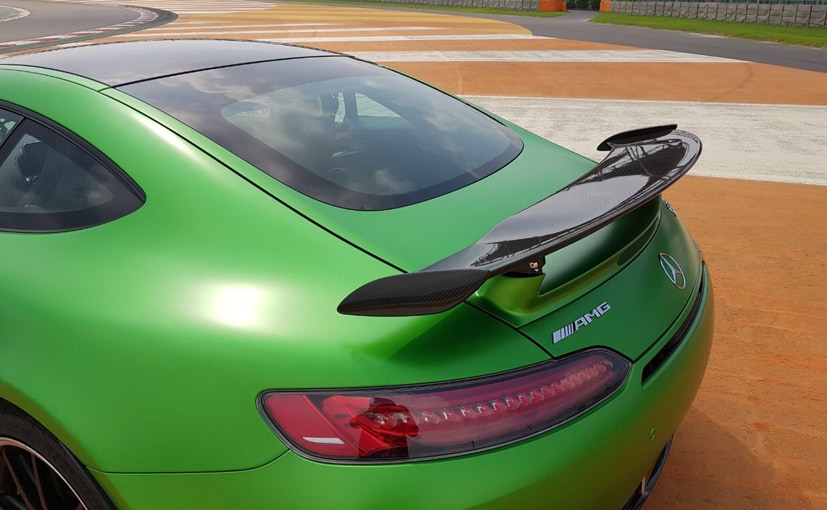 And then you come to the really important bits – the go faster stuff! The new AMG GT R gets a wider rear end with new fenders that are now vented. This is so that you can fit an even chunkier rear axle, larger wheels and tyres and most importantly, rear wheel steering. And you get a new rear bumper that has an inbuilt cooling vent, a new rear diffuser and all new active exhaust system that actually aids downforce. But more on both these later. To round it off, you get new carbon fibre slotted accent pieces on the front fender vents and a carbon fibre roof too.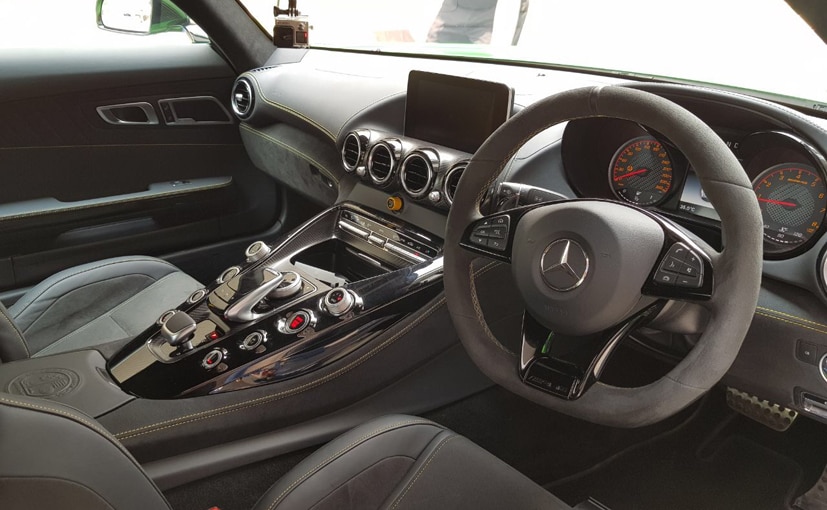 Interior Design And Features
Where manufacturers like Porsche go to extreme lengths to take stuff out of their car to the extent that they would be phenomenal on a racetrack but quite useless as daily drivers, Mercedes-AMG has a different approach. You go get sportier race seats, a carbonfibre central console and a carbon fibre rear strut brace but Mercedes-AMG has left in all the essential bits that you need to actually use the car regularly.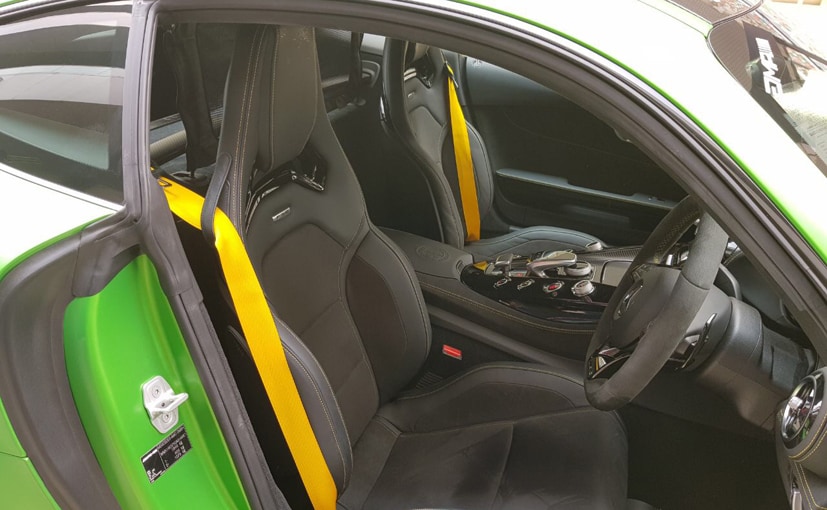 This means that you still get electronically adjustable seats, an electronically adjustable steering wheel, the large infotainment screen and air conditioning. You also get absolutely epic looking yellow seatbelts and our test car also had matching yellow stitching on the seats and door panels.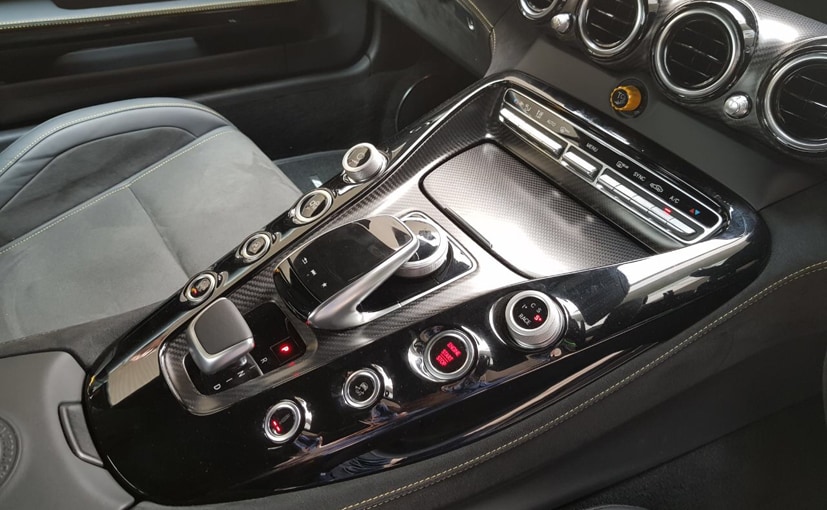 The interior, and in particular the central console, also gets a slew of buttons. You have a button for the suspension setup, gearbox, stability control and our favourite – the sports exhaust! You also get the start stop button that pulsates and a knob to change the driving mode – from individual, comfort, sport, sport+ and of course, RACE!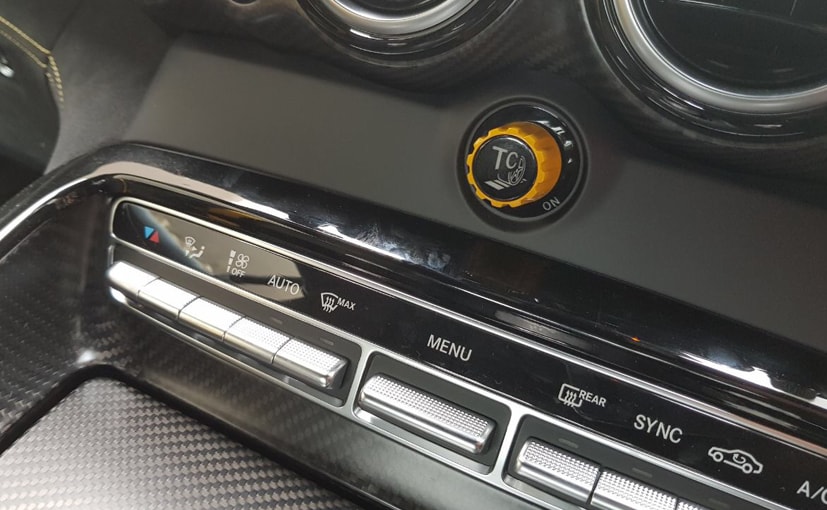 But the most interesting little button, or in this case a knob, on the dashboard is the Traction Control regulator. Like traditional racecars from the 90's, the traction control regulator on the AMG GT R offers a more analogue adjustment (9 levels) than just a random on/off button. That said, even on a race track, turning it completely off would require a massive pair of ……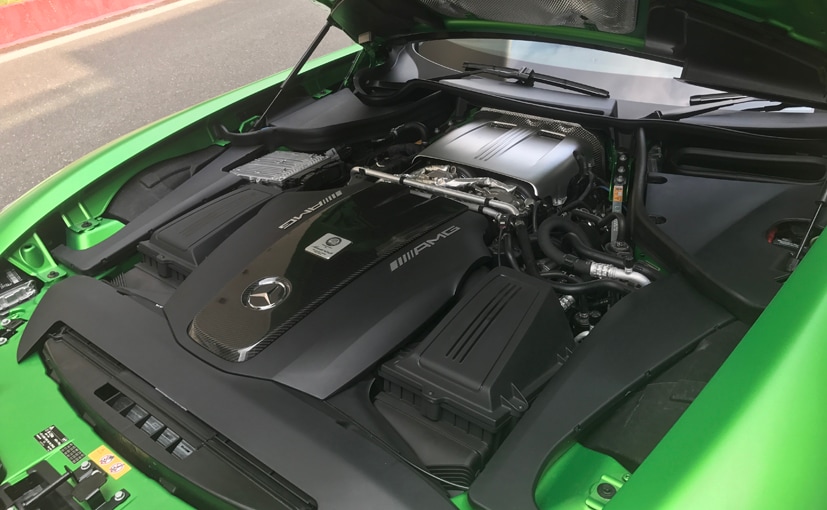 Engine And Performance
The engine on the AMG GT R is a 4-litre twin turbo V8. The turbos are placed inside the V bank of the engine, which means shorter intakes and less efficiency losses. The turbos themselves spool at almost 20PSI resulting in the engine making 569 bhp of peak power and 700 Nm of peak torque. Incidentally, this is 75 bhp more than on the AMG GT S that we also get in India. The increase in power is mainly due to a set of new turbos, smaller wastegates, new engine mapping and of course, a brand new exhaust system! All this wizardry means that the Mercedes-AMG GT R gets from 0-100 kmph in 3.6 seconds and on to a top speed of 318 kmph!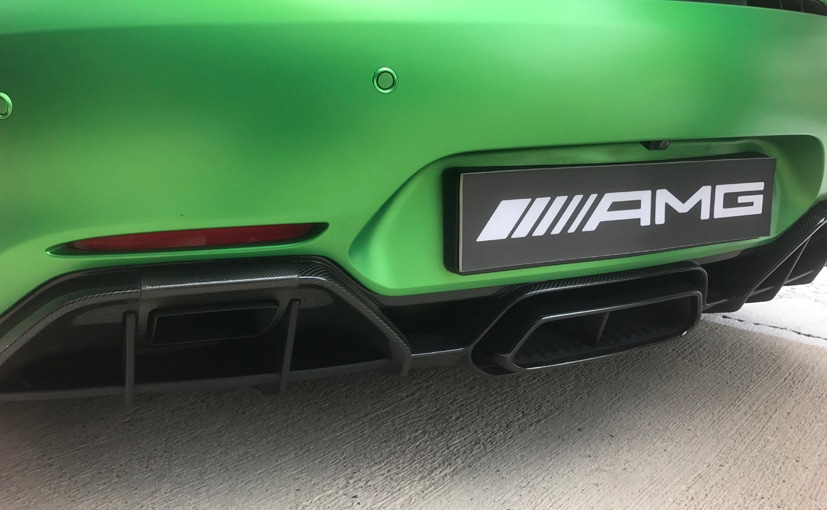 Remember the rear bumper and the new exhaust that we spoke about earlier? Well, where the GT range usually gets the traditional quad exhaust setup (two pipes on each side of the car), the AMG GT R gets a new kind of quad exhaust. There is a large AMG badged exhaust tip which is centrally positioned in the rear bumper housing a twin pipe setup. In addition, two more black exhaust tips on left and right in the diffuser flank the central exhaust. These exhaust tips actually aid in downforce by blowing the exhaust gasses into the diffuser itself – a technology that has been adopted directly from Formula 1.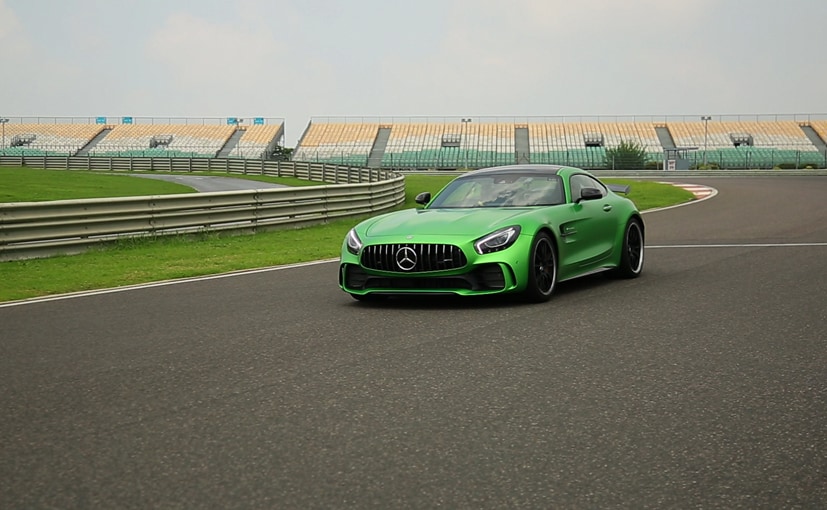 And then we get to my favourite bit! The way the GT R sounds. The Mercedes-AMG GT R does not have a loud exhaust. In reality, Zeus, the God of Thunder is actually hidden in the boot and has decided to have a house party with about 577 speakers and a combination of Metallica and Judas Priest playing live performances. Yep, it is actually that epic! It crackles and pops as aggressively as any race car (or any AMG) is expected to and if you enjoy juvenile pleasures like I do, you will most likely end up wasting (not really) half your fuel tank just to hear the exhaust pops on a downshift.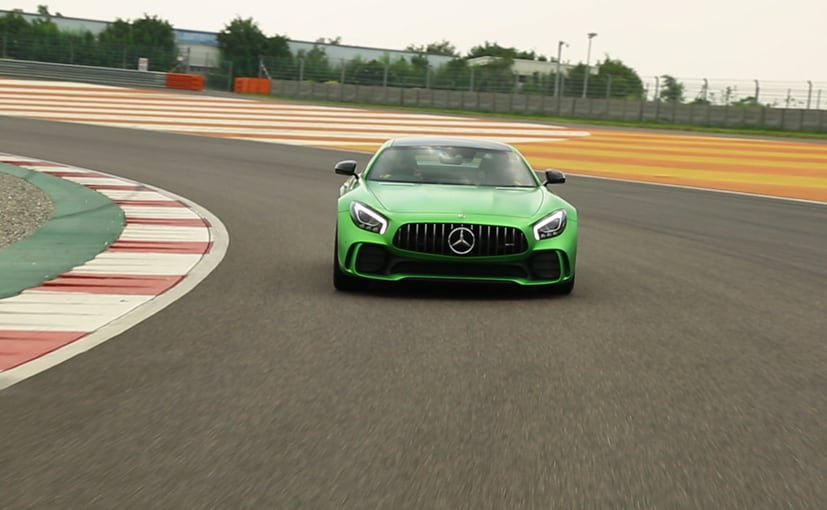 Ride And Handling
Its not just straight-line performance and sound that makes the AMG GT R such an important road car, it is how it goes around corners. The Mercedes-AMG GT R for starters gets rear wheel steering. This means that upto 100 kmph, the rear wheels actually move upto two degrees in the opposite direction to the front wheels. Over 100 kmph, the rear wheels move upto two degrees in the same direction as the front wheels. What this essentially does is drastically reduces the turning radius making the car feel smaller under a certain speed while offering enhanced high speed stability.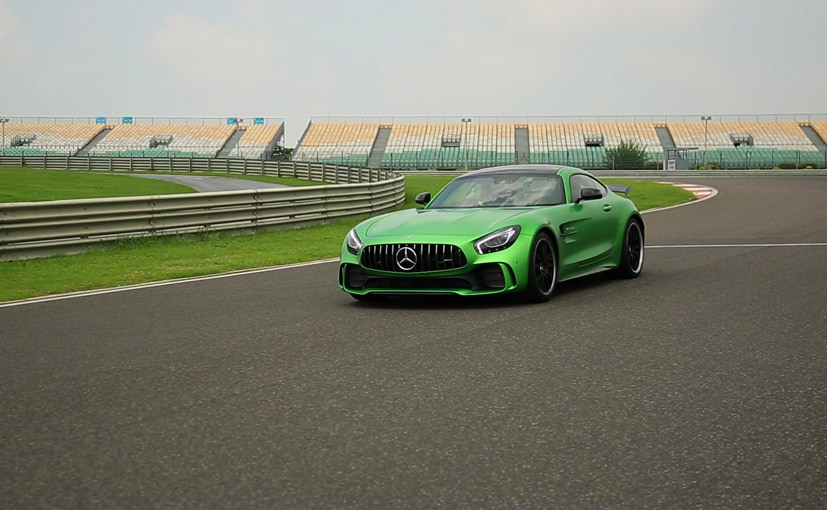 And you can actually feel this work. At the Buddh International Circuit, the Mercedes-AMG GT R felt as nimble as a hot hatch around the tighter mid section of the track in the chicanes. And at the long sweeping double-apex parabola, it allowed us to push it faster and faster to the edge of grip on the massive Michelin Pilot Sport Cup 2 tyres. Incidentally, the tyres on the Mercedes-AMG GT R are street legal race tyres of size 275/35 ZR 19 at the front and 325/30 ZR 20 at the rear and are said to have almost 50 per cent less wear on a racetrack.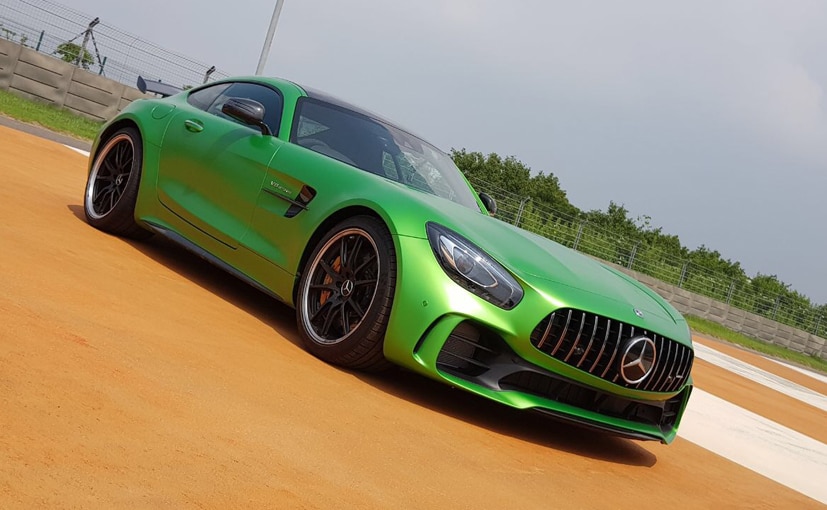 Practicality
The AMG GT R might be a hard-core track focused race car but it is also a GT or a grand tourer. What this means is that it must be able to cover long distances in relative comfort. Now, we wouldn't really embark on a journey to Leh in one of these but we would and could however do a Mumbai to Delhi road trip rather comfortably. Yes, the seats are race focused and the suspension is stiff but in comfort mode, the Mercedes-AMG GT R does offer an acceptable ride. And if you turn off the sports exhaust, it is not very loud either.
0 Comments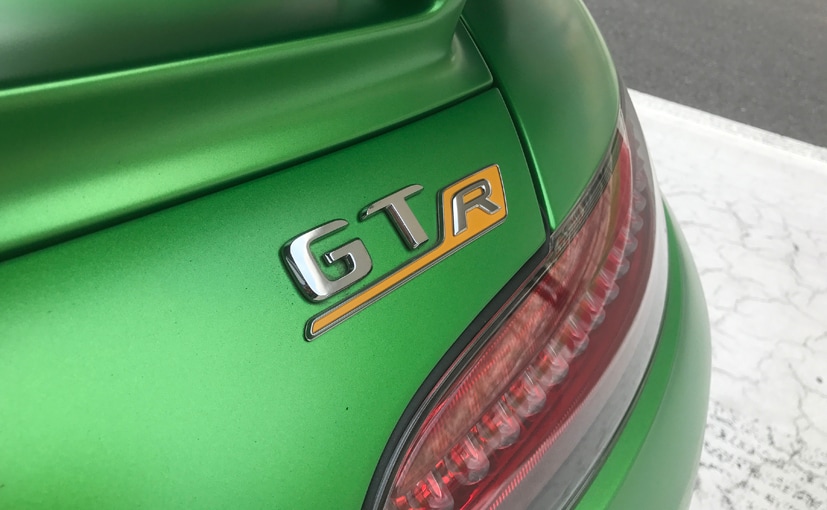 Verdict
The Mercedes-AMG GT R might not be a super limited sports car/supercar like the SLS AMG Black Series that it spiritually succeeds but that is actually a good thing. Priced at Rs 2.23 Crore (ex-showroom) without personalisation, the AMG GT R can actually be enjoyed by a lot more people than just a select few. The AMG GT R is actually great value for money when you compare it to some of the other cars in the range that just seem a little too common. That said, with the average age of an AMG customer in India pegged at 37, we expect the AMG GT R customer to be a mix of young and young at heart individuals who just want a roaring loud (and loud to look at) V8 powered car! So, would I buy one? Well, if I had the money, I most certainly would – but maybe in a different and more sinister colour!
For the latest auto news and reviews, follow CarandBike on Twitter, Facebook, and subscribe to our YouTube channel.