Yamaha has released a teaser video of a new product, to be unveiled on October 25. The video is just a teaser and doesn't show any motorcycle, with just shots of a martial artist doing some stuff with two swords. The date and timing on the teaser, October 25, is right in the middle of the Tokyo Motor Show, so clearly, Yamaha may unveil a new product, or concept at the motor show. There's a brief shot of a rider in a helmet holding what seems like two skis, or even the arms of two front forks, which has led us to believe that there will be two front wheels.
Mark October 25 on your Calendars! Tune in at 5:50am CET, and be ready to #RideTheRevolution! pic.twitter.com/XkIG7TkTqx

— Yamaha Motor Europe (@yamahamotoreu) October 17, 2017
The three-wheeled motorcycle, called the Yamaha LMW MWT-9 concept, was first showcased at the 2015 Tokyo Motor Show. And this time, it could well be unveiled as a production model. The front end will be dominated by two wheels, each with independent moorings at the headstock. Each wheel have two fork stanchions mounted on the outside of the wheel via a single-sided hub, allowing the bike to steer, corner and ride like a conventional motorcycle, but with the added grip of two wheels at the front end. The bike will almost certainly be powered by the three-cylinder engine from the MT-09.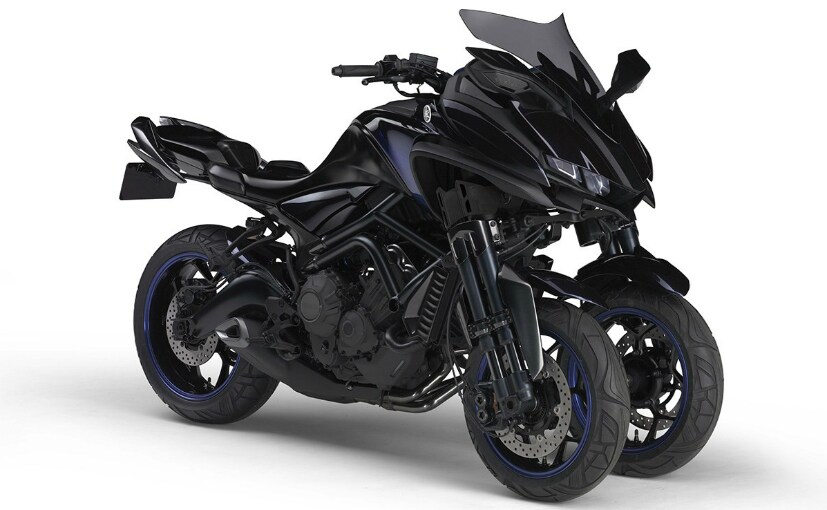 0 Comments
The 847 cc three-cylinder engine of the Yamaha MT-09 makes 113.5 bhp at 10,000 rpm, and 87.5 Nm of peak torque at 8,500 rpm. According to reports, earlier this year, Yamaha filed trademarks for the name "Niken", which could well be what this upcoming motorcycle may be called. "Ni" is Japanese for the number two, which could explain the theme of the dual swords in the teaser video. Yamaha isn't alone though in developing a leaning three-wheeled motorcycle. Honda is also reportedly working on their own version of a leaning three-wheeler, reportedly with a dual clutch transmission. If Yamaha does unveil the production-ready model of the MWT-9 concept at Tokyo, it will be the first motorcycle manufacturer to have a production-ready leaning three-wheeled motorcycle.
For the latest auto news and reviews, follow CarAndBike on Twitter, Facebook, and subscribe to our YouTube channel.