Amphibious supercars starred at the Dubai Motor Festival (DMF) 2015 in the world's first-ever 'amphibious supercar performance' event in Dubai. The performance saw two specially-adapted amphibious cars dash across waves off a hotel beach front before staging a stunt show close to its shoreline.

The show was organised by a Dubai government agency and the DMF, in collaboration with Waldorf Astoria Dubai Palm Jumeirah, the hotel where the event was held.

Laila Mohammad Suhail, CEO, Dubai Festivals & Retail Establishment (DFRE), said: "As one of the leading entities in creating world class festivals and building on our experience in city-wide festivals, we have sensed the overwhelming passion for motoring events in the UAE and the region. Hence, organising the Dubai Motor Festival back in 2013 was a solid strategic step that also fits perfectly with the Dubai tourism strategy in enhancing the festival's pillar as a main attraction for visitors from around the world.

"Today, in our third edition, DMF is steadily becoming another success story of Dubai. This is evident from the great response and participation of the many private sector entities that have opted to use DMF as a platform for creating innovative events and promotions to enhance their businesses and exposure."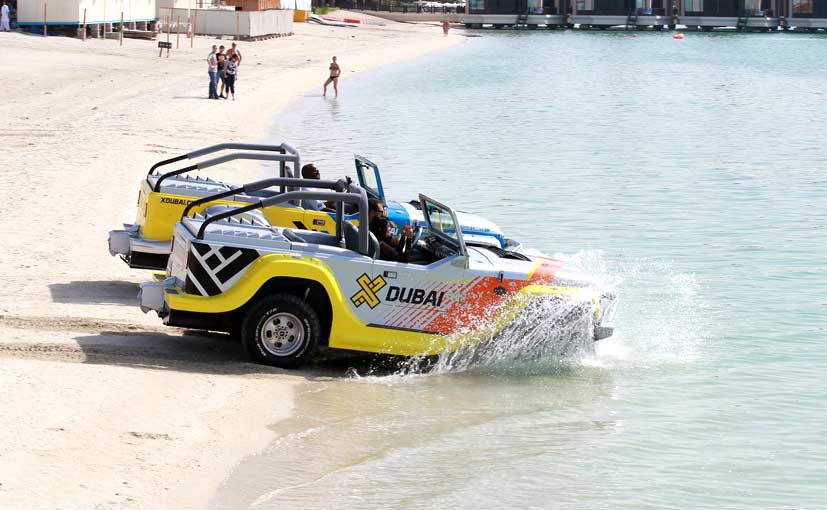 0 Comments
"Our aim is to surprise and delight and the excitement of seeing the cars emerge from the waters off The Palm was simply incredible."

David Wilson, General Manager, Waldorf Astoria Dubai Palm Jumeirah, said: "We are proud to host this unique and exciting amphibious car event as part of activities of Dubai Motor Festival 2015.

"Waldorf Astoria Dubai Palm Jumeirah is joining hands with the Dubai government to help cement Dubai's position as a family tourism hub through our support to the Dubai Motor Festival, whilst also ensuring to give our guests an unforgettable driving experience. We look forward to many more exciting opportunities in the future."

The third edition of the Dubai Motor Festival 2015 was held from 10-21 November.
For the latest auto news and reviews, follow CarAndBike on Twitter, Facebook, and subscribe to our YouTube channel.