Electric mobility is the future, and India is all set to fast-track the adoption of electric vehicles across different segments. The government has pushed early adoption of electric vehicles by offering incentives and special schemes for manufacturers of electric vehicles. Under the FAME II (Faster Adoption and Manufacture of Hybrid and Electric Vehicles) Scheme, the government has earmarked ₹ 10,000 crore to help establish charging infrastructure for electric vehicles as well as provide incentives to electric vehicle manufacturers and allied supply chain industries. But now, the government's think tank, Niti Aayog has gone a step further, proposing a ban on all three-wheelers powered by internal combustion engines along with two-wheelers of 150 cc and below displacement.
Also Read: Electric Bikes Proposal For Indian Market Has Challenges, Say Observers
The electric two-wheeler space is still in a nascent stage, but slowly and certainly, conventional two-wheeler manufacturers are stepping up development of electric scooters and bikes. Niti Aayog also proposes a complete ban on three-wheelers powered by internal combustion engines. But how realistic is it to set a deadline to phase out all three-wheelers with internal combustion engines, and that too, within a short period of just three years?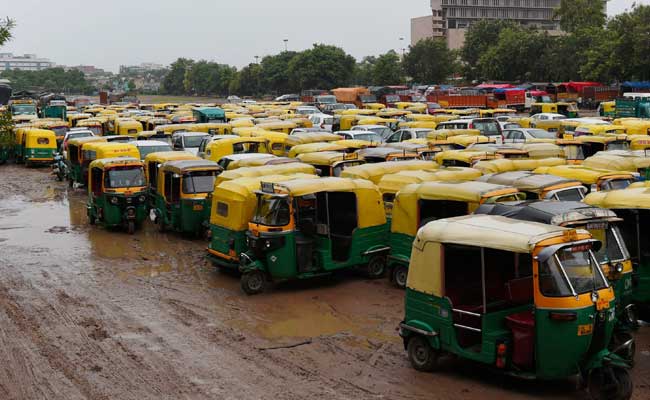 Private Vs Commercial Use
Unlike two-wheeler users, three-wheeler buyers are different from conventional scooter or motorcycle buyers. Almost all three-wheeler buyers use their vehicles for commercial use. Three-wheeler owners use their vehicles for their livelihood and any disruption in ownership in case of a blanket ban will affect their daily earning. Speaking with carandbike, Rakesh Batra- Auto Analyst at Ernst & Young Said, "Three-wheelers are a completely different case and one need to make sure that their operation is uninterrupted as they are the source of income for owners."
To ensure a smooth run for electric vehicles in India isn't so simple. There are several challenges that both manufacturers and buyers face due to lack of an effective ecosystem. This doesn't just mean a proper charging infrastructure, but also the whole development and after-sales lifecycle, which includes the entire supply chain ecosystem, availability of spares and easy service network.
Also Read: Is India Ready To Go Fully Electric With Two And Three-Wheelers 2025 Onwards?
Challenges
Range anxiety is the biggest fear of any EV owner and a wide and well-established charging infrastructure is the best possible way to overcome it. The government plans to set up one fast charger in a grid of 3x3 km across the country but that is likely to happen only by 2030. Moreover, the locations where fast chargers will be installed matter even more and should be in easy access of electric three-wheeler drivers. Auto stands and metro stations are some of the key places among others.
Reputed and trusted brands are in the process of developing electric cars and two-wheelers, but the electric three-wheeler market is not organised. In fact, Mahindra Electric is the only established electric three-wheeler maker. And an organised and efficient supply chain for components and batteries is still non-existent, and these are important components which are used to assemble an electric three-wheeled rickshaw which also adds to the overall cost.
After sales and service is even more important in case of any commercial vehicle, first because the wear and tear is much more compared to private vehicles and also because service and reparability needs to be quick as owners can't afford to lose time as that would cost them money. Mahindra Electric being an organised EV maker does provide service support but its reach is very limited. The service that other unorganised players offer is not promising enough to boost the morale of buyers and make them prefer electric three-wheeler over conventional ones.
The Way Ahead
Motorcycles and scooters sales predominantly depend on personal preference and affordability whereas in case of three-wheelers return-on-investment has to be considered given their commercial application. Giving an insight of how the three-wheeler industry functions, Batra said, "Three-wheelers buyers in India generally have low affordability and more than anything, easy finance options at reasonable interest rates will help to speed up their adoption." Easy interest rates for three-wheeler buyers will make a major difference as it will increase their return-on-investment by reducing the EMI amount. Moreover, if interest rates will be lower, owners will have more money in their hand to spend which means more personal disposable income.
Another aspect is to look at leasing solutions. Three-wheelers are one of the prominent last mile mobility solutions and of late, some companies are coming together with feasible options. For instance, Mahindra for its Treo range of electric three-wheelers is tying up with leasing companies to deploy over 10,000 units in metro cities. One of the pioneers in the EV space, Mahindra with its in-house finance arm has also come up with easy leasing and finance solutions for the Treo range. But it's only one such instance, and a blanket ban on conventional internal combustion engine three-wheelers will leave a gaping hole in the market, with demand outweighing supply.
0 Comments
As things stand today, both the organised and unorganised electric vehicle space has components sourced from markets like China, from different players in the battery and electric motor space. Localisation in the EV industry will help make vehicles more affordable. With more components developed locally, not only will the price of the vehicle be reduced, but it will also help automakers to increase their margin. The government is working on a roadmap for faster adoption of electric vehicles and FAME 2 is a step in the right direction. However, it will require extensive planning and cooperation from EV manufacturers along with government supporting global component makers to start production in India which will go a long way in improving the entire electric vehicle ecosystem viable and effective. Merely banning internal combustion engines in any segment is not the solution. What is needed is an an organised and coordinated effort to make the transition from ICE to electric smooth and viable.
For the latest auto news and reviews, follow CarandBike on Twitter, Facebook, and subscribe to our YouTube channel.