When its time for an Auto Expo, the stars come down from the sky and grace the proceedings! No different at the Auto Expo 2018, where we got to meet several, including the actor riding the wave of both critical and commercial success - Taapsee Pannu. Ms. Pannu had come down from Mumbai to be a part of the Honda Motorcycle and Scooter activities, since she has endorsed the brand for some time now. Taapsee says she is willing to take her scooters out just for the thrill of riding. "I love two-wheelers and the Honda Activa has been a big part of my life. Ever since my college days, I have spent a lot of time on it and it's something that you always remember. It's a kind of thrill that you'll never forget." she says.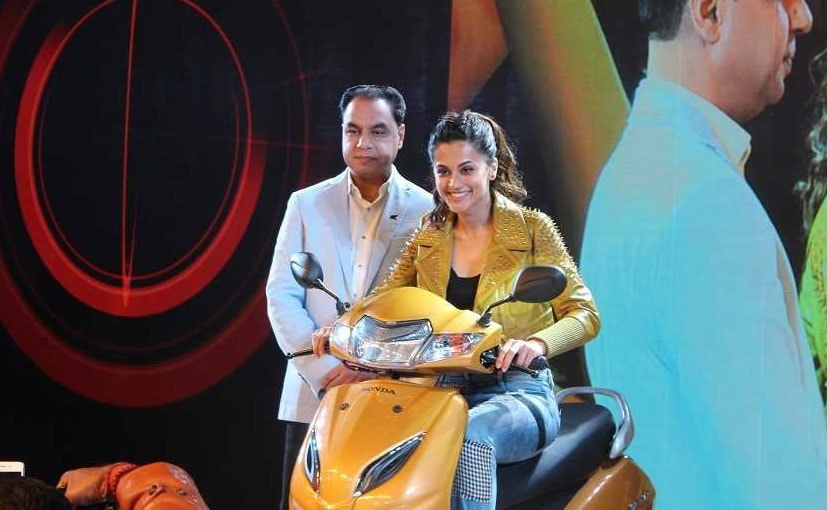 She quickly moved on to talking about bikes and how she didn't understand why people make it a big deal when women ride motorcycles. Taapsee says, "Nowadays, there are bikes with different engine specifications and even design specifications to choose from and this makes it easier for women to choose their ride. Heavy bikes, to lighter versions, there's so much on offer." And so it was no surprise to find that its not just the scooters that Taapsee is interested in. It is in fact the Honda CB Hornet 160R that she likes best! "When I joined the Honda team, they showed me the Hornet and I just fell in love with it. I took it out for a ride too and it was fantastic. It's only when you ride something like that, you do really want to ride a bigger bike" she said. Of course, there's a new bike coming that's based on the Hornet and Honda calls it the X-Blade. It's shares its underpinnings with the CB Hornet 160R but with a sportier and sharper design language is targeted at a younger demographic.
0 Comments
Auto Expo 2018 was all about the future of mobility this time around and we had to ask Taapsee her views about electric mobility. "Electric cars and bikes are the future and there's no going back now. But we have to find a sustainable solution to it because this is not a temporary solution, it's here to stay." And Taapsee can't help but stress on how important it is to be safe on two wheelers. "While you riding, safety has to be at the pedestal and helmets do not ruin anything. You have to ride safe, because your parents too need to understand that having a two wheeler is a good thing. They read about accidents day in and day out and obviously they get worried. It's just about taking the right decision to wear a helmet."
For the latest auto news and reviews, follow CarAndBike on Twitter, Facebook, and subscribe to our YouTube channel.