Toyota Motor Corporation has finally announced the launch of its new 'GR' sports car range which will be sold only for the Japanese market at the moment. The 'G Sports' conversion car series has until now served as a key component around sports car culture in Japan. But, with the GR series, Toyota aims to bring back the culture of enjoying racing cars back in Japan. Plans call for Toyota to further enhance the vehicle lineup in the future and have on offer a variety of models. In addition, beginning with the Yaris GRMN revealed in Europe in March 2017, Toyota plans to deploy the GR series outside of Japan as well gradually.
Here's how the new sports car range lines-up in Japan: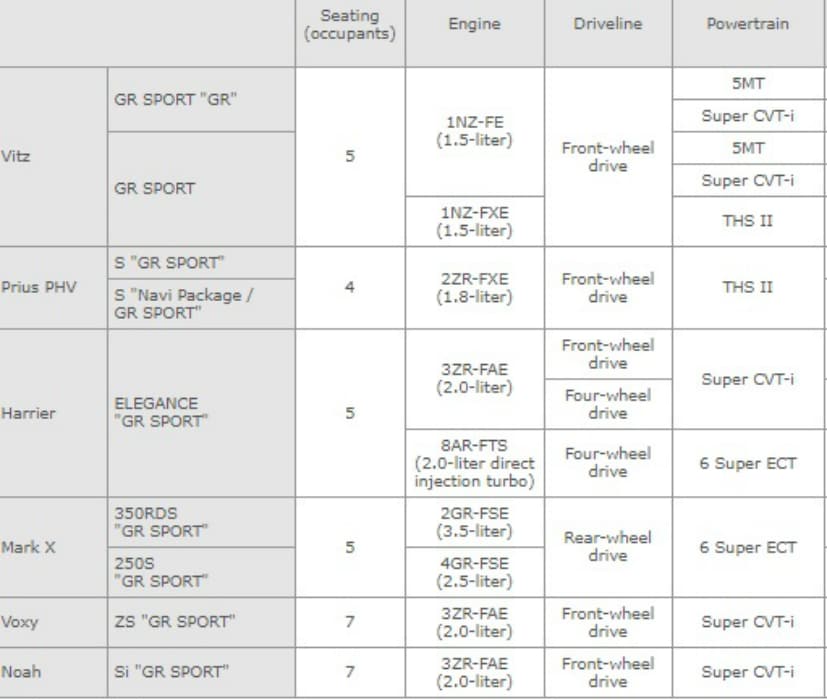 Also Read: Toyota To Announce New Sportscar Range Next Month
0 Comments
The new GR series consists of top-level 'GRMN', the mid-range 'GR', and the entry-level 'GR SPORT'. As a limited release, the GRMN features a tuned engine; while the mass produced GR possesses the essence of GRMN. The GR Sport is also available in minivans. As the initial GR series rolls out, the GR and GR Sport will be available for the Vitz and the GR Sport will be offered for the Prius PHV, Harrier, Mark X, Voxy, and Noah on September 19 in Japan. Moreover, the Vitz GRMN, 86 GR, Aqua GR Sport, and Prius GR SPORT models will be added to the lineup later. The Vitz GRMN is scheduled for release nest year while the 86 GR, Aqua GR Sport, and Prius GR Sport models are slated to go to market by year end.
For the latest auto news and reviews, follow CarAndBike on Twitter, Facebook, and subscribe to our YouTube channel.