Whether we like it or not, the electric car is the future and is here to stay. Even the Indian government is strongly pushing for an all-electric fleet by 2030. And with incentives like lower tax brackets on electric cars we might soon see a few globally recognised electric cars launched in India. We compare two all-electric cars that we would love to see in India to see which one is on top when compared on paper. The newly launched second generation Nissan Leaf hatchback or the highly anticipated and ridiculously popular electric sedan that has broken all records, the Tesla Model 3!
Also Read: Nissan Leaf Electric Car Unveiled
Range And Charging Times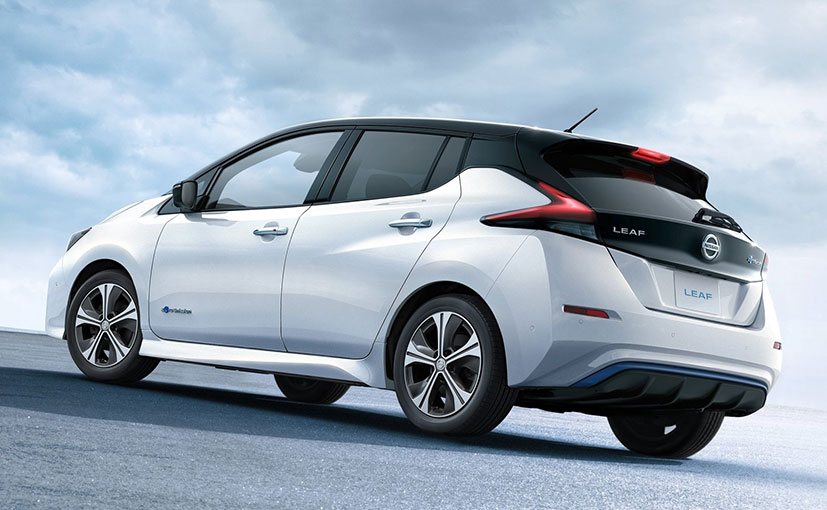 Lets start with the most important question that all potential electric car buyers will ask. Range and charging times. For the sake of this on-screen comparison, we shall be using figures put out by American authorities, as both these cars are most popular in the United States.
Also Read: 2018 Nissan Leaf: All You Need To Know
First the Nissan. According to United States EPA (Environmental Protection Agency), the Nissan Leaf has a range of 150 miles or 241 kms from its 40-kilowatt per hour battery. The Leaf also boasts a 22 mile or 35 km range from one hour of charging at a standard home based charger or 88 miles (141 kms) of range from an hours charge at a faster 50kW charger. That said, the fast charge isn't available as standard across the variants and will only be available as an option on the more premium variants.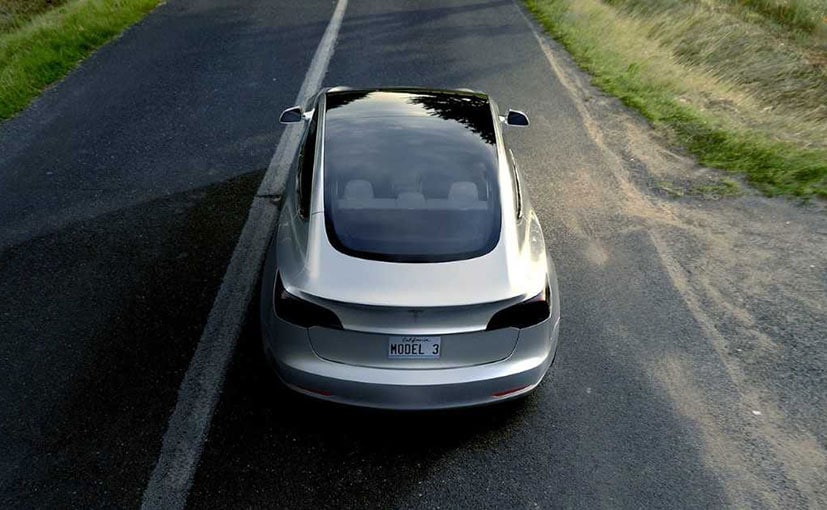 Also Read: Tesla's Musk Hands Over First Model 3 Electric Cars To Early Buyers
The Tesla Model 3 on the other hand offers 220 miles (354 kms) of range on the standard base 50 kilowatts per hour battery pack and a very impressive 310 miles or 499 kilometres on the extended or long range version. Charging times too hugely quicker. The Tesla Model 3 can avail of the Tesla Superchargers anywhere in the world where the car can be charged to upto 80 of its battery capacity in just one hour. The Tesla then is clearly the winner in this department.
Autonomous Driving
The Nissan Leaf and the Tesla Model 3 both bring autonomous driving to the table in their small yet capable packages. The Leaf gets Nissan's ProPilot Assist system, which is a semi-autonomous driving mode that will help keep the hatchback centred in a lane on a highway. The Leaf will also come to a complete halt when cars in front brake and will essentially follow the flow of traffic through a bunch of different sensors and receivers.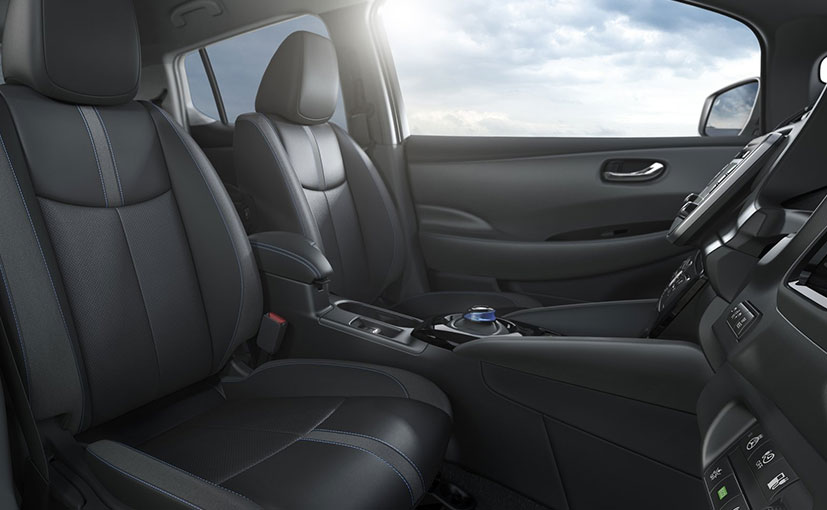 The Tesla Model 3 on the other hand also gets the semi-autonomous driving package – called the Tesla Autopilot. This feature has more to offer as compared to the one on the Nissan such as a summoning to and from the garage and an automatic exit off the highway when you near your destination. The current iteration of the Tesla Autopilot was last updated in October 2016 and Tesla promises that a fully autonomous driving upgrade can be done to any Model 3 via the air as and when it will be available. The sensors on the car receiving and sending these autonomous signals will not be changed when the update comes through.
Features and dashboard design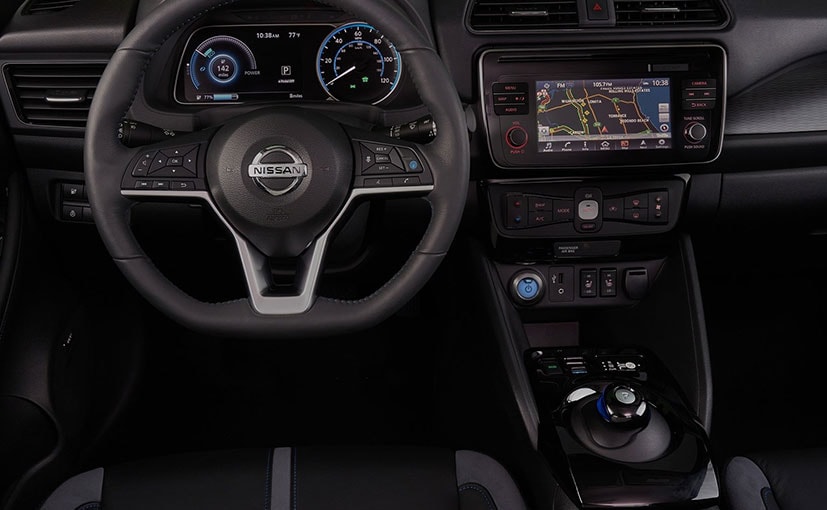 The Nissan lead offers all the latest tech that you really need in any car today in a very conventional and standard 2017 approach. You get a large 7-inch touchscreen that supports inbuilt navigation, Apple CarPlay and Android Auto. You also get Bluetooth and USB connections but there is no real differentiating factor here - unless you count the knoblike gear lever.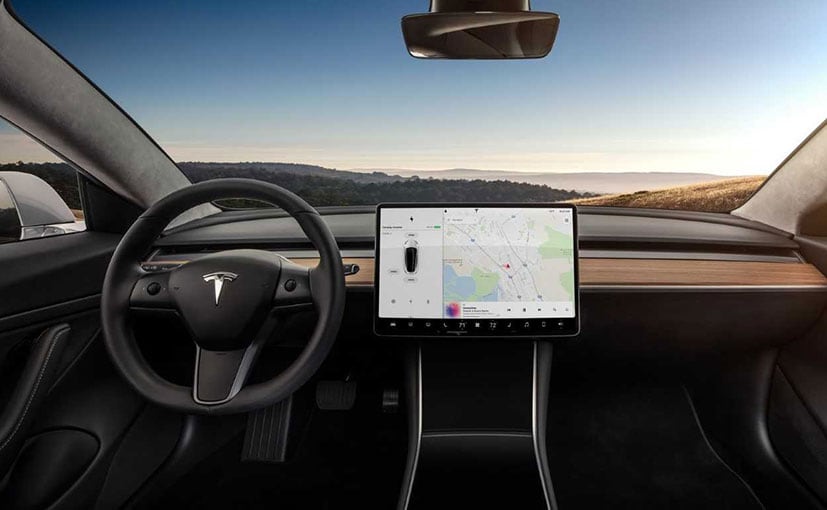 The Tesla Model 3 on the other hand is like a Swedish piece of minimalist design. It is sleek and basic and yet looks stunning. The large 15-inch touchscreen is the centre piece of the design and there are no dials or buttons anywhere. The minimalist design compared with the large screen that shows everything from your speed, fuel level and current gear to the likes of the wooden panel dashboard, the Model 3 is the most certainly the winner here.
Price
Added range and added features also means a more expensive price tag. The Tesla Model 3 is priced at $35,000 (Rs 22.38 lakh) for a base model while the long range Model 3 costs $44,000 (28.14 lakh). But it doesn't stop there. The Autopilot feature costs an additional $5,000 (3.19 lakh), and buyers can opt for a future full autonomy package at $3,000 (Rs 1.91 lakh) on top of that. Tesla also offers a $5,500 (Rs 3.51 lakh) premium package, which includes the cool panoramic glass roof, the premium audio package and in-car seat upgrades. And just like with the Ford Model T and Henry Ford, if you want any colour apart from black, you pay another $1,000 (Rs 64,000). All this adds up and if you want a truly fully loaded Tesla Model 3 in say a shade of blue to match the colours on the carandbike.com website your total cost would be a whopping $58,500 or Rs 37.41 lakh!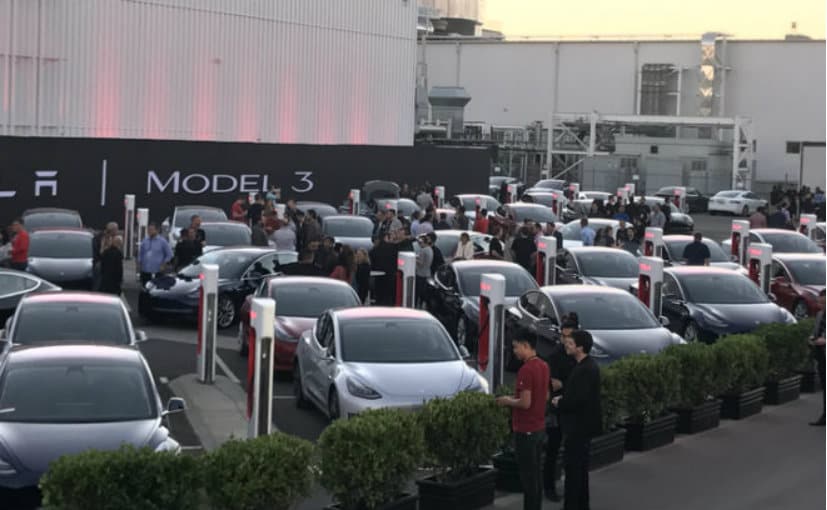 Tesla has begun the deliveries of the Model 3
The Nissan Leaf on the other hand has a base model that starts at $29,990 or Rs 19.18 lakh before government provided incentives. This version though is bare bones and does no even get a set of alloy wheels. The SV version does get alloy wheels, the semi-autonomous features, quick charge port and the navigation system and is priced at $32,490 (Rs 20.78 lakh). The top spec SL variant (not to be confused with the Mercedes-Benz SL-Class) is priced at $36,200 or Rs 23.15 lakh and adds features like leather seats, premium audio and a portable charge cable. Colour options are plenty and usually free but some premium colours are going to be charged at $649 (Rs 41,510). So lets say you want to spec out a fully loaded Nissan Leaf in a special shade of blue too, that would cost you a total of $36,849 or Rs 23.56 lakh. A whopping $21,561or Rs 13.84 lakh cheaper than the most expensive Model 3!!!!
0 Comments
When it comes to design, features and technology, the Tesla Model 3 far outshines the new Nissan Leaf. The Tesla also has a more powerful and longer lasting battery and is also the quickest to charge up. Our winner here is most certainly the Tesla Model 3.

For the latest auto news and reviews, follow CarandBike on Twitter, Facebook, and subscribe to our YouTube channel.