Tata Motors and Microsoft India today announced a strategic agreement which will see both companies making strides in vehicular technology. Tata Motors will leverage Microsoft's connected vehicle technologies to bring together artificial intelligence (AI), advanced machine learning, and the Internet of Things (IoT) capabilities on the global hyper-scale Azure cloud.
The first vehicle showcasing the vision for these enhanced driving experiences will be unveiled at the 87th Geneva International Motor Show on 7th March 2017 which will also be the first car to be showcased under the Tamo brand. Tata Motors will bring in user interface application and services suite utilizing Microsoft enabled functionality like advanced navigation, predictive maintenance, telematics and remote monitoring features.
Commenting on the partnership, Guenter Butschek, CEO & MD, Tata Motors, said, "With the aim to develop innovative and technologically leading products that excite customers, we at Tata Motors, understand the need for a connected ecosystem that can integrate into the digital lives of customers. We are using Microsoft's connected vehicle technologies on Azure intelligent cloud to bring the digital lives of our customers into the cars they drive. Making the most of fast-paced innovation cycle that Microsoft has to offer, we will create a fully connected and seamless driving experience for our customers."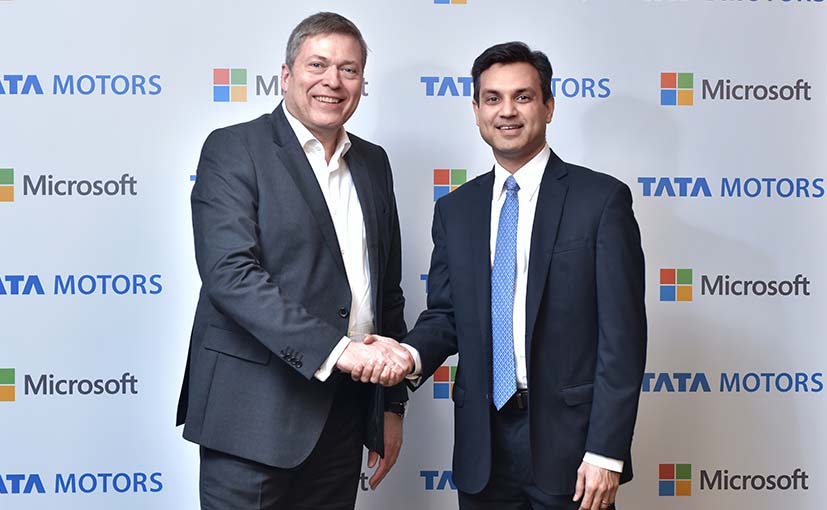 What This Partnership Means To Tata Motors
The car in Geneva is among the first of many to come and Tata Motors will be using Microsoft technology to provide connectivity features on mainstream, mass-market vehicles as well, though the company has not yet outlined that strategy. The company had already mentioned with the launch of the Tamo brand that it's getting aggressive with its strategy and this is just the start.
In its first phase, the advanced offerings will incorporate technologies such as cloud computing, analytics, geo-spatial & mapping and increased human-machine interface, creating a new benchmark in the industry for connected vehicles. With this partnership, Tata Motors plans to offer drivers and passengers a highly digital driving experience.
Tata Motors has grand plans as far as new platforms, drivelines are concerned and we've already told you all about it but with Microsoft tailor-making connectivity solutions for it, the company will be able to focus on the flexibility and use of each technology.
What This Partnership Means To Microsoft
Microsoft is not new to the world of connected cars and having collaborated with the likes of Renault and Volvo, the company knows exactly how to go about things. The challenge here is making similar technology at affordable prices. With the Microsoft Azure cloud computing technologies, the company will be able to tap into advanced navigation, predictive maintenance and vehicle centric services, remote monitoring of car features, external mobile experiences and over-the-air updates.
Microsoft will also be looking into connected vehicle solutions as well as autonomous driving solutions for Tata Motors but that discussion is still in the nascent stage. The company has been working closely with Tata Motors since the beginning of 2016 and so knows exactly what the company needs in its future cars.

The technology produced will be portable and this means it can be transferred and applied from Passenger vehicles to even Commercial vehicles and that again is a segment to which Tata Motors holds the reins. Microsoft India has a huge task as it'll have to come up with solutions in a country where internet connectivity is still developing and on the base of which, the entire 'connectivity' structure stands. This is definitely a challenge for Microsoft and if it gets it right, there are other manufacturers in India who will want to get their hands on this technology.
For the latest auto news and reviews, follow CarAndBike on Twitter, Facebook, and subscribe to our YouTube channel.