We are inching closer towards the launch of the Rolls-Royce Cullinan, the first ever SUV from the iconic British carmaker. And now, an image of the car has been leaked from a private event which was held recently. Rolls-Royce has been working on the Cullinan for more than four years and the car has undergone rigorous testing in all kinds of terrain across the world. Named after the biggest flawless diamond found in Africa, the Cullinan will have a 6.8-litre V12 engine. Being a Rolls-Royce, it of course will be the last word in luxury. Rolls-Royce will offer a variety of customisation options on the Cullinan and will also offer multiple seating options on the SUV as well. While the leaked image does not do justice to the visual of the, we are pretty sure that the Cullinan looks stunning in the flesh.
Also Read: Rolls-Royce Cullinan Super Luxury SUV Makes World Debut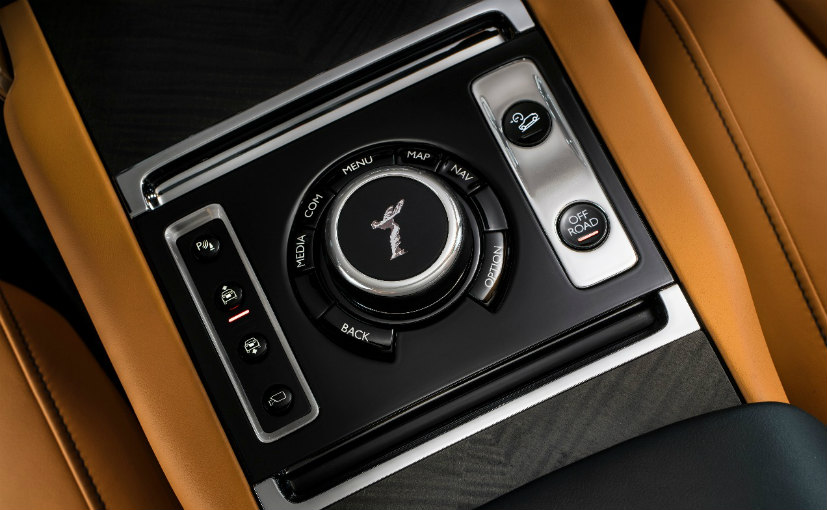 (Rolls Royce teased the picture of the rotary knob on the centre console. As seen above, the Cullinan will have adjustable ride height)
Also Read: Rolls-Royce Cullinan Teased Ahead Of World Debut
Being an SUV, the Cullinan will have some off-road equipment as well. The photograph of the rotary knob shows that the first ever SUV from Rolls-Royce will have a switchable off-road mode along with hill descent control. The middle buttons on the left side of the rotary knob are for lowering and raising the suspension. This could mean that the Cullinan will have air suspension for that exemplary ride quality every Rolls-Royce is known for. The Cullinan shares its underpinnings with the new-generation Phantom which was introduced last year. The aluminium spaceframe, called 'Architecture of Luxury' is equipped to support hybrid or fully-electric powertrains as well.
Also Read: Rolls-Royce Cullinan To Be Unveiled On 10th May, 2018
Rolls-Royce will unveil the Cullinan on May 10, 2018 and then we will get more insight on the features, exact engine specifications and the overall interior and exterior design. We believe that the styling on the Cullinan is in-line with the new-gen Phantom but there will be a few differences such as the raised hood, sharp bumpers and a sloping roof-line which gives the SUV a more dynamic appearance rather than a boxy one. The iconic vertical chrome slats on the grille upfront will remain of course. Keep watching this space as we get you all the details from the Rolls-Royce Cullinan unveil.
0 Comments
Source: Carscoops
For the latest auto news and reviews, follow CarandBike on Twitter, Facebook, and subscribe to our YouTube channel.