Norton Motorcycles is working on a 650 cc motorcycle model which will be especially targeted at the high volumes market, especially in the Asian region, including India. Speaking to Carandbike on the sidelines of the joint venture announcement with Kinetic MotoRoyale, Norton Motorcycles CEO Stuart Garner said that the 650 cc motorcycle will be more powerful than the current Norton Dominator and Norton Commando, which are both powered by a 961 cc parallel-twin engine. The 650 cc parallel-twin engine, which is being developed in-house, will make around 100 bhp, Garner told Carandbike.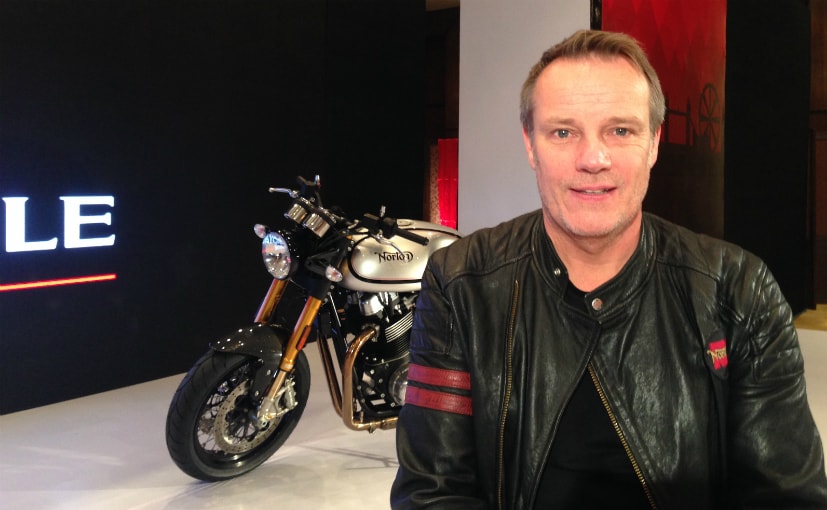 Norton already has an agreement to make 650 cc engines for Chinese firm Zongshen, but the new 650 cc engine has been developed in-house for Norton, and will be more powerful, making around 100 bhp. In comparison, the 961 cc parallel-twin of the Dominator and the Commando makes just around 79 bhp. In the joint venture announcement today in New Delhi, Norton said that the company is already working on a new range of engines and platforms which will be shared with Kinetic MotoRoyale in subsequent years. Hopefully, the new 650 cc engines will be part of this new range of bikes.
Also Read: Norton To Design 650 cc Engine For Chinese Firm Zongshen
"The deal that we did with Zongshen is for a lower powered engine, but there are no binding rights. We at Norton are also developing our own version of a 650 cc engine, and it makes 100 bhp. And we'll probably get to bring that out on a Scrambler and an off-road platform finally," Garner told Carandbike.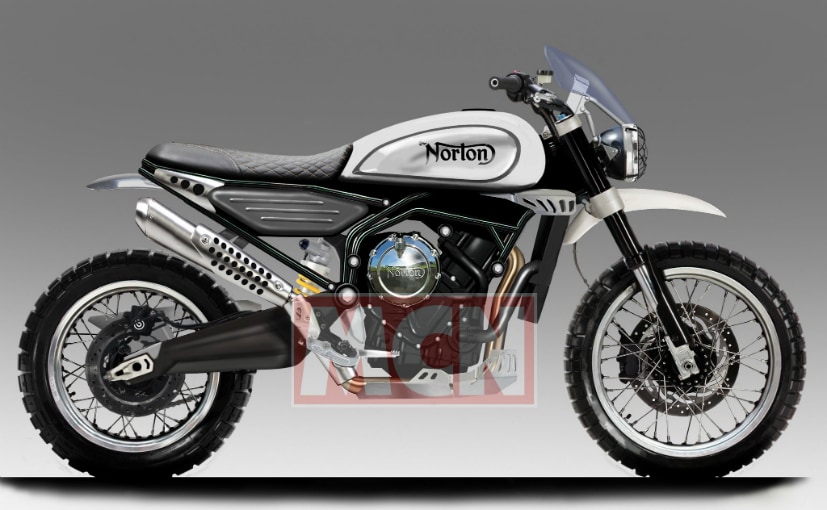 Meanwhile, pictures of a purported Norton 650 cc Scrambler have already emerged on the Internet, and this could well be one of the new models powered by the 650 cc engine. Garner said that the motorcycles with the 650 cc engine will be the volumes earners for Norton Motorcycles in the Asian region, so we can certainly expect these bikes to be eventually assembled under the new Kinetic MotoRoyale - Norton joint venture. As things stand today, the joint venture will be assembling and marketing Norton bikes in India and the rest of Asia, and Norton has a lot of expectations from this joint venture.
"When you don't want to get your superbike out, you can ride a good quality, well-made, fun to ride bike, that's the 650. It's lighter, easier to ride and a little bit more fun on smaller roads than taking a superbike out. So, that's the theory behind bringing the 650 cc out."
"When we come to India and the ASEAN region, it's a fabulous platform. It's a step up from a smaller bike to get into a bigger bike, and that 650 cc engine is a very durable engine and size. Royal Enfield has moved on and put a 650 in their range. When the 650 comes to India within the joint venture here, it will be a fabulous seller of the dealers in that network," Garner added.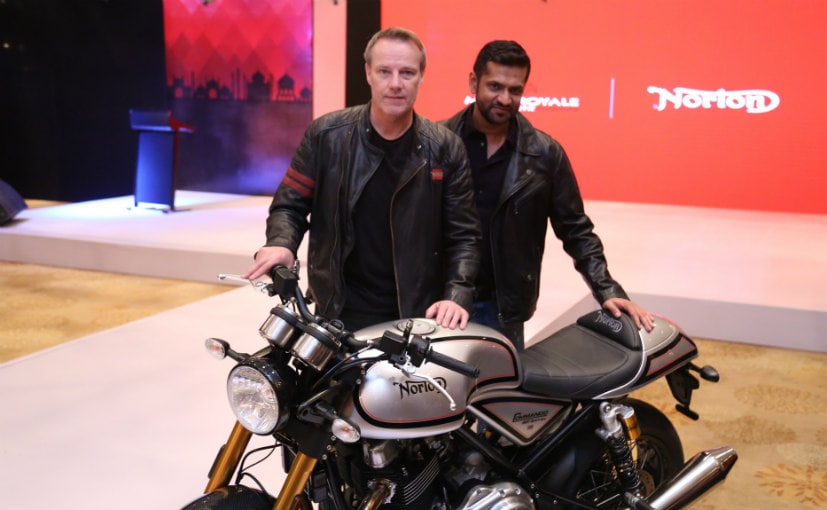 Also Read: Kinetic Group and Norton Motorcycles Join Hands To Assemble And Sell Bikes In India
The new joint venture (Kinetic owns 51 per cent, and Norton Motorcycles has 49 per cent) is an equity partnership and is aimed at taking the Norton Motorcycles brand to the next level globally. Kinetic will be using its existing factory in Ahmadnagar to set up a new assembly line for Norton Motorcycles, assembling these bikes from completely knocked down (CKD) units, and then selling them in India and other Asian markets.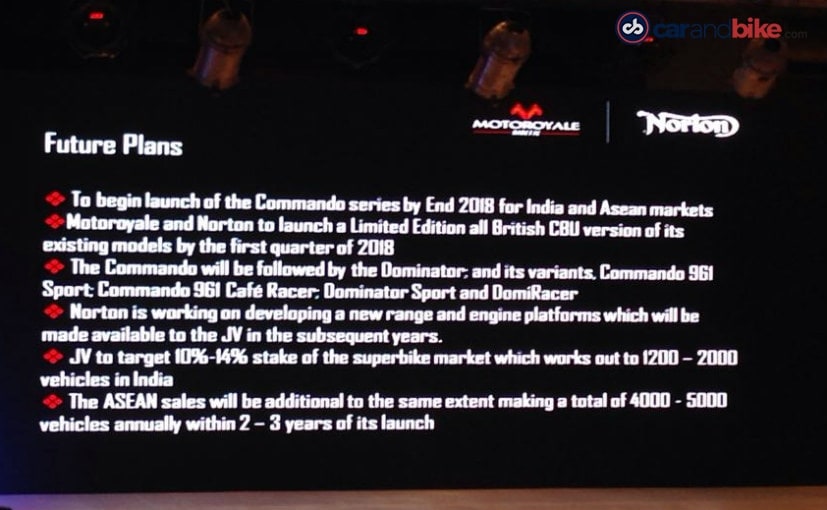 Also Read: Royal Enfield Interceptor 650 and Continental GT650 Unveiled
0 Comments
The 650 cc Norton bikes will initially be launched in Europe and will be contending with the recently launched Royal Enfield 650 cc twin models. It's still not clear if Norton will be able to price the 650 cc motorcycle as competitively as Royal Enfield. Eventually though, the mid-size motorcycle market seems to have yet another legendary motorcycle manufacturer in the fray, and Royal Enfield will soon have competition from Norton in the global market.
For the latest auto news and reviews, follow CarAndBike on Twitter, Facebook, and subscribe to our YouTube channel.