Let's admit the fact that most of us use our mobile phones while we are behind the steering wheel and again, most of us would have had a scare because we were not paying attention to what's happening on the road. And now, Nissan in collaboration with Kantar IMRB (A market research and business consultancy firm) conducted a survey which proves exactly this and some more. According to the survey, 3 in every 5 people who drive admitted to using mobile phones while driving. Not surprisingly, North India leads the way in this statistic with over 62 per cent respondents using phones while driving. South India fares a little better with 52 per cent people using phones while driving. Surprisingly, only 1 in 4 Indian drivers have ever been caught by traffic cops for the offence.
The second parameter that the survey included was over-speeding. Again, most of us have been guilty of this as well. Kerala had the maximum number of respondents who admitted to over-speeding, which is 60 per cent. The state with the second highest number of over speeding individuals was Delhi, with 51 per cent of the respondents admitting to break the speed limit and go faster. 28 per cent people in Punjab were guilty of over-speeding.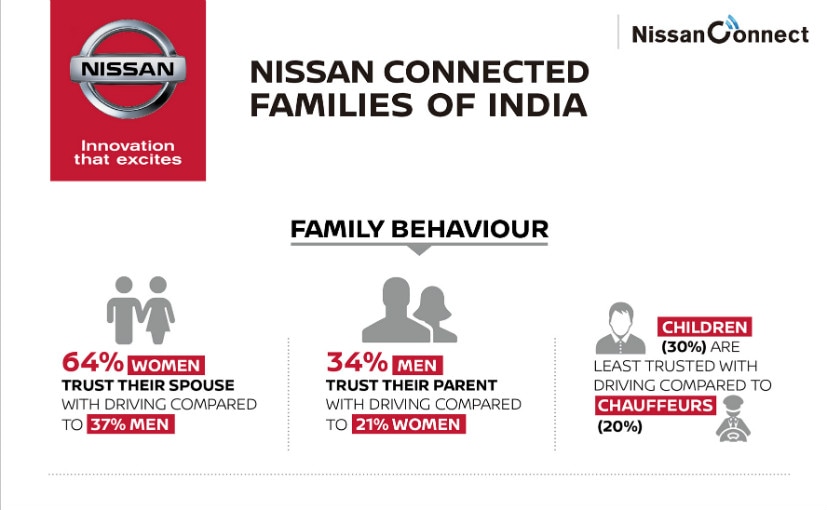 The third parameter that the Nissan Connected Families of India included was the trust factor. Almost 64 per cent of the women respondents trusted their spouses' driving abilities. On the other hand, only 37 per cent of the male respondents had faith in their spouses' ability behind the steering wheel.
Apart from these, the survey also included questions on getting lost and keeping up their time commitments. 68 per cent of the people said they got lost when travelling to a new place or a location while 64 per cent of the respondents said they have been late for meetings. Of course, the percentage kept changing from state to state.
53 per cent of people who are driving wanted to be connected to their families while driving
0 Comments
So, the survey does point out the fact that we need to obey the law more strictly and the fact that having a connected car helps. At Carandbike, we have always advocated for road safety over everything and we hope that after reading this story, the next time you get a call when driving, you either stop and take the call or simply ignore the call. You and your family will be glad you did.
For the latest auto news and reviews, follow CarAndBike on Twitter, Facebook, and subscribe to our YouTube channel.