SUVs are booming in India and Hyundai is striving to bite into that share of the growing pie. So, after the stupendous success of the Creta compact SUV, the South Korean carmaker has now introduced the much awaited third generation Tucson in the premium SUV space. While the all new Tucson looks promising with its futuristic styling, modern engines and abundance of features and we've told you all about it; it still needs to face competition from the SsangYong Rexton and Honda CR-V in this segment. So, we compare the Hyundai's newest SUV with its closest rivals to see which SUV makes the cut on paper.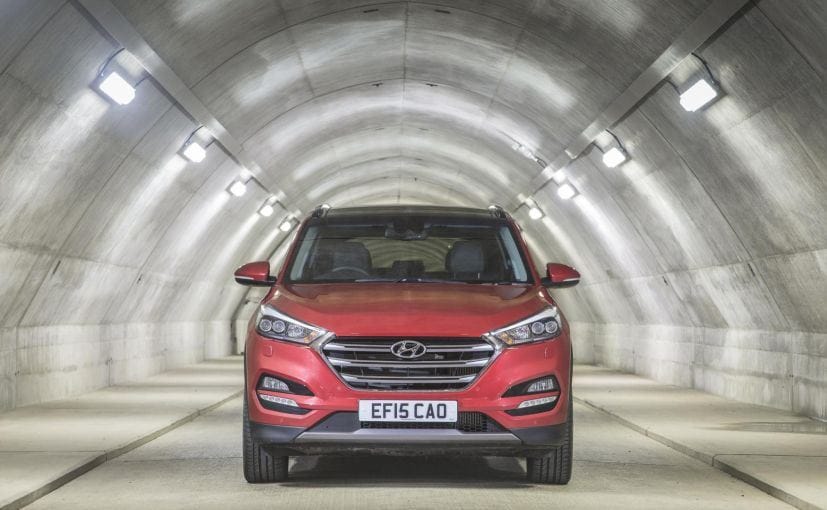 Engine and Transmissions:
The premium SUV segment still commands a slight inclination for petrol engines and you still find the same on the Honda CR-V and Hyundai Tucson, but not the SsangYong Rexton. The Tucson is available in a single 2.0-litre petrol MPi four-cylinder engine that churns out 153bhp at 6200rpm and develops 192Nm of torque at 4000rpm. The motor comes paired to 6-speed manual and automatic transmission options with power going only to the front wheels.
Specifications (Petrol)
Hyundai Tucson
Honda CR-V 2.0-Litre
Honda CR-V 2.4-Litre
Displacement
1999cc
1997cc
2354cc
Max Power
153bhp @ 6200 rpm
154bhp @ 6500 rpm
187bhp @ 7000 rpm
Max Torque
192Nm @ 4000 rpm
190Nm @ 4300 rpm
226Nm @ 4000 rpm
Transmission
6-Speed MT & 6-Speed AT
6-Speed MT & 5-Speed AT
5-Speed AT
Fuel Efficiency

22.39 Lakh *

On Road Price (New Delhi)

MT: 13.03 km/l

AT: 12.95 km/l

MT: 13.7 km/l

AT: 12 km/l
Meanwhile, the Honda CR-V comes with only petrol engines on offer. The standard 2.0-litre i-VTEC four-cylinder motor churns out 154bhp at 6500Nm, 300 revs later than the Tucson, while the torque 190Nm kicks in at 4300rpm, again 300 revs later than the Korean SUV. The CR-V's 2.0-litre version comes paired to a 6-speed manual and 5-speed automatic transmission and is available only in the 2WD mode. For those looking to trail off the tarmac, Honda also offers the 2.4-litre i-VTEC petrol engine on the SUV that makes 187bhp at 7000rpm and 226Nm of torque at 4000rpm. The motor gets real time 4WD as standard, while paired to the 5-speed autobox.
Moving to the diesel counterparts, the SsangYong Rexton comes with a single 2.7-litre five-cylinder oil burner that is available in two states of tune. The 5-speed manual version makes 162bhp at 4200rpm and the 340Nm of torque available between 1800-3250rpm; whereas the 5-speed automatic makes 184bhp at 4000rpm and 402Nm of torque available between 1600-3000rpm. Both versions get AWD as optional.
Specifications (Diesel)
Hyundai Tucson
SsangYong Rexton
Displacement
1999cc
2696
Max Power
182hp @ 4000 rpm

MT: 162bhp @ 4000 rpm

AT: 184bhp @ 4000 rpm

Max Torque
400Nm @ 1750-2750 rpm

MT: 340Nm @ 1800-3250 rpm

AT: 402Nm @ 1600-3000 rpm

Transmission
6-Speed MT & AT
5-Speed MT & 5-Speed AT
Fuel Efficiency

MT: 18.42 km/l

AT: 16.38 km/l

0 Comments

NA
In comparison, the Hyundai Tucson uses a much smaller engine producing similar power output as the Rexton. Power comes from an all-new 2.0-litre CRDi diesel engine with Variable Geometry Turbocharger (VGT), which produces 182bhp at 4000rpm and 400Nm of torque available between 1750-2750rpm. The oil burner comes paired to a 6-speed manual and automatic transmissions. While the Tucson diesel is currently offered only in the 2WD mode, Hyundai has confirmed that the 4x4 version will be hitting dealerships next year.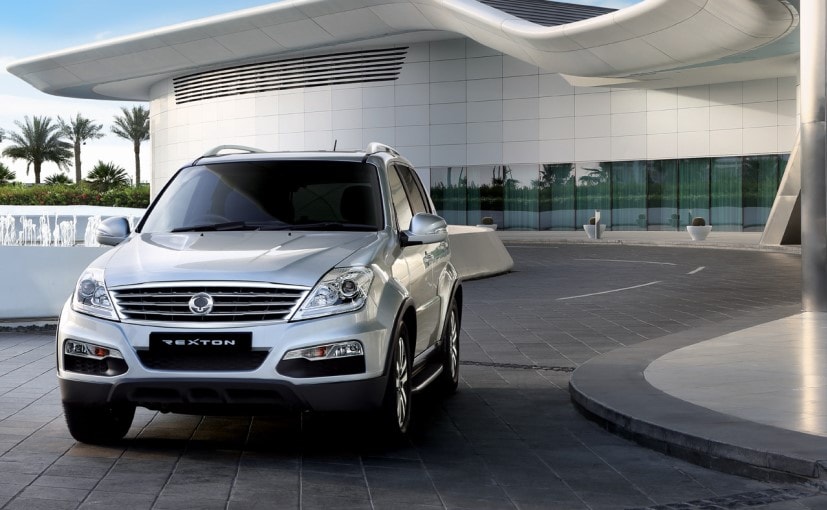 Dimensions:
Starting with the largest of the three, the SsangYong Rexton is the oldest SUV here, but is also the biggest on paper measuring 4755mm in length, 1900mm in width and 1840mm in height. In person too, the SUV boasts off a larger footprint and is hard to give a miss, thanks to its bulbous profile, not to forget the Mercedes-Benz M-Class relevance in design. With a ground clearance of 208mm, the Rexton can also take on rough roads with ease.
| | | | |
| --- | --- | --- | --- |
| Dimensions | Hyundai Tucson | Honda CR-V | SsangYong Rexton |
| Length | 4475 mm | 4545 mm | 4755 mm |
| Width | 1850 mm | 1820 mm | 1900 mm |
| Height | 1660 mm | 1685 mm | 1840 mm |
| Wheelbase | 2670 mm | 2620 mm | 2835 mm |
| Fuel Tank | 62-Litres | 58-Litres | 78-Litres |
Meanwhile, the relatively old Honda CR-V is marginally smaller than the Rexton measuring 4545mm in length, 1820mm in width and 1685mm in height. Needless to say, the urban styling on the Honda SUV makes it look compact and the proportions don't seem an issue in urban conditions. The case is the same with the new Hyundai Tucson that measures 4475mm in length, 1850mm in width and 1660mm in height. The Korean SUV is the most compact amongst its rivals.
With respect to the wheelbase, the Rexton is the largest at 2835mm, while the Tucson stands second measuring 2670mm, followed by the CR-V measuring 2620mm. Despite the larger dimensions, the Rexton drives on wide 235/75 R16 tyres, while the Honda CR-V uses 225/65 17-inch rubber. The Tucson gets the largest tyres of all riding on 225/55 R18 tyres.
The SsangYong Rexton is also the only SUV in this comparison to offer the seating option of 7, while the other two are 5-seaters.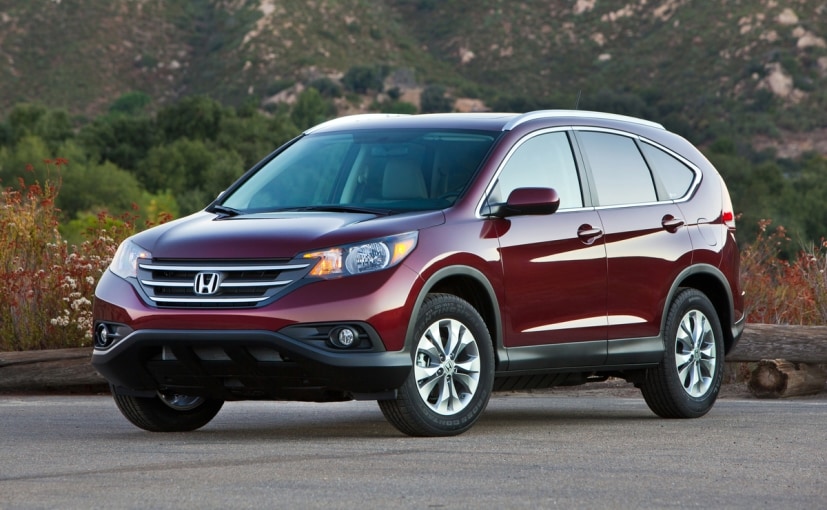 Safety:
Both the Hyundai Tucson and Honda CR-V are much newer SUVs in comparison to the Rexton and are built with a monocoque chassis. The SsangYong Rexton however has been around internationally for over a decade now. The SUV uses a ladder-on-frame chassis, borrowed from Mercedes-Benz, but has been significantly tuned to adapt to modern times. In addition, the base variants of the Rexton get dual front airbags and ABS as standard, while the range-topping automatic variant adds side airbags, ESP, Anti-Slip Regulation, Active Rollover Protection, Hill Descent Control among other bits.
| | | | |
| --- | --- | --- | --- |
| Safety | Hyundai Tucson | Honda CR-V | SsangYong Rexton |
| Airbags | 6 | 6 | 6 |
| ABS and EBD | Yes | Yes | Yes |
| ESP | Yes | Yes | Yes |
The Honda CR-V is similarly specced with respect to safety and uses an ACE monocoque body structure underneath, and is one of the most stable SUVs out there at present. You also get other essentials including six airbags (dual front, side and curtain), VSC, ABS with EBD, Hill Start Assist as well as motion adaptive power steering.
The Hyundai Tucson uses 51 per cent of Advanced High Strength Steel in its construction and comes equipped with six airbags (dual front, side and curtain) along with electronic aids including ABS with EBD, ESP with VSM, Hill Assist Control; first-in-class Downhill Brake Control as well as front and rear parking sensors. The Korean carmaker has clearly equipped the Tucson to the brink, and not just in safety.
Price:
Hyundai India is aggressive on pricing most of its models and the new generation Tucson is no different. Priced at an introductory ₹ 18.99 lakh for the petrol manual version, the SUV undercuts the Honda CR-V 2.0-litre MT by a whopping ₹ 4 lakh, with the Honda priced at ₹ 22.22 lakh. The Tucson petrol AT is priced at ₹ 21.79 lakh, which is around ₹ 2.5 lakh cheaper than the CR-V 2.0-litre AT that is priced at ₹ 24.04 lakh. The 4x4 CR-V petrol is priced at a whopping ₹ 26.37 lakh
Petrol Variant Prices (ex-showroom, Delhi)
Variants
Hyundai Tucson
Honda CR-V
2WD MT
₹ 18,99,000
₹ 22,22,900
2WD AT
₹ 21,79,000
₹ 24,04,400
4WD AT
-
₹ 26,37,400
The diesel options gets pricier on all SUVs with the SsangYong Rexton being the most affordable priced at ₹ 21.05 lakh for the RX5 MT trim. In comparison, the Tucson 2WD diesel MT is marginally more expensive, priced at ₹ 21.59 lakh. Prices remain neck-to-neck for the other variants as well with the Rexton RX6 AT priced at ₹ 23.48 lakh, same as the Tucson 2WD AT GL; whereas the RX7 AT is priced at ₹ 24.86 lakh, making it ₹ 13,000 cheaper than the Tucson 2WD AT GLS that is priced at ₹ 24.99 lakh (all prices, ex-showroom Delhi).
Diesel Variant Prices (ex-showroom, Delhi)
Variants
Hyundai Tucson
SsangYong Rexton
2WD MT
₹ 21,59,000
₹ 21,05,905
2WD AT
₹ 23,48,000
₹ 23,48,215
4WD AT
₹ 24,99,000 (Only 2WD)
₹ 24,86,387
For the latest auto news and reviews, follow CarandBike on Twitter, Facebook, and subscribe to our YouTube channel.