BMW's strategy mainly seems to be based around barraging the market with new products, and we couldn't have been happier. This time it is the MINI's turn. The Bavarian auto giant recently revealed the 5-door version of the MINI Cooper, the first of its kind for the brand. It adds 161mm to its length, which means an addition of 72mm to its wheelbase and a boot-space of 278 litres, thus creating the scope for more space in the rear along with improved room for head, shoulders and legs. With all that growth in dimensions, the new MINI's purpose seems to be more about carrying people than about leisure driving.
Talking about its looks, the 5-door MINI looks pretty much like the 3-door car except for the extra doors of course. It features the trademark MINI design theme that includes the hexagonal front grille and the circular chrome-ringed headlamps and rear lights. As far as the powertrain is concerned, it will be powered by a range of three- and four-cylinder engines. The engine line-up to be offered on the new MINI includes the following turbocharged options: an entry-level 1.5-litre 134bhp petrol, a 2.0-litre 189bhp petrol, a 1.5-litre 114bhp diesel, and a 2.0-litre 168bhp diesel. It will come mated to a 6-speed manual transmission as standard, while the 6-speed Steptronic or Steptronic sports transmission will be offered as options.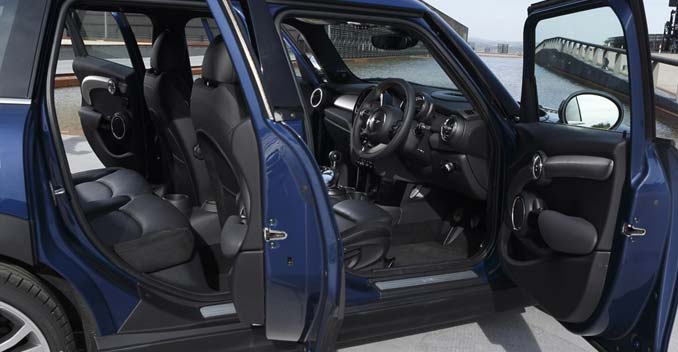 The 5-door MINI is loaded to the brim in terms of features. The new display and operating concept will include the instrument cluster on the steering column with colour display, central instrument with new display elements and coloured lighting configuration among other things. It also gets a wide array of innovative driver assistance systems in addition to the unique MINI Connected in-car infotainment program. Long story short, this new hatch will offer an extensive range of standard features and high-end options to enhance comfort, safety, premium characteristics and individual style.
0 Comments
BMW is expected to put up the new 5-door MINI for sale in European markets by September this year. Considering that, we believe it will arrive in India by early 2015.
For the latest auto news and reviews, follow CarAndBike on Twitter, Facebook, and subscribe to our YouTube channel.