A unique FAQ series that answers every question about automobiles in detail, because we believe 'it's good to be self-sufficient'. Here's the first part:
How to change a tyre?
Every time you are out on the road in your vehicle, there's always a chance that you might end up with a puncture. And more often than not, it leads to a visit to puncture repair shop. In India, especially in metros, it is easy to get help, but what if you are travelling in a remote area and the closest town is about 20 odd kilometres away?
You can not be sure that you will always find help changing tyres, whenever you need it. Hence, it is important to know how to deal with such emergencies. Here are some guidelines that will come handy.
a. Stop the car: The first thing one must do when the car suffers a puncture is to stop. Do not drive with a flat tyre since it may damage the mechanicals and the wheel. Manoeuvre the car to the side of the road, and switch on the hazard lights so that the other vehicles know to steer clear of your car.
b. Know the jacking points: Jacking points are essentially where the car jack goes and enables you to lift the car and change the tyre. The jacking points are stronger in order to ease the process of lifting the car with a jack. If you are wondering where they are, look into the owners' manual.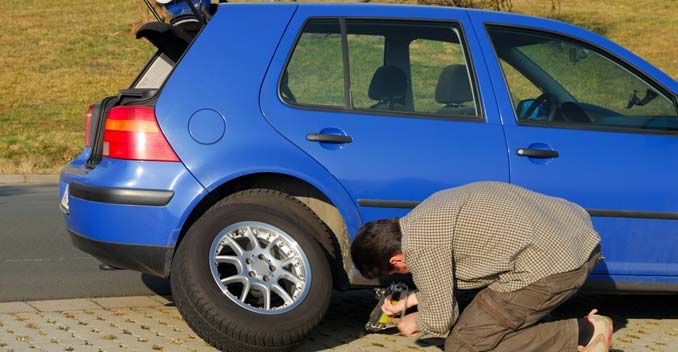 c. Loosen the bolts: Before you put the jack in place and lift the car, it is important that you loosen the bolts of the flat tyre first. Be sure to the bolts are loosened diagonally.
d. Lift the car: Once the bolts have been loosened, place the jack in position and use it to lift the car. Do this very slowly and make sure there is no one sitting in the car, since it causes the jack to lose grip because of the extra weight.
e. Replace the tyre: Once you have unhooked all the bolts, it is time to replace the flat with the spare tyre. Again, whilst putting the tyre back on, tighten the bolts diagonally. The logic behind this is that it ensures the tyre is fastened and has no chances of falling off. Once the tyre is replaced, remove the jack and then check the bolts once again.
f. Get the puncture repaired: Make sure that you get the puncture fixed, the first chance you get. We agree that it is a spare tyre, but then again, there is a reason why it is called a 'spare'.
Also read: Monsoon Car Care Tips
0 Comments
For the latest automotive news and reviews, like us on Facebook or follow us on Twitter and Instagram.
For the latest auto news and reviews, follow CarAndBike on Twitter, Facebook, and subscribe to our YouTube channel.