Michelin has unveiled the Visionary concept tyre at the Movin' On global conference on sustainable transportation. This is not the first airless tyre that Michelin has showcased as you'll remember, we'd told you all about the Twell and its workings. But the Visionary concept is taking things to a new level and according to Michelin Group Executive Vice President of research and development, Terry K. Gettys, "It's called the airless tyre-and-wheel combination, a long-term concept that represents nothing less a concrete demonstration of a system of solutions for the future of sustainable mobility."
Well, everybody is talking about the future all the time, but for Michelin, with concept, it's all here and now. The company spends almost 700 million Euros each year on research and development and it has recently started an R&D facility in India too, so definitely the engineers at Michelin are kept busy.
You look at the Visionary concept and you notice that it is built for ultra-durability and that's all thanks to the honeycomb structure which according to Gettys, 'is inspired by the natural forms of the growth process at work in the plant, mineral, or sometimes even in the animal world'. It is made of all-organic recycled materials and is engineered to be fully recyclable.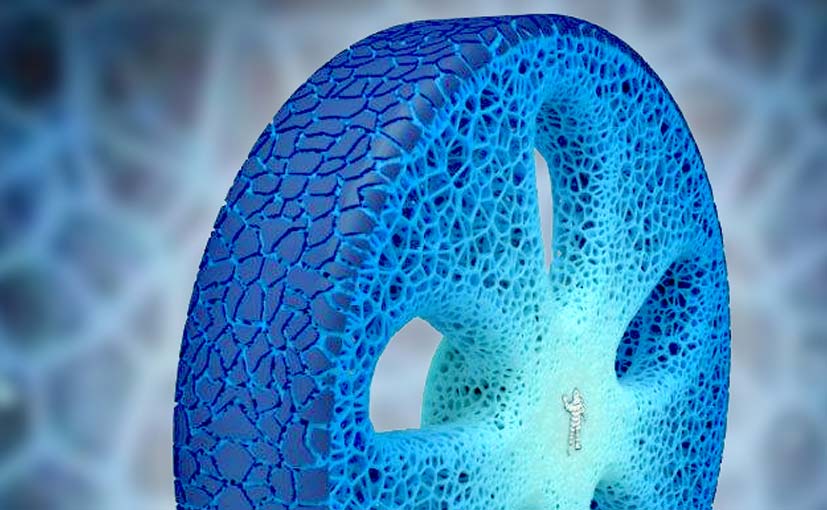 The tyre that you see here has been built by a 3D printer and the material used, which draws on cold-cure technology, delivers the same performances as a conventional tread. This tread, however, is completely biodegradable. If the tyre tread is worn probably because you've been driving off-road or in rain, snow, heat, you can print the tread you need in a matter of minutes! The 3D printing is an additive technology, which means that it adds just the quantity of material that is necessary, where it is necessary, with no waste or loss, quite brilliant, isn't it?
What Michelin has also done with the visionary concept is made it a connected unit , which basically means that it communicates with the vehicle and the information of the tread wear is provided not just to the driver but even a person at a remote location, an owner or manager, perhaps. S/he can be informed of tread wear and then program a tread reprint, choosing the type of tread pattern need at that time, or simply follow the suggestion made by the embedded app, which detects the specific requirements necessary.
0 Comments
The concept is quite unique, one has to admit and though it won't see the light of production immediately, we are certain that Michelin is ready for the future.
For the latest auto news and reviews, follow CarAndBike on Twitter, Facebook, and subscribe to our YouTube channel.