Mahindra has launched the much awaited Mojo at Rs 1.58 lakh ex-showroom Delhi. It is exactly the right approach and strategy that Mahindra Two Wheelers needed to take for this bike to have a blockbuster entry into the market.

Available in three colours - glacier white, charcoal black, and volcano red, the 300cc bike has been positioned as a sports tourer, and will take on a varied mix of rivals from the Bajaj/KTM family besides Honda and some future TVS products. Mahindra is getting a bit of a lead on some of the more obvious rivals like the Bajaj Pulsar CS 400 which will only land next year. Mahindra says the pricing is introductory and will be revised after Diwali. So only bookings up till the festival of lights are guaranteed this price.
Further, the Mojo has only been launched in 4 cities (covering 10 dealerships), with Mumbai, Pune, Delhi and Bengaluru getting the bike on priority. Mahindra believes in a scale-up approach with this product, and is aiming at a niche yet growing set of consumers with it. It will also build up volume on the bike's production and then subsequently bring to more cities around the country. We had predicted a price that will stay well under Rs 1.70 lakh by the way, even though the figure doing the rounds was Rs 1.80 lakh.

Also Read: Mahindra Mojo Review

The Mojo has a liquid-cooled 300cc heart, with 27 bhp on offer. The bike also packs in 30 Nm of peak torque, and that is what has gone a long way in making it a very comfortable bike to handle in the city as well - despite its heft and obviously larger proportions. We have already reviewed the bike as well, and found that its cruising character is what buyers will especially like.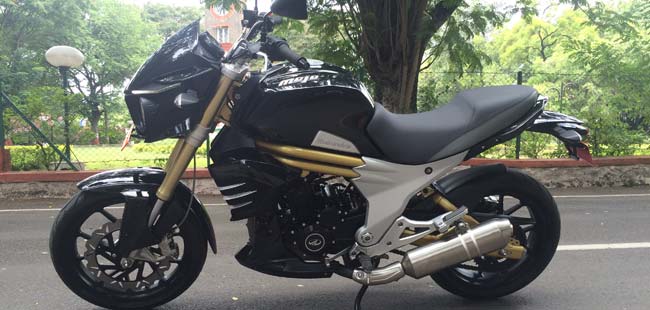 Mahindra Mojo
Mahindra has come a long way in engine refinement terms - and the work that has gone into the Mojo on that front is very evident. The fact that it was delayed has actually helped the Mojo, as Mahindra as been able to come to market with a stronger product. Now with an attractive price as well, Mahindra Two Wheelers should have cause for celebration this Diwali. We will track the sales performance of the Mojo very closely of course.

Specifications

Engine Capacity: 300cc, liquid cooled
Maximum Power: 27bhp
Maximum Torque: 30Nm@4500-6000rpm