According to a set of recently leaked patent images, Kawasaki appears to have started working on its first all-electric road motorcycle. The patent images reveal that the bike will have a street fighter like stance and it is likely to get the manufacturers latest style cues.
This is not the first time that Kawasaki is being associated with electric bikes. Back in 2014, the Japanese two wheeler marque had introduced a very radical electric concept bike - the Kawasaki J-Concept, but there were hardly any updates after that. Apparently one of the biggest issues that Kawasaki was facing before was the huge heat generated by the silent motors. Now, the company seems to have sorted out its cooling problems for an all-electric motorcycle and is claimed to an engine strong enough to power a small pick-up truck.
The patent images reveal that the latest design of the new powertrain shows a large, two-part cooling plan which is allied to a new electric motor. The system is an oil-cooling set-up to keep the huge temperatures from the electric motor within a workable range. Cooling also comes from a ram-air feed to direct air quickly over the top of the batteries themselves, to help keep rising temperatures.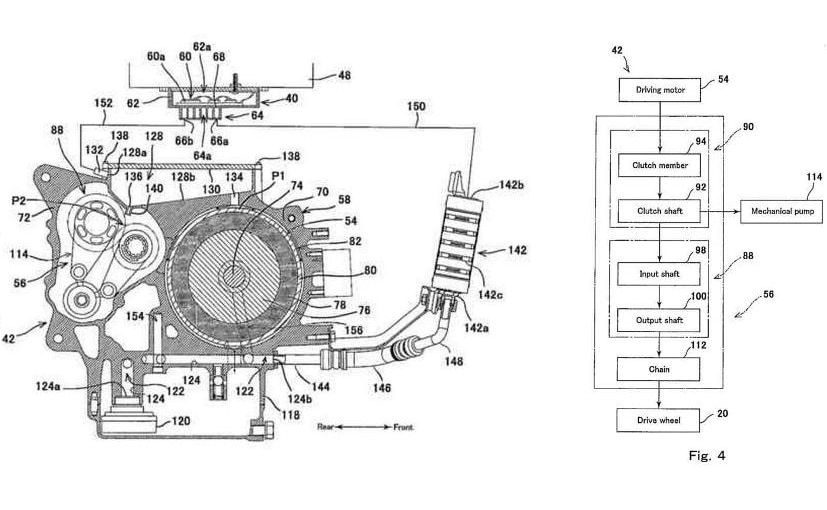 The bike also comes with pseudo fuel tank and the batteries that power the system are mounted towards the top of the bike's layout to balance the weight of the heavy electric motor sited at the optimum point low-down.
0 Comments
While the power figures are not known yet, interestingly, this new powertrain setup is not just limited to motorcycles and can be applied to small pick-ups or All-Terrain Vehicles. The patent images also outline this unit in particular as suitable for use in a hybrid set-up sitting alongside a small petrol-powered engine for even more power.
For the latest auto news and reviews, follow CarandBike on Twitter, Facebook, and subscribe to our YouTube channel.