Ever since Mercedes brought in the G63 AMG 6x6, not a single name had been added to the population. However, that's about to change. Say hello to the Flying Huntsman 6x6 - Kahn Design's stretched version of the Land Rover Defender, which will be unveiled soon.
Judging by the positive response to the brilliant Mercedes G63 AMG 6x6, Kahn Design's decision to make a car like this seems like a good one. Kahn Design's 6-wheeler will be powered by a GM LS3 6.2-litre V8 engine, sending 430bhp to the 6 wheels via a 6-speed automatic gearbox.
The Flying Huntsman will feature a high-low ratio drive system and locking differentials, combined with upgraded brakes and suspension. According to the people at Kahn Design, this modern British icon will comfortably outrun any road going SUV.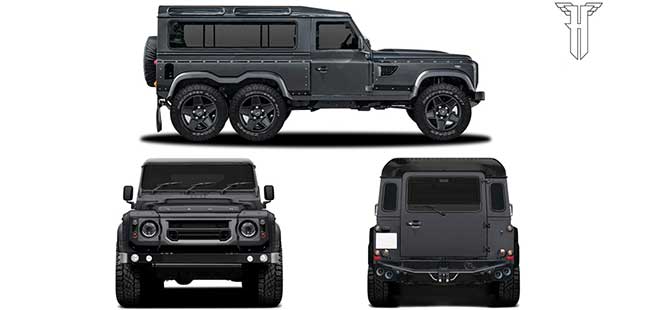 Compared to a standard Land Rover Defender 110, the Flying Huntsman 6x6 is longer by 1200mm and 150mm wider. The bonnet and the rear cabin also gets extensions of 400mm and 800mm, respectively.
0 Comments
In order to provide more convenient ingress and egress, the windscreen rake, along with the width of the rear and passenger doors, has been increased. Kahn Design also says that the Flying Huntsman can be offered in armoured variants if requested, along with up to 5 other potential versions, including 4- and 6-wheeled models.
For the latest auto news and reviews, follow CarAndBike on Twitter, Facebook, and subscribe to our YouTube channel.