Jaguar has been teasing the world with previews of the all-new XE for a couple of months now. The latest detail to come out of the JLR camp is the entry-level sedan's fuel efficiency statistics. The British luxury carmaker says the Jaguar XE will deliver a fuel economy of over 75mpg, which roughly translates to 26 Km/l, on EU combined cycle.
Also read: JLR Reveals Details About Jaguar XE's Engine
The new sedan from the house of Jaguar is designed around the company's modular vehicle architecture and is the only car in the class to use an aluminium-intensive monocoque, with lightweight aluminium accounting for 75 per cent of the structure. This, in turn, ensures that the Jaguar XE combines design with benchmark levels of ride and handling. To put it in JLR's own words, the Jaguar XE 'will be the true driver's car in the segment'.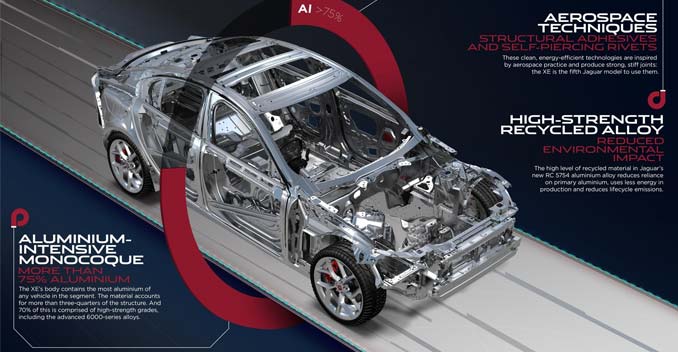 Lightweight construction is a core element of Jaguar's DNA; the Jaguar XJ, XK and F-Type have all been developed using exceptionally stiff bonded and riveted aluminium structures. Now the XE has become the latest model to use this aerospace-inspired technology. This reduction in consequently ensures that the XE is the most fuel-efficient Jaguar yet.
Dr Mark White, Jaguar's Chief Technical Specialist, said, "The Jaguar XE body uses over 75% aluminium content, which far exceeds any other car in its class. This gives us a body structure with unrivalled low weight: it's light but also immensely strong with extremely high levels of torsional stiffness. We've made sure our aluminium-intensive body structure exceeds all global safety standards without compromising on vehicle design or refinement."
The Jaguar XE is also the first car in the world make use of a new grade of high strength aluminium called RC 5754 that has been developed specifically for the XE. This new alloy features a high level of recycled material and makes a significant contribution to Jaguar's goal of using 75 per cent recycled material by 2020.
Also, the XE will be the first Jaguar to be manufactured at a new purpose-built production facility at the company's Solihull plant in the West Midlands in the UK. The world premiere of the new Jaguar XE will be held in London on September 8th.
0 Comments
For the latest automotive news and reviews, like us on Facebook or follow us on Twitter and Instagram.
For the latest auto news and reviews, follow CarAndBike on Twitter, Facebook, and subscribe to our YouTube channel.