The car that will propel Jaguar into higher volumes and bring new customers into its fold - the XE - has a lot riding on it. Quite literally! There are new details we now have from the company, in terms of the systems on board, as well as the variants that will be on offer with the XE sedan. The XE promises to be the stiffest, most advanced Jaguar sedan ever. It is also te first product built on Jaguar's new all-aluminium architecture - a first for this segment.
There will be two diesel variants - both using the same new 2 litre, 4-cylinder engine from the new Ingenium family. The first has a 160 bhp output while the second has 176 bhp on tap. The petrol range uses updated variants of the existing Jaguar 2.0 with 196 bhp and 235 bhp output variants. The Ingenium petrols will be introduced when those engines are ready. The range-topper will be the 3.0 supercharged petrol V6 borrowed from the F-Type and other Jags. The 333 horses are accompanied by a very healthy 450 Nm of torque, available at 4500 revs.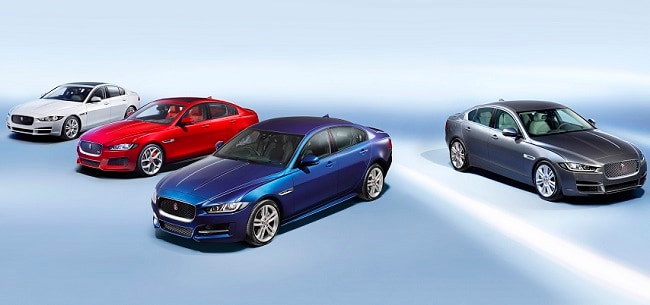 The car will use the 8-speed ZF gearbox that JLR has had at its disposal, but the diesel will have an option of a new 6-speed manual transmission - also from ZF. It is unlikely we will get that in India. The autobox has paddle shifts, and a sport mode, while all cars will come with an ECO driving mode for optimal efficiency.
Also unlikely in India will be some of the base trim options. The range starts with a Pure trim that has cloth seats and some basic technology features. Then comes the Prestige trim and yes I know the names are similar to what we have seen on the Tata Aria! The Prestige trim uses leather seats with a ventilation option and blue ambient lighting. The optional panoramic sunroof also is on offer here. And then there is the Portfolio trim which indulges you with its luxurious interiors, complete with a two-tone dash and better leather and aluminium inserts.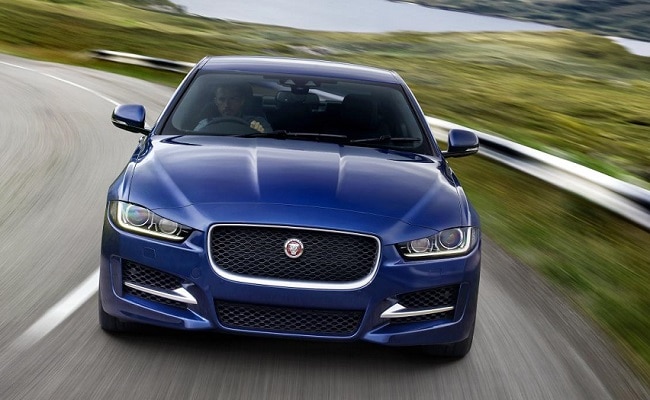 The R-Sport is well - the sporty model with leather, aluminium treadplates, sports steering wheel, R-Sport branding all over, a rear spoiler, a chrome finish on the side-vents, and a sports suspension for better handling. Finally you the S of course with that beast of a V6 engine also has leather-suede interior trim, even more aluminium finishers, large air-intakes up front, side sills, rear spoiler, red brake calipers, and optional 20" alloys wheels.
But the bigger story is some of the equipment the XE boasts. The car has all kinds of software-run systems on board, which Jaguar says have been extensively tested in real, virtual and simulated conditions - to be durable to our kind of humidity, dust and temperature situations.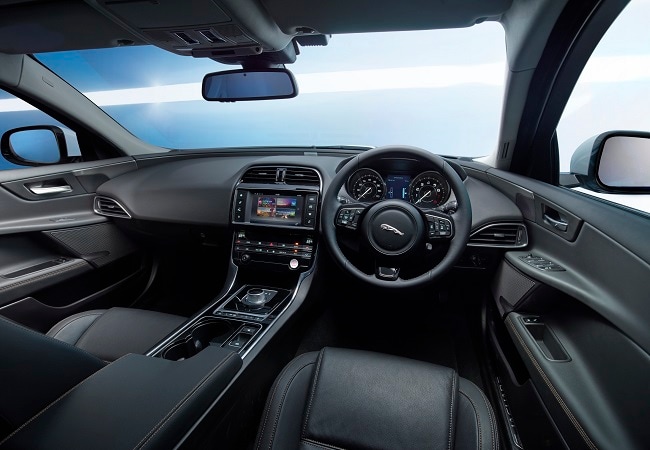 The XE will have optional safety systems that work in conjunction with its all-new suspension and electric steering system. Jaguar was the first brand to introduce adaptive cruise control in 1996. This is now further enhanced with the inclusion of a new autonomous braking system. The system works with an on-board stereo camera and alerts the driver of an impending collision. It also pre-charges the brakes for action at this time. Failure to respond will mean the car will automatically brake. This avoids a collision at speeds up to 40 kmph and mitigates the crash at up to 80 kmph.
There is also a new head-up display system that uses laser instead of LCD like others do. This means clearer, sharper and high-contrast displays. There is also the advantage of using more colours in the head-up display. The forward facing stereo camera also recognizes road and traffic signs, cross checks with the navigation to bring you the correct display like speed limits, etc. The XE also has reverse traffic detection, which warns of oncoming traffic when reversing out of parking spaces, etc. And there is lane departure warning too.
The new in-car infotainment system combines with the top-range 10-speaker Meridian audio system. The touch-screen led system also connects to both iOS and Android devices and allows you to use a new smartphone app with it. The app provides features like remote locking/unlocking of the car, remote ventilation and start-up to support the air-conditioning if need be, etc. The navigation uses SD-card updates, rather than a software plug-in required at the workshop.
Some of this may not come to India of course. But it is too early to know just what. The car has 17/18/19/20" tyre options, and ground clearance ranges from 110 to 140mm depending on the spec you get. India is likely to go with a more durable road package to suit our conditions. The car does use a passive suspension with lighter springs and dampers. This includes a variable speed-sensitive assistance, which adapts to road conditions and driver inputs. Jaguar claims the XE has the best ride of any car its ever built, and the steering feel of an XFR!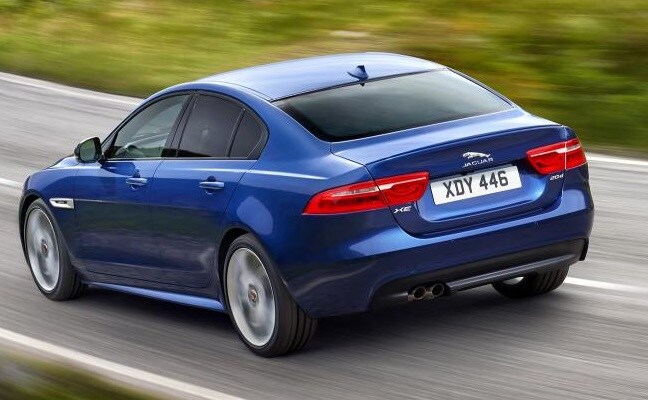 Lastly I want to mention the new all surface progress control or ASPC. If you are driving on a difficult surface, like snow or a slippery road, with an incline lets say, the ASPC takes over when engaged and provides the best use of power and brakes, without driver inputs. The driver simply needs to steer. This allows for the car to handle the surface optimally, without loss of traction or control.
0 Comments
So it's a fully-loaded proposition. Prices will start upwards of $40,000 - which means it will not be a very basic model even at its entry-end. India is likely to have a locally produced XE, which will come from its Pune plant, in the second half of 2015.
For the latest auto news and reviews, follow CarAndBike on Twitter, Facebook, and subscribe to our YouTube channel.