India Bike Week! The plan was to ride from Mumbai to Goa, and join the annual "great migration" of riders from across the country, to congregate, and participate in two days of action packed events around motorcycles, motorcycling and entertainment. Our best laid plans however, had to go through a lot of last minute surprises, and inevitably, quite a few change of plans. Long story short, eventually, we ended up in Pune, instead, and the final plan was to start the ride the next day, to be at the fifth edition of the India Bike Week, or IBW, as it's popularly called nowadays, in Goa.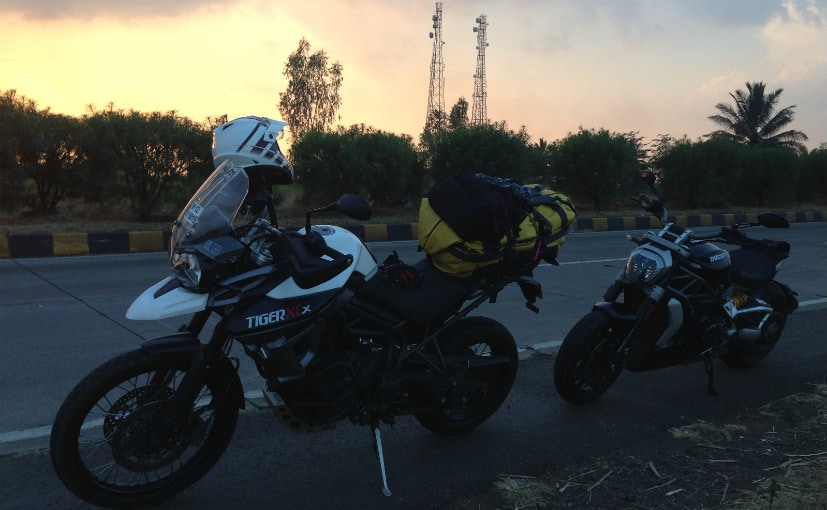 (Our rides for the India Bike Week were the Triumph Tiger 800 and the Ducati XDiavel)
Also Read: India Bike Week 2017: Top 5 Bikes Showcased
From most accounts, the 450-odd kilometres from Pune to Goa can be completed in around 7 hours, but we were already behind schedule. Three of us started riding from Pune when the sun was already past its prime, and it was already after 2 pm. With a stop for lunch along the way, and a quick stop for some photographs, it was already sundown and we were still 200 km short of our destination. Of course, we were riding well within sane limits, and there was no hurry, no mad rush to create new records on public roads; the idea was to enjoy the ride and the scenery. A night halt at Nipani, and an early morning ride the next day through the beautiful hills and jungles of Chorla Ghat, and we finally ended up at our destination.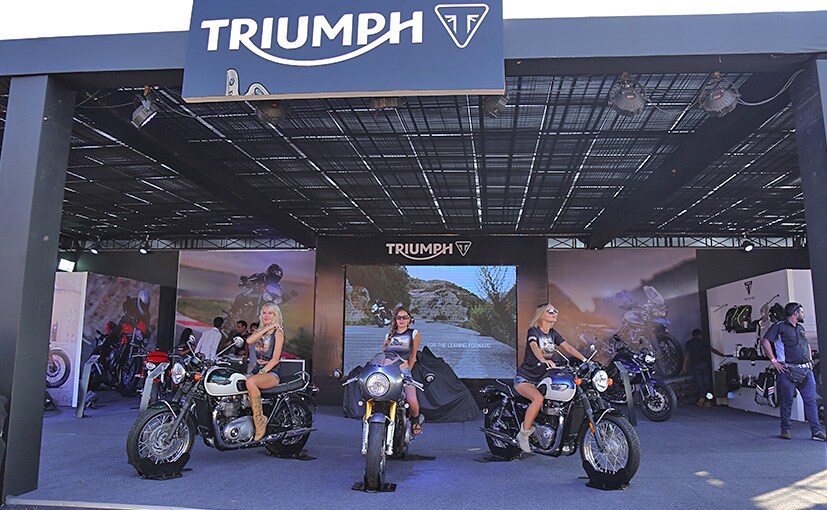 (Almost all premium bike manufacturers had a dedicated pavilion, like Triumph for instance)
India Bike Week Kicks Off!
After reaching Goa, it was immediately off to the IBW venue at the Vagator hilltop. Martin da Costa, Founder and Organiser of the India Bike Week, kicked off the proceedings, along with two celebrated guests, Freddie Spencer, one of the greatest motorcycle racers of the 1980s, and Leslie Porterfield, known as the world's fastest woman on a motorcycle, a member of the Bonneville 200 mph Club, and also holds a Guinness World Record. The gates are officially opened at 4 pm, and riders from around India start trickling in to the India Bike Week.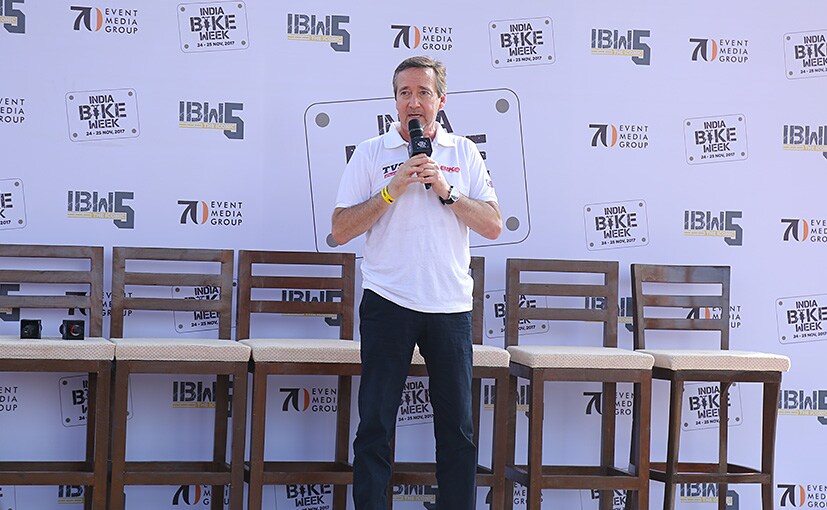 (Freddie Spencer, ex-Moto GP racer was one of the guest speaker at this year's IBW)
Bikes, bikes, bikes! That is the overwhelming flavor at Vagator, with scores of riders riding in, in groups, some alone and some in the hundreds! Triumph Motorcycles had the biggest show of strength with a Triumph parade ride around Goa and more than 150 Triumph riders riding into the venue. BMW Motorrad India debuted at the India Bike Week, and there were quite a few BMW riders as well, including the BMW Motorrad GS Trophy India finalists who will represent India at the International GS Trophy in Mongolia next year. Day 1 was also the time for new bike launches and unveils - BMW Motorrad launched two new bikes, the BMW R Nine T Racer, and the BMW K 1600 B.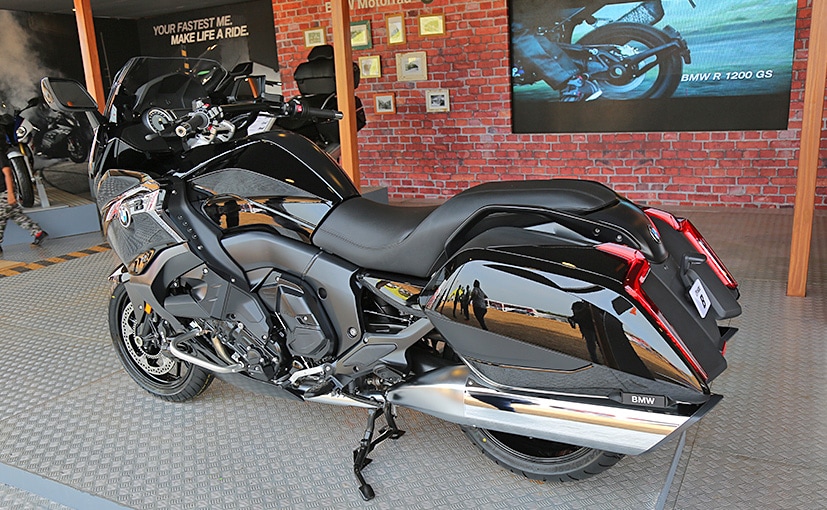 (The BMW K 1600 B was one of the new motorcycle launches this year at IBW)
Also Read: India Bike Week: Top 5 Stalls
"It's always great to participate at IBW, because you get to meet riders from across the country. So, it's good to be at a place where the atmosphere is all about biking. At least somebody's making the effort to organise something like this. We at Indian Motorcycle, our competitors like Triumph, BMW Motorrad, we all keep trying to do something, but at the end of the day, occasions like this bring all of us together," said Pankaj Dubey, Managing Director, Polaris India.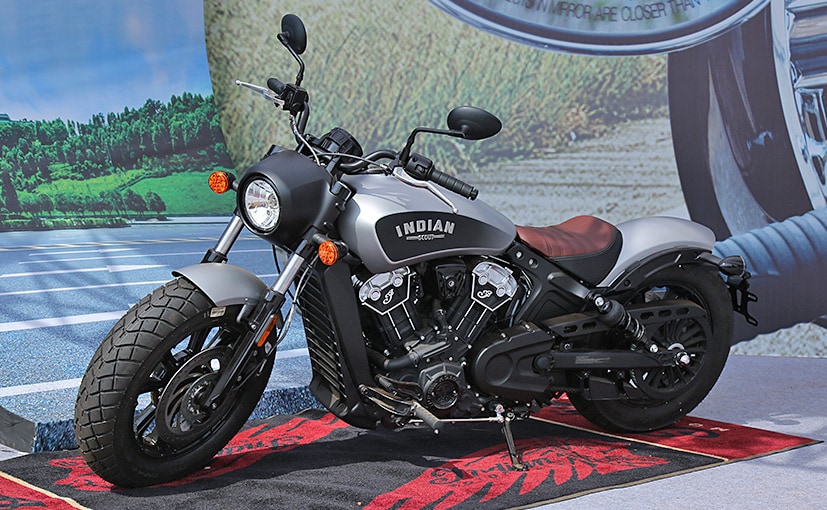 (Indian Motorcycles launched the Scout Bobber at IBW 2017)
Indian Motorcycle also launched a brand new motorcycle at the India Bike Week, the Indian Scout Bagger, and Indian Motorcycle expects to extend the popularity of the Indian Scout range with the Scout Bobber, hoping it will attract younger riders into the Indian Motorcycle fold. Triumph Motorcycles made the India debut of its upcoming cruiser, the Triumph Bonneville Bobber, although the launch is expected only sometime early next year.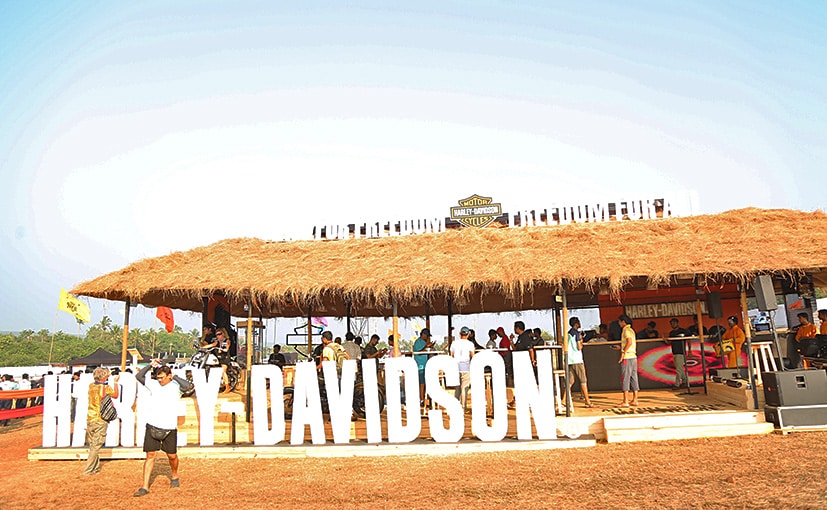 (The Harley-Davidson Pavilion at IBW 2017)
Harley-Davidson had a cool, beach shack-themed pavilion, and the American motorcycle maker unveiled its custom flat track racer, based on the Harley-Davidson Street 750. The Flat Track racer was built by Jaipur-based custom builder Rajputana Customs. And there were quite a few custom jobs as well, at the custom bike stall, which included the bike build-off competitors as well. Delhi-based TNT Motorcycles built five custom Royal Enfield bikes in just 45 days, and each bike will be given away to a lucky winner of a contest conducted by a beverage brand.
Bikes, bands, bikini wash and more...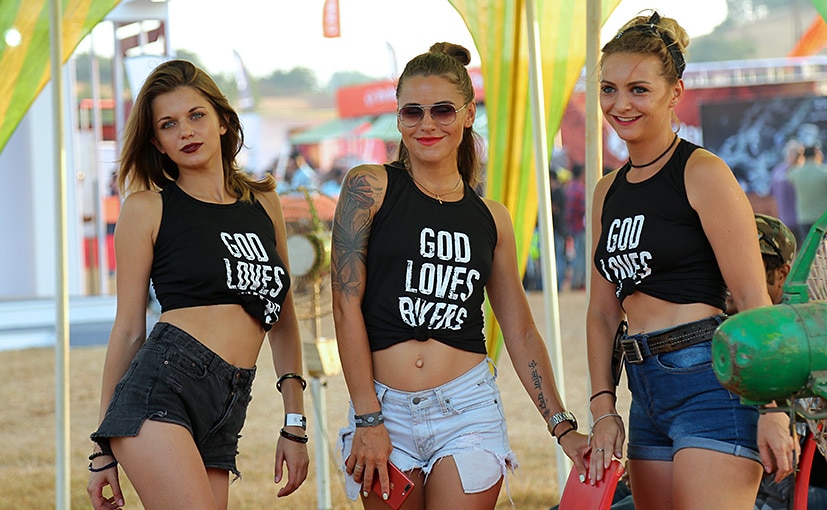 (There was no dearth of beautiful, lovely women at IBW this year. Quite photogenic, too!)
There were other cool attractions too, like the Royal Enfield barbecue bike, by Barbecue Ride India, a Bengaluru-based start-up. The menu was limited, but that didn't stop the Barbecue Bike from doing some roaring business. And in addition to the bikes, and bikers, there was ample participation from the fairer sex as well, with a lot of lady riders attending the India Bike Week this year. And there were others who from just posing on bikes, even put on some entertainment, like the annual bikini bike wash.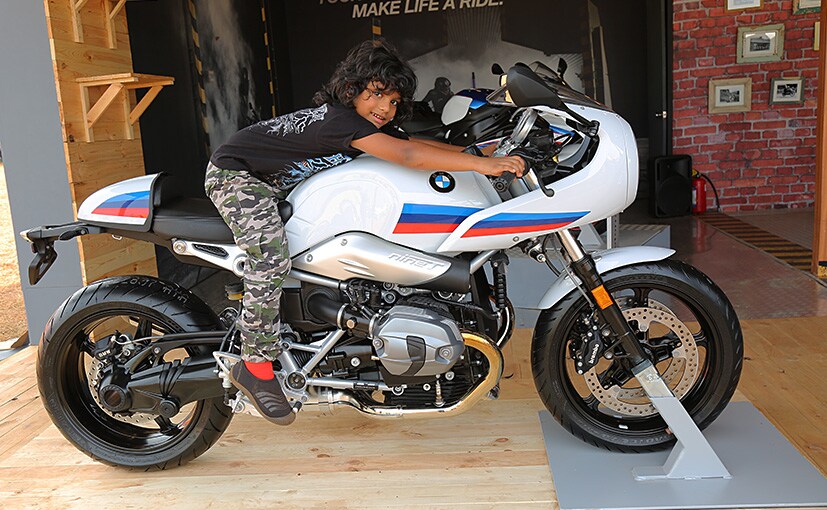 (Starting 'em young is the way to go!)
There were a few misses too - like a lot of bikers riding into the venue without helmets. That certainly isn't welcome or safe, and many riders feel wearing proper safety gear should be made mandatory, and riding responsibly and wearing a helmet should very well be part of an event on the scale of the India Bike Week.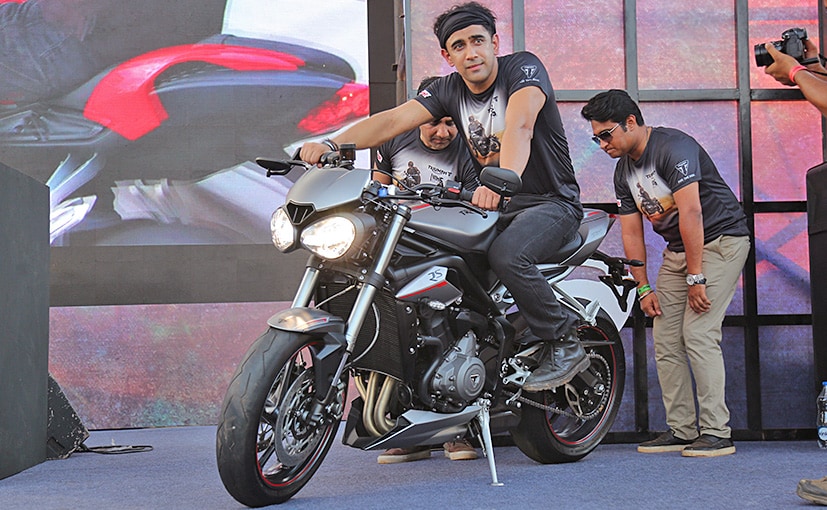 (Actor Amit Sadh was happy receiving his new Triumph Street Triple RS)
"I think we've not taken enough initiative to educate riders to be responsible, and to underscore the importance of wearing a helmet. And I think we all have failed in it. I hope next time this doesn't happen, I hope next time there are strict rules. I don't care who you are, I don't care how much cc your bike has, wearing a helmet is not just for your safety, but being safe for somebody you care. Next time, I wouldn't mind standing here three days in advance and stopping people from riding without helmets. I think we need to clean up our act," said Amit Sadh, Actor and Motorcycle Enthusiast.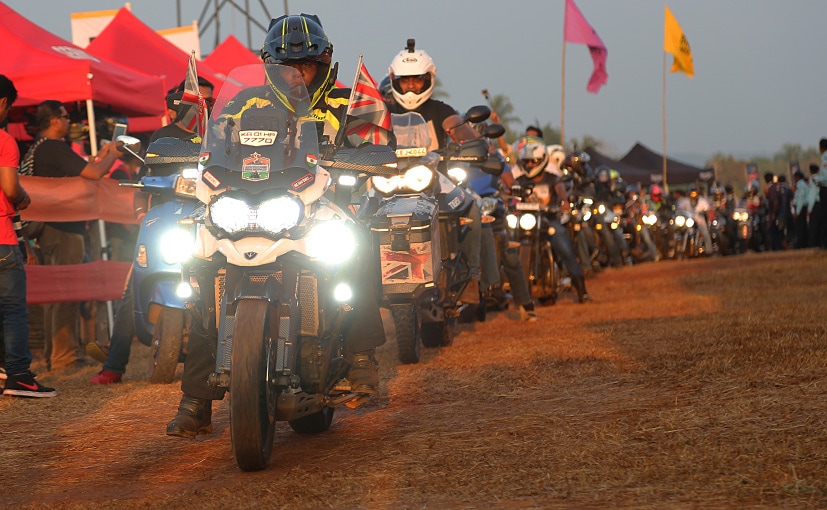 (Bikers getting ready to ride out!)
There were other misses as well. Making noise seems to be a dominant theme at the India Bike Week, with many riders taking pleasure in revving their bikes and doing burnouts. It's certainly not something cool, but attracts attention nevertheless. Along this melee, there were some really nice films being showcased around motorcycling, as well as the Big Trip involving talks by experienced motorcycle travelers and racers. The mega motovlogger meet saw a lot of attendance and attention, and it was difficult to even step in to the Big Trip venue where it was being held.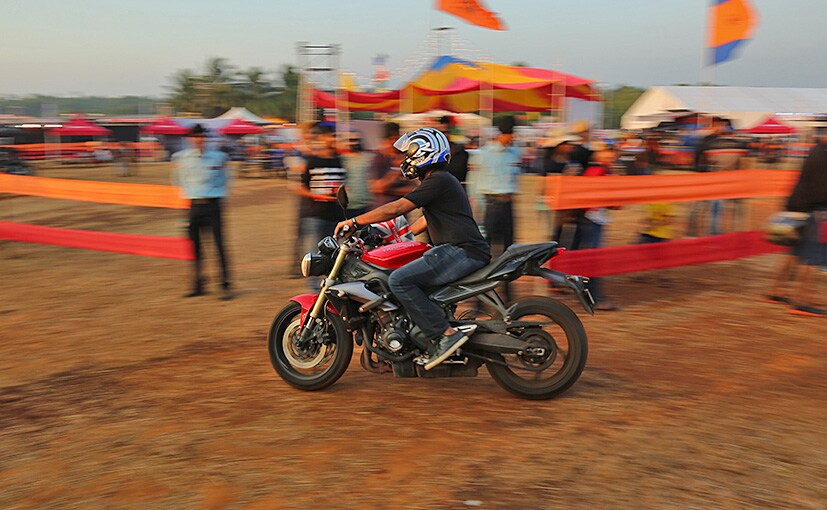 (Bikes and riding gear go together, something that this gentleman forgot)
0 Comments
Entertainment acts were packed to the brim, with headlining acts like Apache Indian, DJ Smoky and a finale by Bengaluru-based rock fusion band, Lagori, to finally bring the curtains down, on possibly one of the world's biggest events around motorcycles and motorcycling. It was a busy two days for us, on our toes all day at the India Bike Week. It's certainly heartening to see how motorcycling is growing in India, hopefully along with it, responsible riding and wearing safety gear will also be practiced in earnest by the riders, who make an annual beeline for one of the most anticipated motorcycling events in India, and Asia.
For the latest auto news and reviews, follow CarAndBike on Twitter, Facebook, and subscribe to our YouTube channel.