The new Honda Africa Twin has been brought to India as completely knocked down (CKD) kits and assembled here. The CRF1000 L, as it's also called, will be available in only one variant - with the automatic dual clutch transmission (DCT). And it's been launched at a very attractive price of ₹ 12.90 lakh (ex-showroom Delhi). At that price, the Honda Africa Twin will go head-to-head against Triumph's popular adventure bike, the Tiger 800, more specifically, to the off-road oriented Triumph Tiger 800 XCx variant. Here's a look at how both bikes compare to each other, at least on paper for now.
Design and Features
Both bikes follow typical 'adventure' design, with a tall stance, minimal bodywork, dual headlights topped off by a windscreen, large spoked wheels and high ground clearance. The Triumph Tiger 800 XCx follows the more conventional 'adventure' styling, complete with a front 'beak', while the Honda Africa Twin seems to have taken a more minimalistic design approach. Both bikes have tremendous presence, but the Triumph somehow looks a little dated compared to the Honda, probably because it's been around for over three years now.
| | Honda Africa Twin | Triumph Tiger 800 XCx |
| --- | --- | --- |
| Engine Type | Four-stroke, liquid-cooled, parallel-twin | Four-stroke, liquid-cooled, in-line three |
| Displacement | 999 cc | 800 cc |
| No of Cylinders | Two | Three |
| Max Power | 87 bhp @ 7500 rpm | 94 bhp @ 9250 rpm |
| Max Torque | 91.9 Nm @ 6000 rpm | 78 Nm @ 7950 rpm |
| Transmission | 6-speed DCT (automatic) | 6-speed manual |
| Riding Modes | One Manual and Four Automatic | Road, Off-Road, Rider (Custom) |
| Front Wheel | 21-inch wire-spoked | 21-inch wire-spoked |
| Rear Wheel | 19-inch wire-spoked | 17-inch wire-spoked |
| Front Suspension | Showa 45 mm USD, 230 mm travel, fully adjustable | WP 43mm USD forks, 220 mm travel, adjustable for rebound and compression damping |
| Rear Suspension | Pro-link, gas-charged damper, 220 mm rear wheel travel | WP monoshock, 215 mm rear wheel travel |
| Front Brakes | Twin 310 mm floating discs | Twin 308 mm floating discs, switchable ABS |
| Rear Brakes | Single 256 mm floating disc | Single 255 mm disc, switchable ABS |
| Seat Height | 840 - 820 mm | 840-860 mm (Optional Low Version 790-810 mm Available) |
| Fuel Tank Capacity | 18.8 litres | 19 litres |
| Weight | 245 kg kerb weight | 235 kg kerb weight |
| Price (Ex-showroom Delhi) | ₹ 12.90 lakh | ₹ 12.95 lakh |
The Honda also gets sparkling modern bits, like LED headlights, LED taillight and even LED indicators. The 'rally-style' LCD display promises better visibility at a quick glance from the rider, and there are some additional electronic rider aids as well. The Honda Selectable Torque Control and ABS work together and can be set independently too, offering 80 different combinations to adapt the bike's response to rider skill level and terrain. An additional 'G' switch provides half-clutch control that responds directly to throttle operation. These will be helpful for less-experienced riders or those new to riding a heavy adventure bike off-road.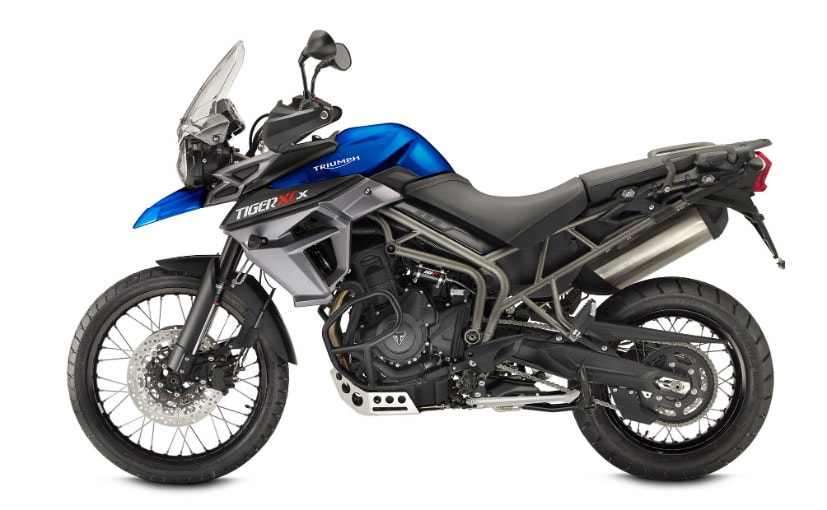 The Triumph is well-equipped too with modern electronic aids; three different riding modes, including a programmable Rider mode, switchable ABS and traction control. But compared to the Honda's technology, the Triumph begins to look old school. The Tiger also has an instrument panel which doesn't look that modern any more. The Africa Twin has a saddle height of between 820 - 840 mm, quite tall for the average Indian, but the Tiger 800 offers an optional 'low' seat to reduce seat height to 790 mm if required.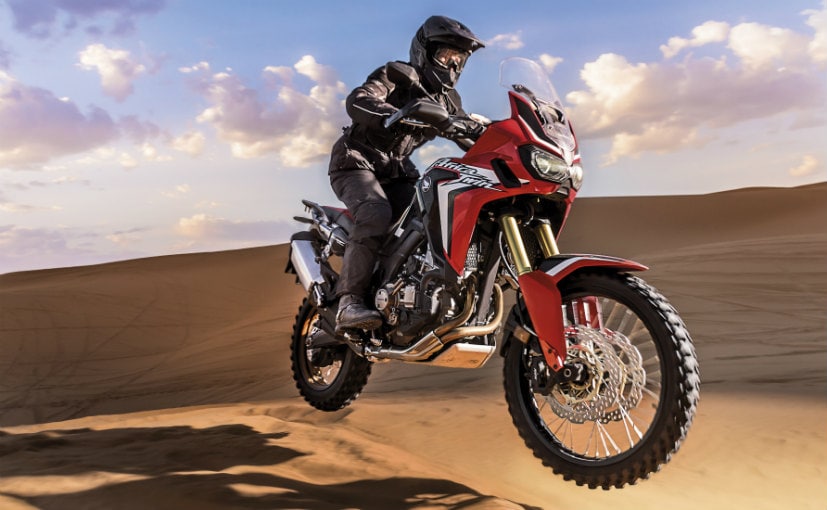 Engine and Performance
The new Honda CRF1000L Africa Twin is powered by a 999 cc parallel-twin motor which makes 87 bhp and 92 Nm. In comparison, the Triumph Tiger 800 XCx has an 800 cc in-line triple engine, and makes marginally more power - 94 bhp. But the Africa Twin makes more torque than the Tiger's 78 Nm, and that torque kicks in at much lower revs (6000 rpm). So, off-road, when you won't have the throttle pinned wide open, the Africa Twin will have the power and torque advantage over the Tiger, but out on the highway, it's the Tiger which will probably have an advantage with a broader powerband.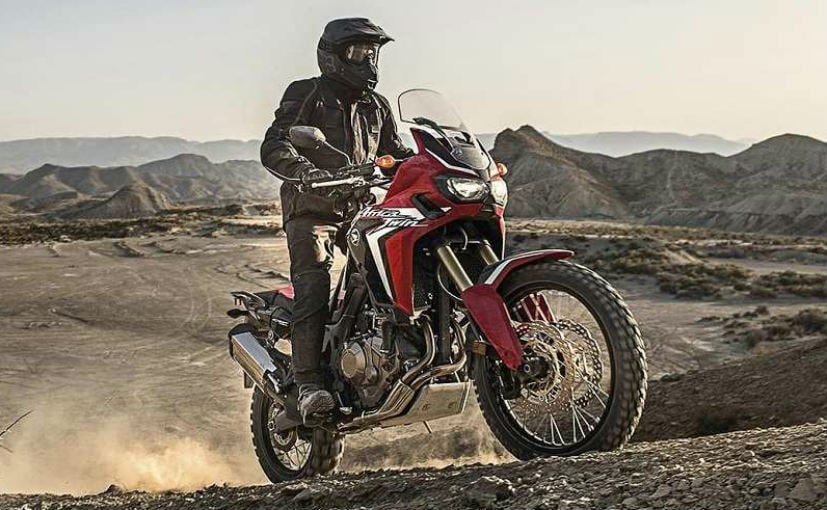 The Africa Twin also comes with a new dual clutch transmission (DCT). As of now, it's the only variant on sale in India, and offers the first-of-its-kind automatic transmission for an adventure bike. There's a choice of five different modes - a manual mode with 'up'(+) and 'down' (-) triggers on the left handlebar, and a choice of four different automatic settings. The 'D' mode is for highway cruising, and it optimises fuel efficiency. The 'S' or Sport mode, offers three progressively more sporty shift options - S1, S2 and S3. The advantage here will be off-road, where the rider can stand up on the pegs and just point the bike in any direction, using the throttle and brakes, without needing to use the clutch or toe-shift into the right gear.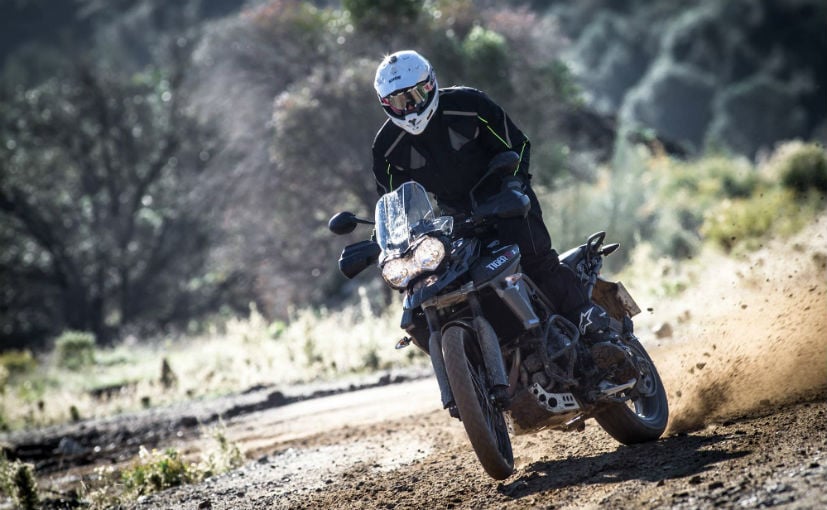 Off-road equipment
Both bikes are evenly matched when it comes to off-road equipment. Large 21-inch front wheels will make conquering rough terrain easy, and switchable ABS will allow the rider to use rear wheel lock up and drift out of tricky situations. While the Honda offers marginally more suspension travel, the Triumph offers more reputed off-road WP suspension, compared to the Showa system on the Africa Twin. Brakes on both bikes are more or less well-matched, and the Tiger offers more 'classic' off-road riding experience with a manual transmission and with less electronic intervention compared to the Africa Twin.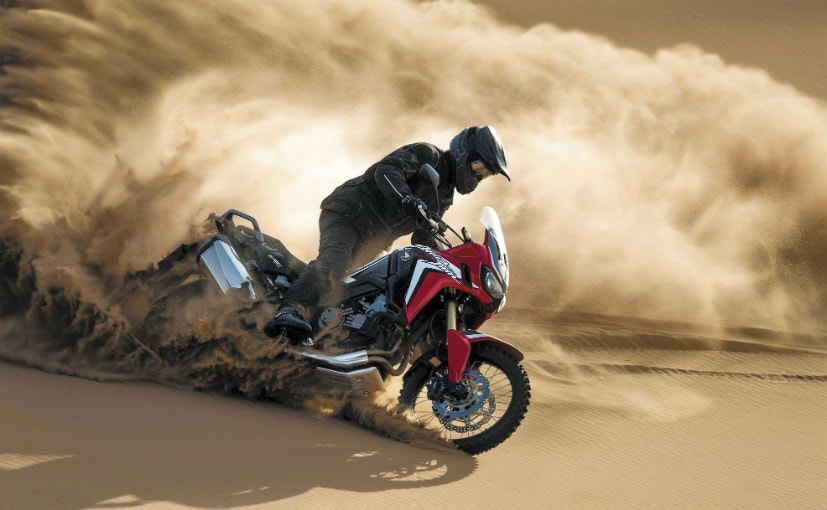 The Honda, at least on paper, seems to offer a larger umbrella of electronic rider-aids and off-road focussed technology, including an incline detection feature. The automated clutch and transmission on the Africa Twin may not excite off-road purists, but they are designed to make even less-experienced riders get the most out of an off-road riding experience. The DCT may be a departure from 'real' toe-shifting manual motorcycles, but it does seem to promise a lot of convenience. Then, there's the weight - Triumph only publishes 'dry weight' of their bikes, but most estimates put the Tiger 800 XCx at 235 kg wet weight, and that's still 10 kg less than the Honda Africa Twin's 245 kg kerb weight.
Price, Market Positioning and Competition
At ₹ 12.90 lakh (ex-showroom Delhi), Honda seems to have hit the target squarely on the pricing front. The Africa Twin is placed slap bang in Tiger territory, both in terms of adventure capability and pricing. The Triumph Tiger 800 XCx is designed for all the things the Africa Twin claims to do, and it's priced nearly the same at ₹ 12.95 lakh (ex-showroom Delhi). Where the Honda Africa Twin begins to look more attractive is the amount of additional technology and equipment it boasts of.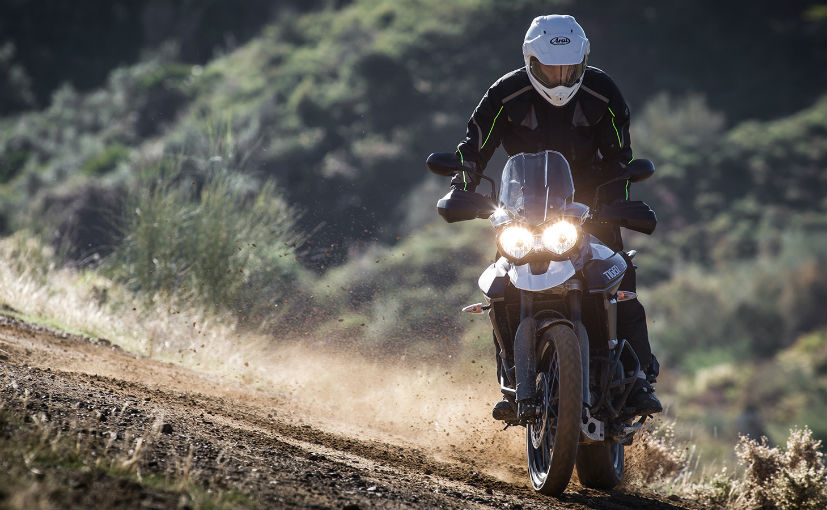 But the Triumph is the more accessible option here; it is available in four different variants with the lowest variant priced considerably lower. The base Tiger 800 XR is priced at ₹ 10.60 lakh (ex-showroom Delhi); what it doesn't get are large spoked wheels, riding modes, cruise control and standard hand guards. Then, there's the Triumph Tiger 800 XRx, the largest-selling Tiger 800 variant in India, and it gets alloy wheels, but nearly all the features as the XCx, except the standard aluminium bash plate, engine protection bars and large 21-inch front wheel. Priced at Rs 11.83 lakh (ex-showroom Delhi), the Tiger 800 XRx still leaves you with enough in the bank to invest in some good quality riding gear if you consider the price difference with the Honda Africa Twin.
| Ex-showroom Delhi Prices | |
| --- | --- |
| Honda Africa Twin | ₹ 12.90 lakh |
| Triumph Tiger 800 XR | ₹ 10.60 lakh |
| Triumph Tiger 800 XRx | ₹ 11.83 lakh |
| Triumph Tiger 800 XCx | ₹ 12.95 lakh |
| Triumph Tiger 800 XCA | ₹ 14.02 lakh |
0 Comments
And then there's this reality - adventure bikes like the Honda Africa Twin and the Triumph Tiger 800 may have decent off-road capability, but 80 per cent of the time, the average owner will use it on tarmac and rarely on some broken roads, rather than use them for hard-core off-road use. Considering this, the Tiger 800 still makes quite a compelling case for itself in the larger scheme of things. Is the Africa Twin a Tiger slayer then? So far, there's no simple answer to this question. We've yet to ride the Africa Twin, so we'll reserve a verdict till we actually do a real world comparison.
For the latest auto news and reviews, follow CarandBike on Twitter, Facebook, and subscribe to our YouTube channel.