Hero MotoCorp Ltd, the world's largest two-wheeler manufacturer, has formed a strategic partnership with Speedbrain GmbH, the German off-road racing specialist to form Hero MotoSports Team Rally. The new motorcycle rally racing team will have CS Santosh and Joaquim Rodrigues as riders in the upcoming Merzouga Rally in Morocco.
"In the recent past, we have rapidly expanded our global footprint and also made significant investments in enhancing our R&D capabilities. Motorsport is a natural progression for us, as it will allow us to bring value-added products with top-of-the-line technology for our millions of customers. This initiative is also reflective of our consistent support to sports and sportspersons. I welcome Santosh and Joaquim on board and wish them all the very best," said Pawan Munjal, MD and CEO, Hero MotoCorp Ltd.
The Merzouga Rally is a Dakar series race and will be held from May 21 - 27 in Morocco. The Hero MotoSports Team Rally will also participate in international rallies across the globe, leading up to the Dakar Rally 2017.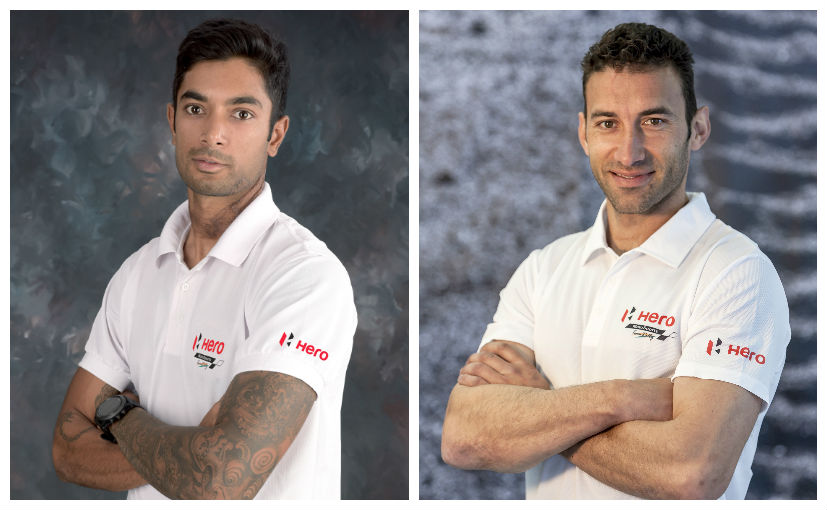 CS Santosh is the off-road motorcycle star from India, and has participated in the Dakar Rally twice. He is the only Indian to have participated and completed the Dakar Rally. His teammate, 'J-Rod' from Portugal is a rookie in rally sport, but has a strong background in motorcross and supercross events. The team will be led by Wolfgang Fischer, Managing Director, Speedbrain.
"So grateful to all the people who have been part of my journey and supported my aspirations. I am so grateful to be part of this world class factory team with Hero MotoCorp and having Mr Wolfgang Fischer as my mentor who I consider one of the best managers in the world. It's time to go to work and show up ready for Dakar Rally 2017," an excited Santosh said in a Facebook post.
0 Comments
The Hero MotoSports Team Rally will be under the direct supervision of Dr. Markus Braunsperger, Chief Technology Officer, Hero MotoCorp, and will work in close collaboration with his team at the Hero Centre of Innovation and Technology. The Hero MotoSports Team Rally will also assist in development and testing of new Hero vehicles concepts, using the data collected from the races.
For the latest auto news and reviews, follow CarandBike on Twitter, Facebook, and subscribe to our YouTube channel.