Goldstone Infratech Limited today announced that its electric bus - Goldstone eBuzz K7, has been commercially launched for public transport in the state of Himachal Pradesh. The eBuzz K7 is the country's first electric bus to enter the public transport sector, which as of today, September 22, started running under Himachal Pradesh Transport Corporation. The 25+1 seater Goldstone eBuzz K7 will ply between the Kullu-Manali-Rohtang Pass route in Himachal Pradesh. Goldstone also says that the eBuzz K7 has successfully completed trial runs at a steep gradient and over 13,000 feet altitude to be eligible for this region.
The Goldstone eBuzz K7 comes with a range of 200 Km on a single charge and can be recharged in less than 4 hours, courtesy of its fast charging technology. The bus uses Lithium Iron Phosphate battery which ensures longer lifetime, better power density and is safe due to chemical and thermal stability. The eBuzz K7 also comes with front and rear air suspension that will largely help in offering comfortable rides to commuters, especially in regions like Himachal Pradesh which have rough terrains.
Also Read: Daimler AG Ready To Bring Electric Trucks In India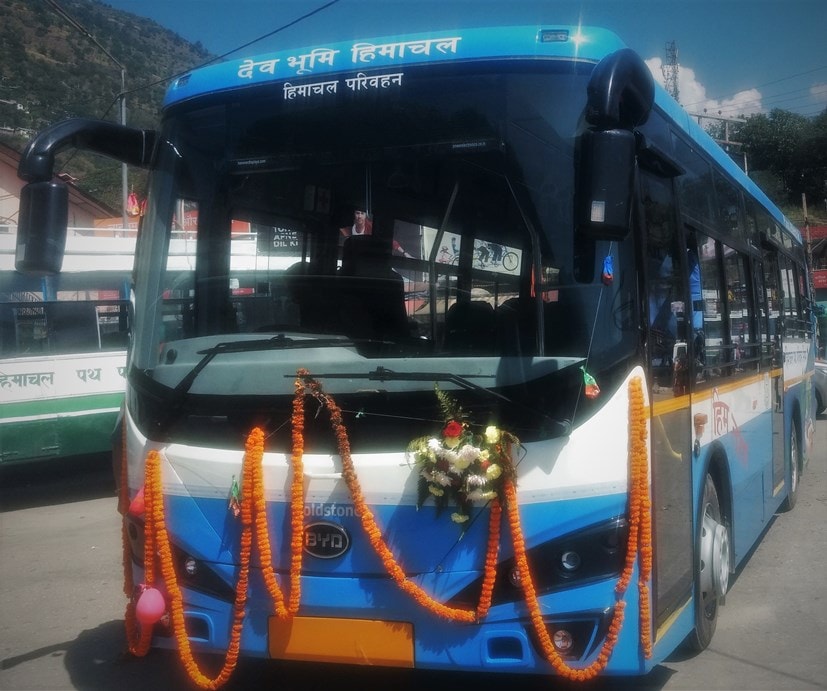 Anand Swaroop, Chief Operating Officer - Goldstone Infratech Ltd said, "Goldstone Infratech is proud to become India's first company to run its ARAI certified Electric Buses on Indian Roads. We are committed to offer quality products to the country. We are sure that these electric Buses which have started serving the passengers between Kullu-Manali-Rohtang pass at such a high altitude will become a benchmark for every State Transport Undertaking. This will surely augment faster adoption of much-needed Electric Public Transport system in the country and further support the cause of environment protection."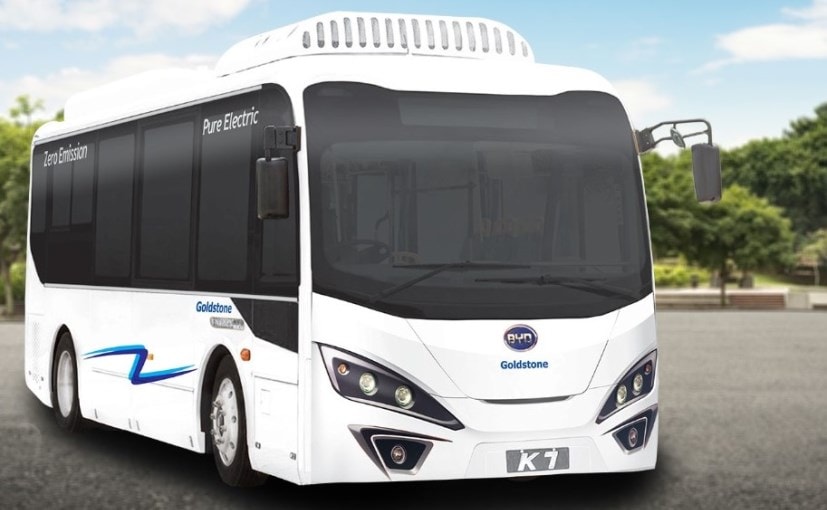 The new Goldstone eBuzz K7 has undergone extensive testing at part level and vehicle level at various testing facilities and has been certified by the Automotive Research Association of India (ARAI). Early this year in August, the 12-meter low Floor AC electric bus from Goldstone-BYD successfully completed the trials with Chandigarh Transport Undertaking. In addition to this, Goldstone-BYD conducted successful trials of its electric buses in the Delhi, Bengaluru, Hyderabad and Rajkot. The eBuzz K7 buses are being manufactured under a tie-up with BYD Auto Industry Co. Ltd - Chinese automobile manufacturer which develops and manufactures luxury electric cars sold under the Denza brand.
Also Read: Suzuki JV With Toshiba, Denso To Set Up Electric Car Battery Plant In Gujarat
0 Comments
Goldstone has announced that it will be supplying 25 electric buses to Himachal Pradesh Road Transport Corporation. Also, the company has received an order of 6 electric buses to Brihan Mumbai Electricity Supply and Transport Undertaking (BEST).
For the latest auto news and reviews, follow CarAndBike on Twitter, Facebook, and subscribe to our YouTube channel.