The very basic MPV offering from General Motors in India - the Chevrolet Enjoy, has failed in a crash test conducted by Global NCAP and has received a zero star rating. The international car safety watchdog has been conducting crash tests on many Indian made car models since 2014, in a bid to get the safety standards in India to go up. The Ford Figo Aspire subcompact sedan has also been tested and has done well with a 3 Star rating. These are the first set of tests for 2017 and base variants of both cars were crash tested - as is customary.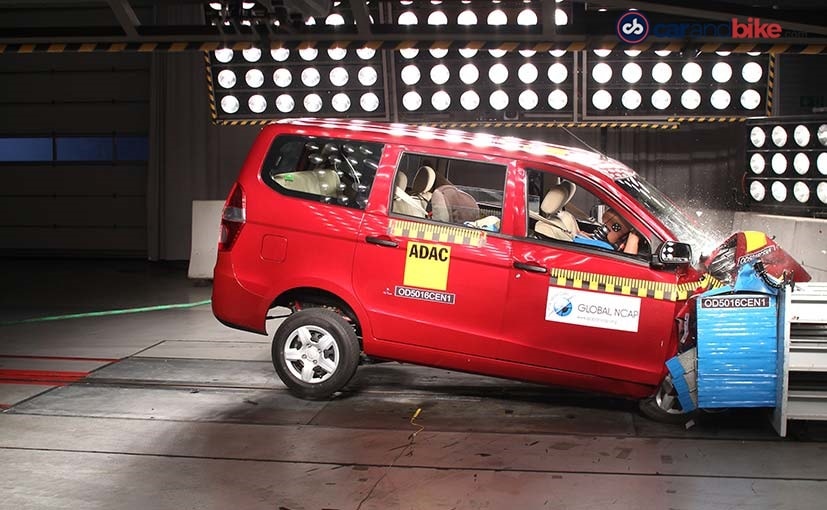 The Chevrolet Enjoy failed the crash test
6.06 Lakh *
On Road Price (New Delhi)
In a frontal offset test at 64 kmph, the Chevrolet Enjoy failed the test with a zero star rating for adult occupant protection. The MPV is sold without airbags in its base trim and results show that due to the lack of airbags and poor structure, driver (in particular) and front passenger injuries would have been unacceptably high - even fatal. It did get 2 stars for rear seat child occupant protection though. It wasn't just the lack of airbags though. The structural integrity of the car is also in question. David Ward, Secretary General of Global NCAP says, "There is nothing to enjoy about a zero star safety score and GM should be embarrassed that they are selling cars with such inadequate levels of occupant protection to Indian consumers". Last year the made-in-India Chevrolet Beat had also failed a Latin NCAP crash test. It is exported from India as the Spark GT.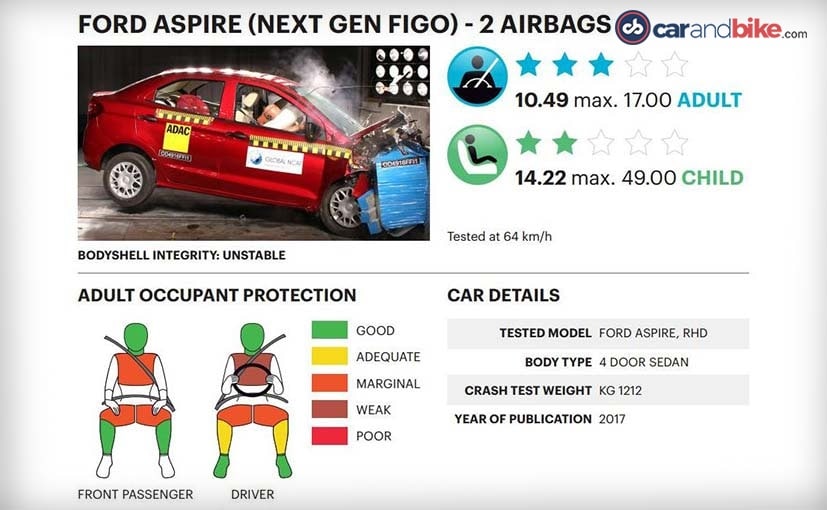 The Ford Figo Aspire has fared much better. The car is sold with dual front airbags as standard, (and in fact the top trim has 6 airbags). It scored three stars for adult occupant protection and 2 stars for child protection - showing good build quality and much fewer potential injuries sustained by occupants.
Last year the 4th round of crash tests saw poor results for models like the Renault Kwid and Honda Mobilio. In fact 4 other models including the Eon and Celerio had also fared very poorly in tests last year. Ward, adds "Ford's three star result shows that basic levels of safety are achievable as standard in the Indian vehicle market." In case you are wondering whether the subcompact sedan's results will also apply to the Figo hatchback, Alejandro Furas, Technical Director of Global NCAP says, "Global NCAP tested the Ford Aspire which is the sedan version of the Next Gen Figo which is a hatchback. The results can therefore be extended to both the Next Gen Figo and Aspire."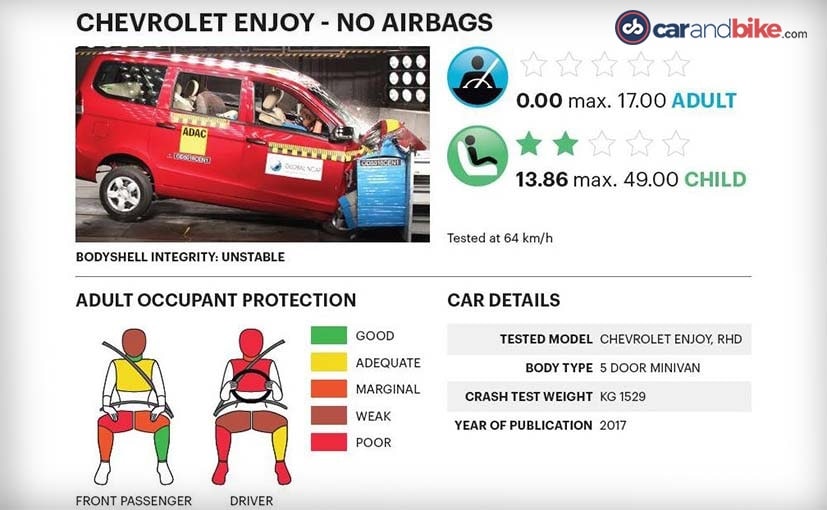 Since Global NCAP's India crash tests began Volkswagen, Toyota and Maruti's Nexa portfolio have made dual airbags standard. The Etios Liva in fact got an impressive 4-Star rating. Many others like Mahindra are offering safety equipment as optional from the base variant up. And we at NDTV have applauded all these moves. After failing previous rounds of tests manufacturers like Tata with the Zest in 2016 (base and airbags models tested) and Ford India with the Figo Aspire this year have now seen a major improvement in their scores. The previous generation Figo had done well on build quality in the first tests but had failed due to lack of airbags in its base variant too. Furas says, "Tata, has shown improvements with results of the Zest last year. Toyota and Honda have also had good results, VW improved the basic equipment of the Polo offering better safety and most importantly are engaging with Global NCAP to improve." I am now hoping the next generation Maruti Suzuki Swift does better than the last one on its safety record. The current Swift and Datsun GO had also failed their tests in 2014.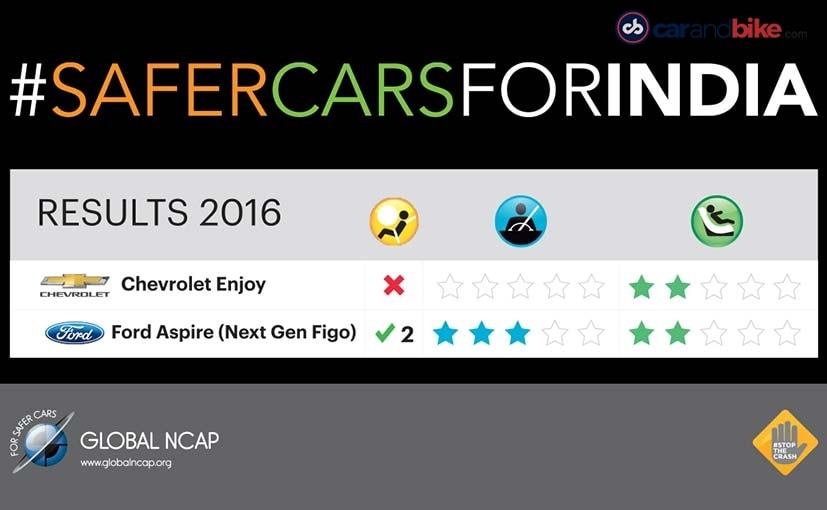 0 Comments
According to the government, India is all set to get new safety regulations for cars - including crash testing only by 2018. Global NCAP promises to keep up the pressure and conduct more tests of Indian made cars this year. The test with the Enjoy and Figo Aspire was just the first round for 2017.
For the latest auto news and reviews, follow CarAndBike on Twitter, Facebook, and subscribe to our YouTube channel.