The SUV specialist has a strategy I first heard about at the 2013 Los Angeles Auto Show. Going forward there will be three families of vehicle lines under the Land Rover umbrella - Range Rover, Discovery and Defender. That means the Freelander nameplate will disappear into the sunset somewhere, and there will be more than one Discovery and Defender! Well simply put expect at least 3 of each - like there are three Rangeys!
So a small, medium and large? Well, not exactly! There will be a rugged hardy appeal to the Defenders, a utilitarian Discovery family and the luxurious Range Rovers. So what does the Discovery Sport look like? Well Land Rover released images of the car digitally two weeks ago, but its only now we have the production car in the flesh to see and behold.
It's a compact SUV, one that will take on the Audi Q5, BMW X3, Volvo XC60 and the like, when it debuts on road in 2015. The idea is simple - take those on alright, but within similar (in fact slightly more compact) proportions, offer greater cabin space, complete with a 7-seater option. Yes - three rows indeed! But buyers can opt for a 5-seater too - which simply means that the spare wheel goes in the boot, as opposed to under the car as with the 7-seater. Why? To offer identical boot space in both cars!
Okay so it's roomy, and being a Land Rover its also fairly premium. A lot of the new technologies on the just-revealed Jaguar XE have therefore made their way onto the Discovery Sport. But I will get to that in a bit.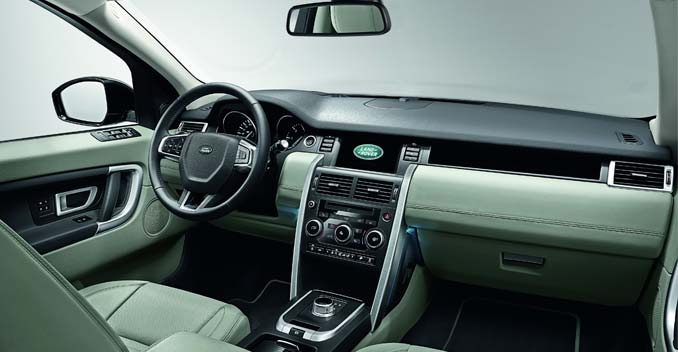 The Discovery Sport is built on the same platform as the Range Rover Evoque. But having said that, it uses 50% new parts in comparison to that car. The focus of the engineering and design team was to build a car that would be more compact, and yet hold more people and luggage. The new integral multilink rear suspension has allowed for the engineers to give the car the 5+2 seating option. The company has been very candid in saying the third row of seats is primarily for kids, up to the age of 13 - though is suitable for adults on shorter drives. The three rows are put into the car - stadium style, meaning each row is higher than the one ahead of it - to afford a better view and feeling of space to each occupant.
This is a family car and so there are plenty of convenient bits to highlight personal comfort an convenience - like plenty of bottle and cup holders, individual USB charging points (yes 5 of them), AC vents galore and plush leather seats too.
Unlike its pricier siblings this car isn't made of aluminium - well some aluminium anyway but not all! The roof, hood and tailgate are aluminium - but of the rest of the steel body, 20% is made up of high strength and boron steels - and that is more than any previous Land Rover.
This car is not a replacement for the current Discovery, but in some ways can be termed as one for the Freelander 2. It's lighter than that car, and also has 8% better aerodynamics than it.
There will be 3 powertrains on offer at the start, and they are familiar to us: The 2.0 Si4 petrol with a 9 speed ZF automatic gearbox, and the 2.2 TD4 & SD4 diesels - which will have optional 9 speed auto or 6 speed manual transmissions.
The Discovery Sport will have optional equipment like the fully-loaded infotainment system that's also debuting on the Jaguar XE. This touch-screen led system has JLR's InControl Apps that let you integrate your online needs with the car, as well as your smartphone and its existing apps, your music and more. Like the XE, it also allows you remote functionality, so you can lock and unlock your car, track its location - even get alerted if it's stolen!
An optional Wi-Fi hotspot is possible thanks to a 3G simcard slot, that allows up to 8 gadgets at a time, to link up and go online. And there is the now familiar SD card based satellite navigation system that has been also updated to include 3D views. The Disco Sport has 5 colour options of ambient lighting themes (hence my switch to Disco!).
Being a Land Rover means off-road capability and so it boast a 600mm wading capability, and a new updated Terrain Response system for driving on different surfaces. The Terrain Response now includes a Dynamic mode (with Adaptive Dynamics) for flatter cornering, and sharper steering. The car's braking system imitates the effect of a torque vectoring differential for improved cornering stability and agility too.
Safety systems include face-level airbags for all occupants, and also a pedestrian airbag mounted into the hood on the wiper line. This activates on impacts when driving at speeds of 25-50 kmph to prevent major injury. The car also has a stereo camera mounted behind the rear view mirror that helps with autonomous braking, lane departure warning, traffic sign recognition, and auto high-beam assist.
The car also borrows the XE's new laser based head-up display system with better clarity and colours. And the Discovery Sport has parking assist. Land Rover will offer a 2 wheel drive version next year, but for now it's a 4 wheel drive. The 4X4 system distributes torque to the wheels as they need it to hold traction - and can send as much as 100% torque to just one wheel if needed. An active driveline switches to 2WD with 100% torque to the front wheels when you are cruising at a steady speed on a smooth road.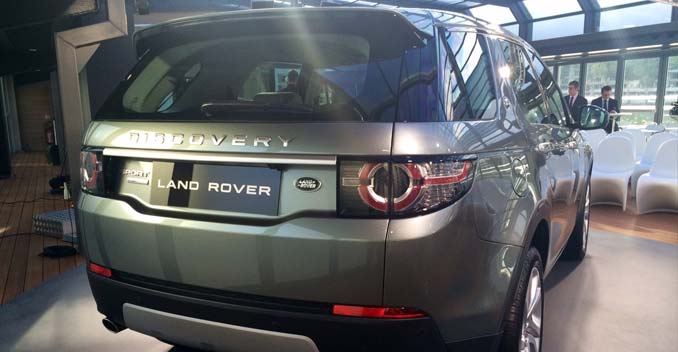 Land Rover says the Discovery Sport offers better drive dynamics, and enhanced ride comfort than its past Discovery or Freelander 2. And it's also more powerful and faster. Well, I will have to wait to drive the car to know if that's true. And frankly I would have liked the styling to be less like its Range Rover siblings, and have a more distinct identity. But design director Gerry McGovern insists that they've done enough to keep the families distinct, while still showing the world their larger relation and lineage. Well, maybe I simply need time for that idea to grow on me - or simply the Discovery Sport's styling itself! Seen in isolation, the car is good looking, well proportioned and very modern. The clam-shell hood is typically Land Rover, as is the grille. The interiors appear smart and well finished.
0 Comments
So again, I'll just say this - may I please have one to drive - and soon?
For the latest auto news and reviews, follow CarAndBike on Twitter, Facebook, and subscribe to our YouTube channel.