Stage 7 of the 2016 Dakar Rally marked the end of the first week of racing, allowing both car and bike riders a day of rest and relaxation. The 793km stage however, was a long and difficult one with 353km on the special stage.
It was also full of unfortunate incidents, including the accident of KTM rider Matthias Walkner, who crashed and broke his femur. Honda rider Paulo Goncalves stopped and helped Walkner, activating his beacon to report the fall, even though he was battling Walkner's teammate Toby Price for the overall lead.

The Honda rider lost 11 minutes helping Walkner, but race officials deducted 10 min 53 seconds from his final stage time. Halfway through the rally, Goncalves is still in the overall lead, with a 3 min 12 second advantage over KTM rider Toby Price.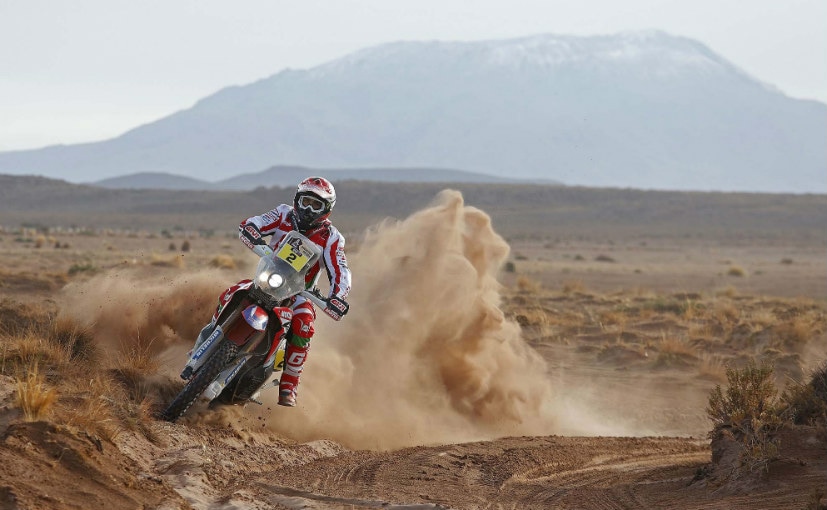 The second special of Stage 7 was cancelled due to extreme weather. Red Bull KTM's Antoine Meo won the Stage 7, marking the first stage win of his career. In second position was Honda rider Kevin Benavides and also in fourth was HRC rider Michael Metge.
Honda rider Joan Barreda, who failed to start Stage 7, possibly due to technical problems with his Honda CRF 450 Rally on Stage 6.On Friday, Barreda broke the engine of his bike and had to be towed by his team mate Paolo Ceci. Barreda chose not to participate in Stage 7 citing an injured hand.
KTM's Toby Price is still the second overall but ended Stage 7 in fifth position. With the Stage 7, the Dakar has reached the halfway point and the riders are now back in Argentina, where the remainder of the rally will take place. There will be tougher terrain with the sand dunes section coming up now and with more complicated navigation.
Top 10 riders after Stage 7:
1. Antoine Meo (KTM) 2:27:27
2. Kevin Benavides (HRC) 2:29:20
3. Paulo Goncalves (HRC) 2:29:23
4. Michael Metge (HRC) 2:31:18
5. Toby Price (KTM) 2:32:00
6. Pablo Quintanilla (Husqvarna) 2:32:19
7. Arana (Husqvarna) 2:32:30
8. Gerard Farres (KTM) 2:33:28
9. Stefan Svitko (KTM) 2:33:30
10. Ricky Brabec (HRC) 2:33:44
For the latest auto news and reviews, follow CarAndBike on Twitter, Facebook, and subscribe to our YouTube channel.