The newly launched Ford Endeavour certainly seems to pack a hefty punch and is likely to provide stiff competition to other premium SUVs like the Chevrolet Trailblazer, Mitsubishi Pajero Sport, and Toyota Fortuner. Of the lot, the Fortuner considerably raised the bar in terms of sales as it became a runaway success upon its launch in India. Now though, the entire SUV market seems to have gained immense traction as an increasing number of customers are opting for SUV or SUV-like vehicles, and to cater to this growing need, manufacturers are obliging their customers by spoiling them with a range of choices.
Also Read: Auto Expo 2016: Rise of the Subcompact SUV
The Trailblazer is the newest entrant in the segment as the Endeavour already had a moderately successful stint in India before being discontinued early last year. Additionally, the Mitsubishi Pajero Sport was also once a stalwart in the segment, and like the Endeavour, suffered a loss in market share. Despite both companies' best efforts to keep their designs fresh, the arrival of the Fortuner had a debilitating effect on their sales. However, the 2 fresh new American designs are now on sale in our country and the Fortuner may just begin to lose its stronghold over the premium SUV segment as the updated Fortuner isn't due to arrive for another year. Like Toyota, the Mitsubishi Pajero Sport too has been given an update which is due in India next year.
Ford Endeavour
Based on the Edge design philosophy, the all-new Ford Endeavour is a production-ready version of the company's Everest Concept which showcased some time ago. The new 2016 Ford Endeavour, which recently launched in India, is built on a new ladder frame chassis, features an independent coil-spring suspension layout at the rear instead of the current model's leaf spring setup, and is equipped with a new four wheel drive 'terrain management system' that adjusts traction control, engine torque and other aspects of the car's underpinnings depending on the landscape. Long story short, Ford has gone all out to make the all-new Endeavour a true off-roader. The front and rear overhangs are shorter than its predecessor which makes it an ideal car both on and off the road.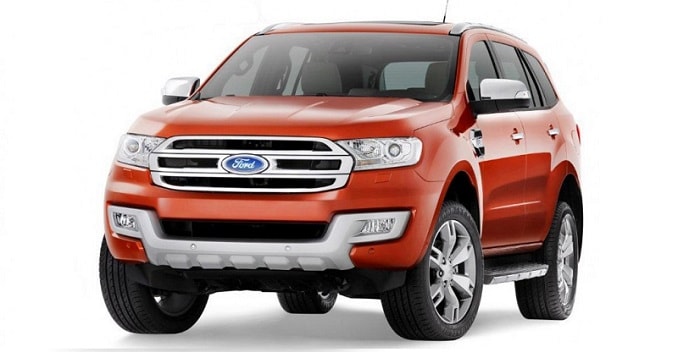 The 2015 Endeavour comes with 2 engine options - a 2.2-litre 4-cylinder diesel and a 3.2-litre 5-cylinder diesel. The 2.2-litre engine is offered with both 4X2 and 4X4 drive layouts. The 4X2 variant is also offered with a 6-speed automatic gearbox. The 3.2-litre version comes with a 4X4 setup and the same 6-speed automatic gearbox as standard.
Also Read: 2016 Ford Endeavour Review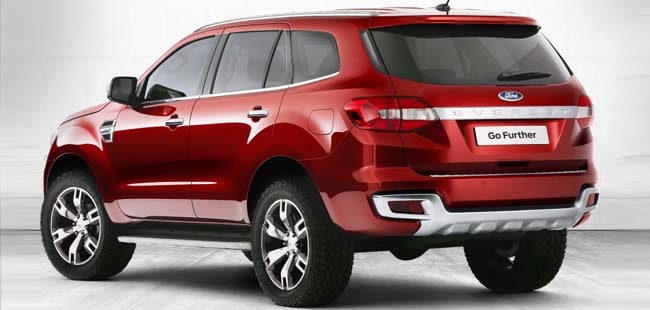 The 2016 Ford Endeavour is priced between Rs 23.64 lakh - Rs 28.15 lakh (ex-showroom, New Delhi).
Chevrolet Trailblazer
The Chevrolet Trailblazer is the 2nd proper out-and-out American SUV to grace Indian roads after the Endeavour and is the newest face in the premium SUV segment considering the fact that all 3 of its main competitors have been around in the country in their older forms for some time now.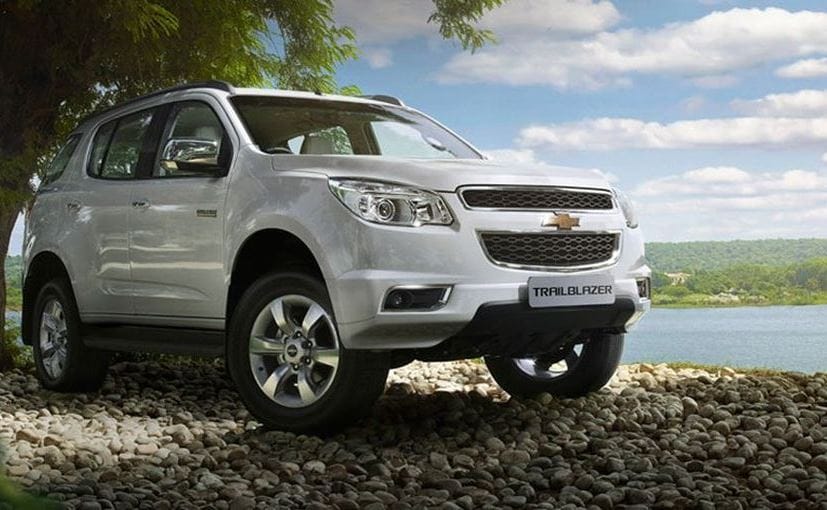 The big Chevy is underpinned by the General Motors Colorado pick-up truck's ladder frame chassis and comes powered by a 2.8-litre diesel engine good for 197bhp and 500Nm of torque, while transmission duties are performed by a 6-speed automatic gearbox. The Chevrolet Trailblazer was launched in October, 2015.
Also Read: Chevrolet Trailblazer SUV Review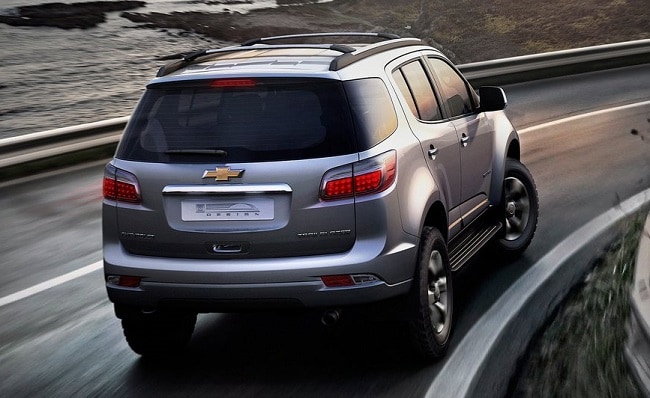 The Chevrolet Trailblazer SUV is available in only one variant and is priced at ₹ 26.4 lakh (ex-showroom, Delhi).
Mitsubishi Pajero Sport
Last year, Mitsubishi confirmed that 2016 would see the arrival of the Outlander and Montero in India with the next-gen Pajero Sport being benched for a 2017 launch. The new Pajero Sport, which was first showcased at the 2015 Thailand Motor Expo, features they company's Dynamic Shield front fascia which includes the liberal use of chrome and slick, narrow head lamp units that look quite attractive. However the side profile may not be everyone's cup of tea especially the long rear overhang and tapering glasshouse which makes the SUV look a bit stretched. The rear section is also a bit quirky and features vertically mounted tail-lamp units that take inspiration from the GR-HEV concept showcased at the 2013 Geneva Motor Show.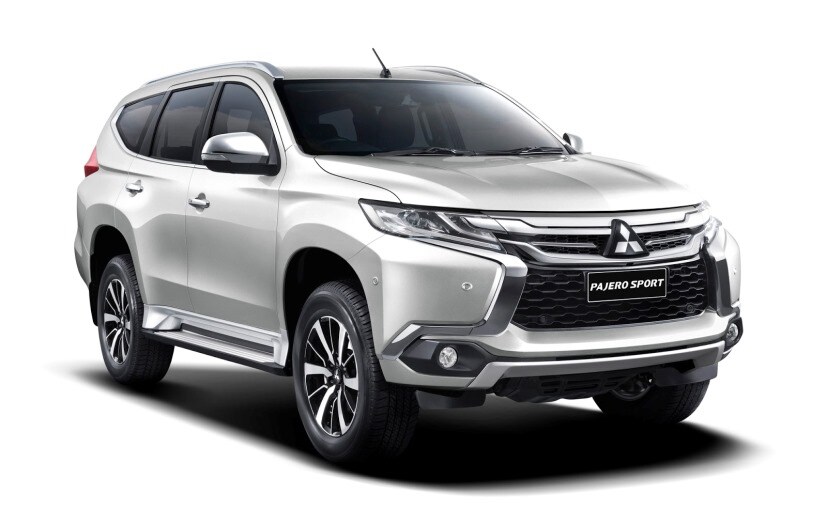 The insides are adequately modern and feature a black theme with silver accents. Power will be derived from a 2.4-litre MIVEC turbo-diesel engine which is paired with an 8-speed autobox, specifically created for the new Pajero Sport. The premium SUV is also likely to be offered with Super-Select 4WD-II system with an Off-Road Mode and Hill Decent Control. Mitsubishi says that the new powertrain boasts of a 17 per cent improvement on mileage and emits less than 200g/km of CO2.
The car is expected to cost between Rs 25 lakh - Rs 28 lakh.
Toyota Fortuner
The all-new Toyota Fortuner will arrive in India sometime next year as the all-new Toyota Innova is expected to launch by 2016-end. The SUV has enjoyed great success and possesses a sizable fan following thanks to its attractive, intimidating looks as well as the seal of reliability that comes with almost every Toyota product. However with the new Fortuner, Toyota seems to have moved away from the aging yet tried and tested design language.
Also Read: 2016 Innova: All You Need to Know
The new car, which is already on sale in certain foreign markets, comes with a slimmer twin slat front grille, sleeker head-lamps, and a restyled front bumper with chrome encased fog-lamps. The bulge on the bonnet has been done away with which does take away some of its muscle. Toyota will continue to employ the ladder frame chassis since it helps keep the car's weight in check and also improves its ride and handling.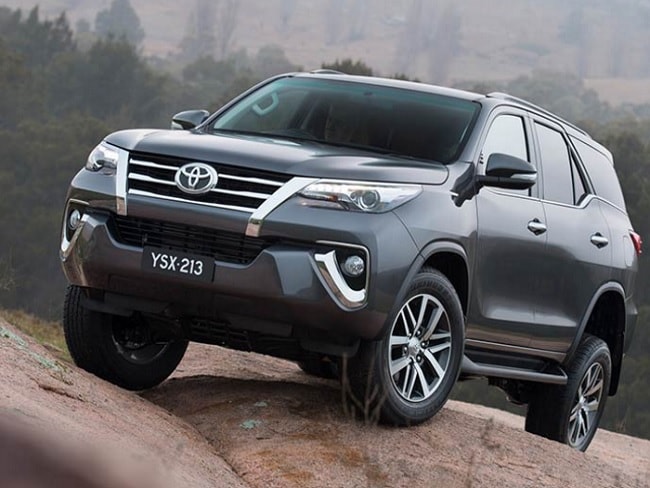 The all-new Toyota Fortuner also features a range of newly developed GD diesel engines which include a 2.4-litre 2GD-FTV unit rated at 148bhp and 400Nm of torque, and a 2.8-litre 1GD-FTV unit rated at 177bhp and 450Nm of torque. The petrol engine variant is unlikely to come to India. Transmission duties will be handled by either a 6-speed manual or a 6-speed automatic gearbox. The Fortuner SUV is also available in an optional 4x4 layout.
The all-new Toyota Fortuner is expected to cost between Rs 24 lakh- Rs 30 lakh.
0 Comments
Also Read: Toyota Fortuner: All You Need to Know
Dimensions Comparison:
2016 Ford Endeavour vs Chevrolet Trailblazer vs New Mitsubishi Pajero Sport vs New Toyota Fortuner
Length
Width
Height
Wheelbase
Ground Clearance
2016 Ford Endeavour
4,892mm
1,860mm
1,837mm
2,850mm
225mm
Chevrolet Trailblazer
4,878mm
2,132mm
1,851mm
2,845mm
253mm
New Mitsubishi Pajero Sport
4,785mm
1,815mm
1,805mm
2,800mm
218mm
New Toyota Fortuner
4,795mm
1,855mm
1,835mm
2,750mm
193mm
Engine Specifications Comparison:
2016 Ford Endeavour vs Chevrolet Trailblazer vs New Mitsubishi Pajero Sport vs New Toyota Fortuner
Engine Displacement
Fuel Type
Power
Torque
2016 Ford Endeavour
2,198cc
Diesel
158bhp
385Nm
3,198cc
Diesel
197bhp
470Nm
Chevrolet Trailblazer
2,776cc
Diesel
197bhp
500Nm
New Mitsubishi Pajero Sport
2,442cc
Diesel
178bhp
430Nm
New Toyota Fortuner
2,393cc
Diesel
148bhp
400Nm
2,755cc
Diesel
177bhp
450Nm
For the latest auto news and reviews, follow CarAndBike on Twitter, Facebook, and subscribe to our YouTube channel.