Sedans have kept us excited through-out the year as some of the major launches happened across the sedan segment in 2018. Starting from sub-compact sedans like the 2018 Honda Amaze and Ford Aspire Facelift to compact sedans like the Maruti Suzuki Ciaz Facelift, mass-market carmakers were up in the game. Even the luxury carmakers didn't take the back seat and there were plenty of launches. Mercedes-Benz has updated its S-Class range with the new 350 D, 400 and the top ranging 600 Maybach while BMW has got the 6-Series GT to compete with the likes of Mercedes -Benz Long Wheelbase E-Class. Even the performance sedan segment which saw new launches like the BMW M5 and Mercedes-AMG E 63 S has kept us thrilled. Moving ahead in 2019 we are looking forward to a bunch of new launches and hope they will keep up with the excitement.
Next-Generation Toyota Camry
The next-generation Toyota Camry Hybrid has been spotted testing several times in India.
The next-generation Toyota Camry has been spotted testing several times in India and the new model looks sharper in proportions than the outgoing one, especially with the design of the headlamps, tailamps and ORVMs and the way haunches have been done. The all-new 2018 Toyota Camry will be based on the TNGA modular platform and under the hood will get a 2.5-litre petrol engine as standard while the Hybrid variant will get an electric motor in addition. Moreover, the engine will be mated to a Continuously Variable Transmission (CVT) automatic gearbox.
Also Read: Next-Gen Toyota Camry Spotted Testing In India
2018 Honda Civic Facelift
2019 Honda Civic will be produced locally in India and will share its powertrains with the CR-V.
2018 Honda Civic Facelift is one of the eagerly awaited launches which hopefully will be happening soon in January 2019. The Civic brand has always had a spot in the heart of every car enthusiast and Honda's decision to skip the current-generation model and bring the facelift to India has spruced the excitement just because of the wait. Though the Japanese carmaker had their own reasons to do so and now that they feel that our market and their production unit, both are ready for the Civic, they are doing everything possible to make it worth every penny. As we had earlier reported, the Honda Civic Facelift will have around 68 per cent of localization which will help to reduce the cost and will share its drivetrains with the 2018 Honda CR-V which will help Honda achieving a better economy of scale. Both the factors in-turn will aid Honda to price the Civic competitively. The engines which will be on offer are a 2.0-litre petrol and 1.5-litre diesel.
Also Read: 2019 Honda Civic To Be Locally Assembled In India
2019 Audi A8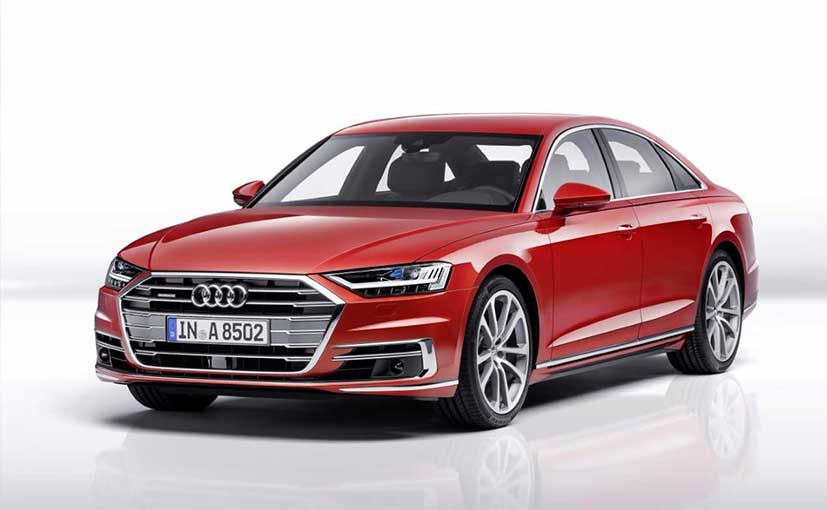 The 2018 Audi A8 has been updated in every aspect and is equipped with some of the highly advanced techs.
When an Audi gets a generation update it's a significant departure from its previous model and that too in almost every aspect and it has done just that in with the fourth generation Audi A8 which will arrive in India in the middle of 2019. It still looks very Audi in essence but has more muscles now which are well shredded. It's 32mm longer and 13 mm taller than the model it replaces and also weighs 100 kg more. Get inside and there is nothing like old or passe now. The cabin has been ubiquitously updated and of course, the dual-touchscreens remain the highlight. The mechanicals, specifically the active AI suspension are very advanced now as they lift up to 40 mm when they sense any side impact and moreover adjust their height and stiffness detecting the tarmac ahead. Speaking of features it has over 40 driver assist features like traffic jam pilot, parking pilot and more. Sadly, very limited of that package will make their way to India just because our regulations do not allow level three autonomous tech. That said, Audi's new flagship gets three engine options globally- a 3.0-litre V6 petrol, a 3.0-litre V6 diesel and a 4.0-litre V8 petrol and the good part is that all of them will come to India.
Also Read: 2018 Audi A8 First Drive Review
2019 Audi A6
The upcoming Audi A6 has grown in dimensions and gets a more prominent face.
To begin with, the update part we just spoke about (it being a significant departure) stands true even here and perhaps it was most needed in case of the A6 just because the competition (BMW 5 Series, Mercedes E-Class and Volvo S90) stand more smart and contemporary now and the A6 looks dated in the lot. However, the fifth-generation Audi A6 will come up to be better equipped and build than all its competitors and based on the MLB platform will be 30 per cent more rigid. Inside the length has been increased by 21 mm, rear legroom by 17 mm and headroom by 8 mm at the front and 11 mm at the rear. India spec model will get a 3.0-litre V6 petrol motor and 2.0-litre, four-cylinder diesel engine.
Also Read: 2019 Audi A6 Review
2019 BMW 3-Series
The new BMW 3-Series looks even sharper and in-line with BMW family face.
The 3-Series is one of the most crucial products for BMW not only in India but also globally as it introduces many to the family. The new 3-Series has now become more in-line to the family design which has gone sharper and is quite reflected in its face, specifically the bumpers and the headlamps. It has also grown in dimensions- 76 mm in length, 16 mm in width and 1 mm in length. The cabin is again a step-up than its predecessor which itself didn't give us any reason to complain. The layout is clean with fewer buttons and a big 12.3-inch screen has taken the centre stage which is connected to the latest iDrive 7.0. Speaking of iDrive, the new 3-Series is a step-ahead than the competitors as the feature list is extensive and it gets a very cool "Siri" like voice-command system which you can also give your personal name. There will be a 2.0-litre petrol motor and a 2.0-litre diesel engine on offer in the new BMW 3-Series.
Also Read: 7th Generation BMW 3 Series Sedan Review
2019 Hyundai Elantra
The 2019 Hyundai Elantra looks edgier and has got some highly advanced safety features.
The 2019 Hyundai Elantra has got a new face which looks even more edgy housing a large grille and sleek headlamps also have LED DRLs integrated now. In fact the side and rear profiles have also been tweaked and there have been changes in the styling. For instance, the rear license plate area has moved to the bumper from the boot lid and the boot integrated duck-tail spoiler looks more prominent now. The cabin of the new Hyundai Elantra is also new and the layout is somewhat similar to the last-generation Audi A4. The top-spec Elantra is equipped with an 8.0-inch infotainment system which supports Apple Car Play and Android Auto. It is also equipped with safety features like forward-collision warning with automatic emergency braking, blind spot monitoring, lane departure warning with active lane control and a rearview camera with cross-traffic alert. Moreover, there are some highly advanced safety features too in the global spec model like Pedestrian Detection and Safe Exit Asist which alerts the passengers of a possible danger situation while exiting the car. The 2019 Hyundai Elantra will get a 2.0-litre petrol engine and 1.6-litre diesel motor which will be mated to a seven-speed dual-clutch automatic gearbox as standard.
0 Comments
Also Read: 2019 Hyundai Elantra: All You Need To Know
For the latest auto news and reviews, follow CarAndBike on Twitter, Facebook, and subscribe to our YouTube channel.