If I were to lend a run-of-the-mill car to someone, only to have it returned with so much as even a dent, I would be mighty pissed. Now imagine lending an exclusive car worth 1 million pound to a friend and getting it back with shredded bodywork. Not a pretty position to be in, eh? Anyway, one bloke is indeed living the nightmare. Gareth Jones, a Scottish gas tycoon, lent his Pagani Zonda GJ to his friends, who ended up crashing the car.
A UK-based website reported that the Zonda GJ was being driven at high-speeds when it came in contact with/ crashed into a steel fence. The result? Extensive damage to its light frame, which is going to cost Gareth a lot of money. That said, there's no word if the car also suffered structural damage. Interestingly, this isn't the first time this baby was crashed.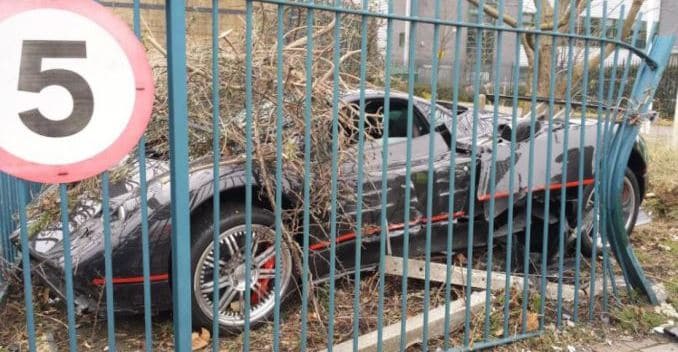 Originally a Zonda S, Mr Jones wasn't behind the wheel the first time the car was involved in a crash in 2009. However, after the first incident, it was sent to Pagani, from where it returned as the special-edition Zonda GJ. If you haven't figured already, GJ stands for the owner's initials.
The Pagani Zonda GJ, as a part of its transformation from Zonda S, received a matte carbon finish, a front wing upgrade, and rear-wheel arches integrated intake scoops among other features. It is powered by a 7.3-litre V12 Mercedes-AMG engine that cranks out a neat 547bhp along with a peak torque of 750Nm.
0 Comments
(Image Credit: Unilad)
For the latest auto news and reviews, follow CarandBike on Twitter, Facebook, and subscribe to our YouTube channel.