Bentley is finally ready with its special Bentayga for the 96th Pikes Peak International Hill Climb. The popular Colorado hill climb race is all set to be held this weekend, on June 24, and the Bentley Bentayga will go for the fastest production SUV record at the event. Two-time Pikes Peak champion, Rhys Millen will be behind the wheel of the Bentayga, driving through the exceptionally challenging 12.42-mile (20 km) course, which features 156 corners and a 4,720 ft climb. Bentley claims that Millen will have to drive at an average speed of a minimum of 60 mph (96.5 km) to achieve its target - to claim the outright Production SUV record.
Commenting on this record attempt, Bentley's Director of Motorsport, Brian Gush, said, "Our preparation for the event has been extremely thorough, and our Bentley Motorsport race engineers have produced a car that demonstrates the Bentayga's inherent potential to the full. It's now up to Rhys to drive the best run possible - but after his performances in testing, we have every confidence in him. The weather is the one factor we can't control so we're hoping for a clear Sunday morning."
4.5 Crore *
On Road Price (New Delhi)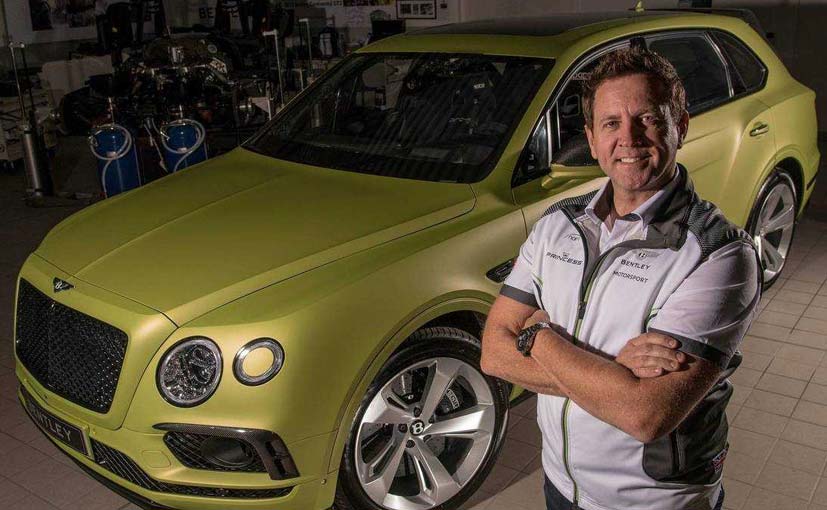 As the carmaker is competing in the 'Production' class category, Bentley was allowed to make only a handful of changes to the SUV, mainly to the cabin. To make its Pikes Peak worthy, the manufacturer has added features a roll cage, fire suppression system, racing seat, and a set of new tyres specially selected from Pirelli's DOT-marked range. In addition to that, as per the rules, the carmaker also had to remove a whole bunch of interior trim for the race which has, mind you, made the SUV lighter by around 300 kg. And all that that weight shedding will sure come in handy.
On the exterior, however, there are minimal changes that include - new Radium Satin paint job with complete with black chrome exterior treatment and a full carbon fibre body kit (front splitter, diffuser, side skirts and aerodynamic rear spoiler). Bentley's partner Mobil 1's branding can also be seen on either side of the SUV.
Under the hood, the SUV runs on the stock W12 6.0-litre engine that belts out about 600 bhp and develops a massive 900 Nm of peak torque, while mated to an 8-speed automatic transmission. Furthermore, the SUV also comes with adaptive air suspension and 48V electric active anti-roll control. Just for your reference, a stock Bentayga, with all its bodily weight, which is 2500 kg, can do a 0-100 kmph sprint in 4.1 seconds, before reaching a top speed of 301 kmph.
0 Comments
Talking about the car and the climb, Driver Rhys Millen said, "We've honed the Bentayga's incredible abilities and ensured we have a car for Pikes Peak that's both safe and fast through two very productive test sessions with the Bentley Motorsport team. The course is one you can only attack with a car that can gain and lose speed very quickly because it's so tight and twisty. The combination of 600 bhp, 900 Nm and carbon ceramic brakes means that the Bentayga can accelerate and decelerate incredibly hard - and that's what I'll be counting on for my run. I can't wait to get started at the mountain later this week."
For the latest auto news and reviews, follow CarandBike on Twitter, Facebook, and subscribe to our YouTube channel.