The ongoing Auto Expo 2018 has turned out to be quite an eventful one, especially for the two-wheeler space. Along with a host of launches and unveils, this year we even got to see a bunch of new and exciting concept models, many of which are expected to enter production in near future. Right from established players like TVS and Honda to new start-up companies like Emflux Motors, we saw several manufacturers unveil a host of new concepts at the Motor Show. And here are the top five concept motorcycles and scooters from the Auto Expo 2018.
Emflux One
Designed and developed by the Bengaluru-based Emflux Motors tech start-up, the Emflux One is India's first electric superbike. Powered by a powered by 9.7 kWh Lithium-Ion high power cells sourced from Samsun, with a 60 kW AC induction motor. The electric motor offers a maximum power limited to 53 kW (71 bhp) from the controller and develops a peak torque of 84 Nm at 8400 rpm. The Emflux One comes with a top speed of 200 Kmph and can go from 0-100 kmph in 3.0 seconds. The battery offers a maximum range of 200 km when ridden under controlled city speeds and 150 km when ridden at 80 kmph, which is suited for the highways. The battery can be fully charged in 3 hours from a regular 15A wall charger, but with Emflux's WARP fast charger 80 per cent of the battery can be charged in 36 mins.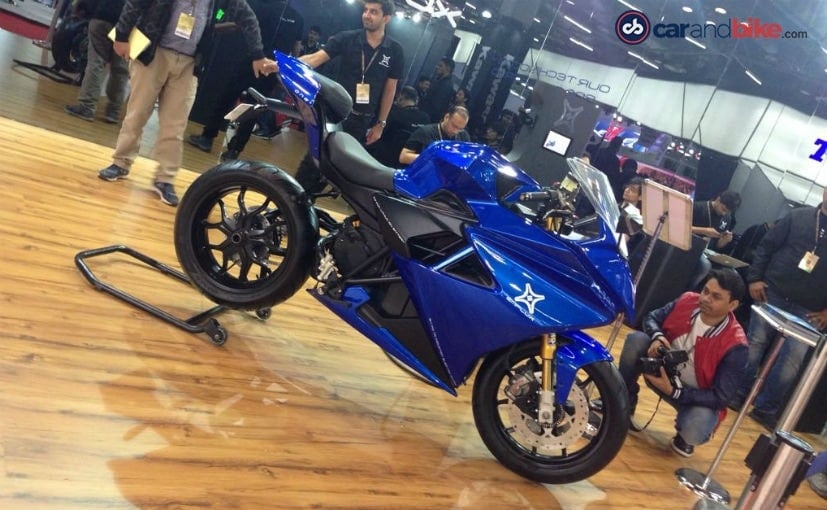 The Emflux One is India's first electric superbike and packs offers a range of 200 km
The Emflux One is a full-faired electric superbike with top-of-the-line components like Brembo brakes with dual-channel ABS, single-sided swingarm, Ohlins suspension and fully connected smart dashboard with artificial intelligence capabilities. The pre-orders for the Emflux One will start in July 2018, with the first deliveries to begin in April 2019.
TVS Creon
The Chennai-based TVS Motor Company also had an impressive electric two-wheeler concept to showcase at the Auto Expo 2018. Christened the TVS Creon, it's a new performance-oriented, electric scooter concept with bold and stylish character. The new Creon concept features TVS' next generation electric motor which can accelerate from 0-60 kmph in under 5.1 seconds and is claimed to have a range of 80 km. The TVS Creon is powered by three lithium-ion batteries which are capable of delivering 12 kW (16 bhp) of instantaneous power. The battery can be charged to 80 per cent capacity in just 60 minutes.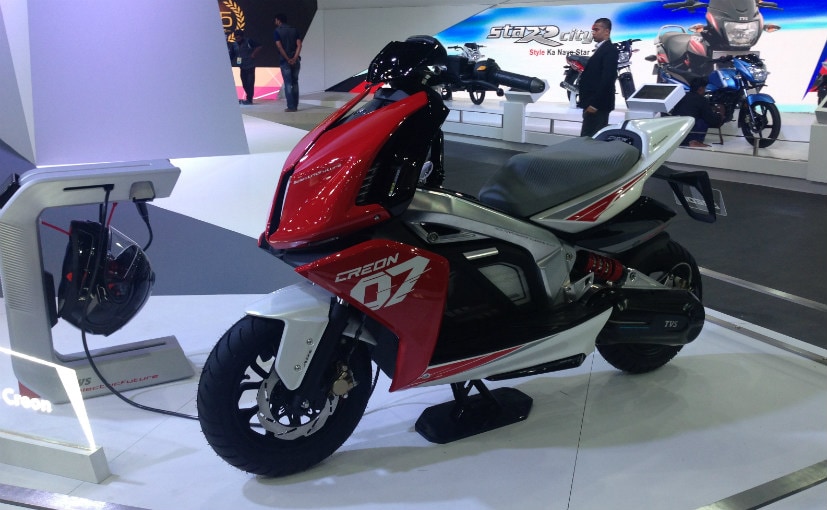 The TVS Creon is a performance-oriented, electric scooter concept
Visually, the TVS Creon looks a bit futuristic with its sharp and edgy design, which is further accentuated by the dual red-white paint scheme. The scooter gets a pair of smart-looking alloy wheels a single-sided swingarm, LED lighting and more. While the company hasn't mentioned when the concept will go into production but, from all indications, TVS will be soon looking to launch an electric scooter based on the Creon.
TVS Zeppelin
Another major surprise from TVS' pavilion at the Auto Expo 2018 was the all-new TVS Zeppelin cruiser motorcycle concept. It is the first time that TVS has shown use a cruiser bike and very interestingly, it comes with a smart hybrid powertrain. The new TVS Zeppelin shown at the Motor Show was powered by a 220 cc engine paired with 1,200-watt regenerative assist motor with a 48-volt Li-ion battery. This, TVS says, adds to the overall performance of the bike and offers 20 per cent more torque when needed. The bike also gets an integrated starter generator or ISG, which helps the bike to start quickly, giving it a boost.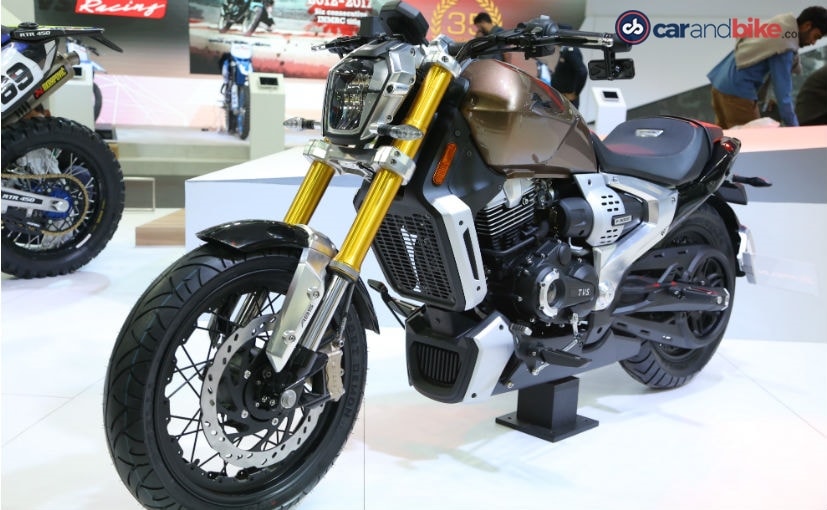 The TVS Zeppelin concept cruiser comes with a hybrid powertrain and is the first cruiser from TVS
Visually, the TVS Zeppelin looks muscular and bold, flaunting some chiselled lines on the fuel tank to add that macho look. The bike also gets USD (up-side down) forks, up front and monoshock at the rear, assisted by dual-channel ABS and the final drive of the bike is via a belt as opposed to a chain. Other features of the bike include LED headlamps, a bio-electric key, digital speedometer, online connectivity and an HD-action camera, mounted on the headlamp nacelle as well, which can give you Go-Proish shots while riding.
Honda PCX Electric Scooter
It was at the 2014 Auto Expo that we saw the Honda PCX-150, while the scooter never made it to the Indian market, now the Japanese two-wheeler maker has graced us with an electric version of the PCX. The new Honda PCX comes with swappable battery packs so that you can go longer and spend less time charging. The Honda PCX comes with a 0.98kW electric motor that is powered by a detachable lithium-ion mobile battery pack. The company has named it the Honda Mobile Power Pack, which has been developed independently.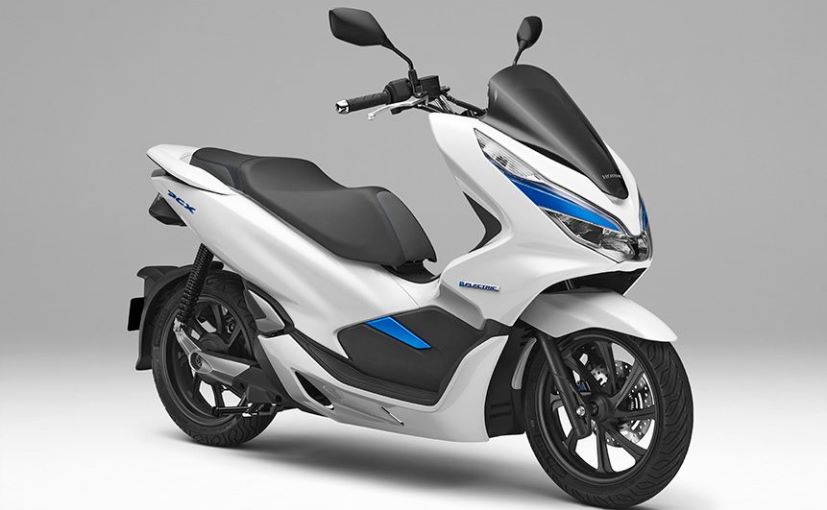 As of now, the scooter is here just to be showcased and Honda has shown no signs to indicate that the scooter will be launched in India anytime soon. In fact, last time we spoke to the company, Honda 2Wheelers India has told us that the company has no immediate plans to launch an electric two-wheeler in India. The production version of the new Honda PCX electric scooter might go on sale in other Asian markets, like Japan by the end of 2018 or early 2019.
Vespa Elettrica
Another interesting concept or rather a pre-production electric scooter we saw at the Auto Expo 2018 was from the Italian two-wheeler maker Piaggio, who pulled the wraps of the Vespa Elettrica. The Vespa Elettrica has already made its global debut at the EICMA show last year and now it has come to our shores. Globally, Piaggio is expected to commence the production and sale of the Vespa Elettrica in the European markets later this year, but as of now, there are no plans for India.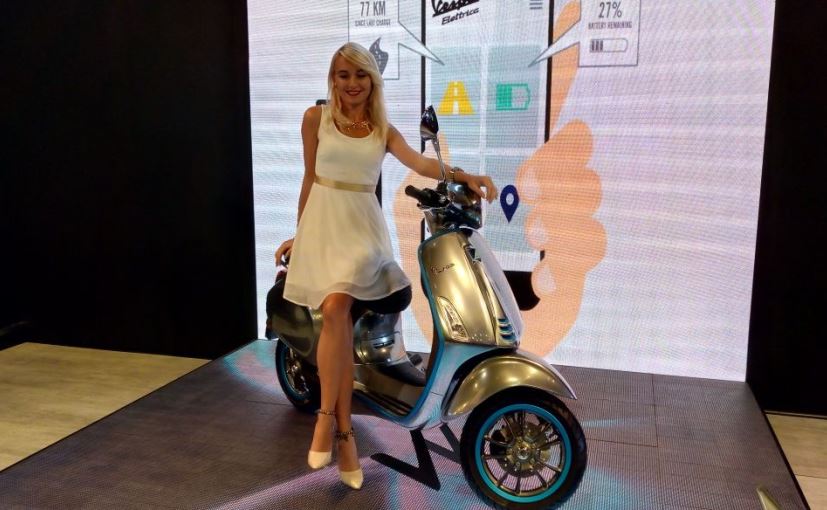 0 Comments
The Vespa Elettrica comes with an electric motor powered by a 4.2 kWh Lithium-ion battery that offers a maximum power of 4 kWh (5.4 bhp) and develops 200 Nm of peak torque. The Vespa Elettrica will be offered in two variants - the standard version with a 100 km range and the Elettrica X with over 200 km range. The scooter has two riding modes - Eco and Power - with the Eco mode limiting the top speed of the scooter to just 30 kmph. There is also a 4.3-inch TFT dash displays a lot of information and interactive options, including notifications of incoming calls and messages, as well as speed, residual range and remaining battery charge.
For the latest auto news and reviews, follow CarAndBike on Twitter, Facebook, and subscribe to our YouTube channel.