It was back in February this year that we told you about the Google Lunar XPrize. Now we hear that Audi is supporting the German engineers in the Part-Time Scientists team, which is working within the Google Lunar XPrize competition to transport an unmanned rover on the moon.
Audi is supporting the Part-Time Scientists with its know-how in several fields of technology - from quattro all-wheel drive and lightweight construction to electric mobility and piloted driving.
Prof. Dr. Ulrich Hackenberg, Audi Board Member for Technical Development said, "We are pleased to support the project with our know-how in lightweight technology, electronics and robotics."
Audi will look into optimization of the rover of the Part-Time Scientists. This is the only German team competing for the Google Lunar XPrize and has already been awarded by a jury of aerospace experts with two Milestone Prizes.
The vehicle developed by the Part-Time Scientists is largely made of aluminum. There is an adjustable solar panel which captures sunlight and directs it to a lithium-ion battery which feeds four electric wheel hub motors.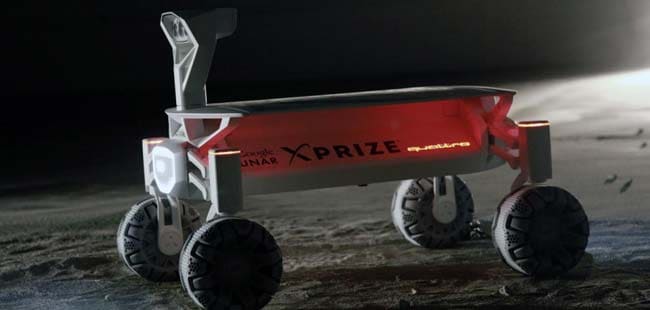 At the front are two stereoscopic cameras as well as a scientific camera that examines materials. The theoretical maximum speed it can reach is 3.6 km/h and will be capable of doing some off-roading on the surface of the moon.
The lunar vehicle with the Audi lunar quattro should launch into space in 2017 on board a launching rocket and will travel more than 380,000 kilometers to the moon. The trip will take about five days and the vehicle will land to the north of the moon's equator, near the 1972 landing site of the Apollo 17, NASA's last manned mission to the moon.
0 Comments
For those who don't know about the Google Lunar XPrize; well it's a competition which will be worth 30 million dollars which challenges and inspires engineers and entrepreneurs from around the world to develop low-cost methods of robotic space exploration. To win the Google Lunar XPRIZE, a privately funded team must successfully place a robot on the moon's surface that explores at least 500 meters and transmits high-definition video and images back to Earth.
For the latest auto news and reviews, follow CarAndBike on Twitter, Facebook, and subscribe to our YouTube channel.