Audi India, today, launched its most powerful and fastest-road car, the R8 LMX, at Rs 2.97 crore (ex-showroom, Delhi/Mumbai). Other than the massive power it unleashes, what makes it an even more special model is the fact that it is the first production car with laser high beam lighting in India. That said, the upcoming BMW i8, expected to be launched in the first quarter of CY 2015, will be the second car in India to feature laser head-lights. The company will sell only 99 units of the R8 LMX globally.
Powering the R8 LMX is a 5.2-litre V10 engine, that mated to a seven-speed S Tronic gearbox, churns out a whooping 570bhp and a peak torque of 540Nm . The car sprints 0-100kmph in just 3.4 seconds, while hitting the top-speed of 320km/h.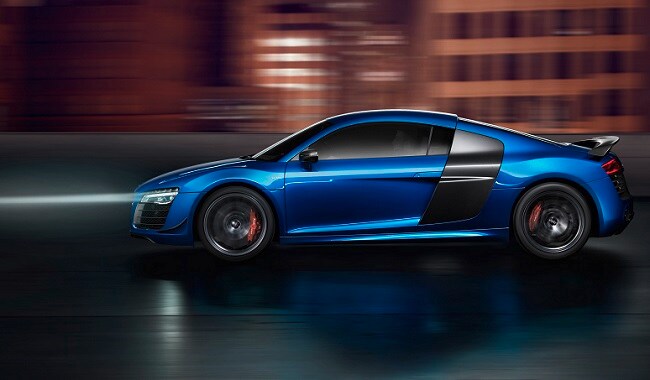 "What better way to celebrate another record year at Audi than bringing in a car which denotes our claim of "Vorsprung durch Technik" - the new Audi R8 LMX. The combination of LED and laser high beam lighting was used for the first time on the new Audi R18 e tron quattro at the 24 Hours of Le Mans last year. Audi is thus continuing its tradition of using racing to test new technologies destined for production. The limited-edition Audi R8 LMX is the first production car in India to come equipped with laser high beam lighting, a particularly brilliant innovation integrated in a sports car. The Audi R8 LMX thrills with intelligent lightweight engineering, impressive design and breathtaking driving performance right from the word go. The Audi R8 LMX is beautiful to look at and marvelous to drive. We are positive that the Audi R8 LMX will excite Audi enthusiasts and add more fans into the ever-growing Audi fan base," said Mr. Joe King, Head, Audi India.

Also Read: First Drive: Audi R8 LMX
"Audi has always been at the forefront in lighting technologies. Audi was the first luxury car manufacturer to bring LED headlights in India. Last year, we introduced Matrix Headlamps in our flagship model, Audi A8 L - again a first by any luxury car manufacturer in the country - direct evolution of Audi's signature LED headlights delivering a phenomenal 966,105,422 different illumination configurations. The introduction of the laser headlight to the Audi R8 LMX underscores our leading position in lighting technology," added Mr. King.
For the latest auto news and reviews, follow CarAndBike on Twitter, Facebook, and subscribe to our YouTube channel.