It seems that at every important global motor show, JLR has some news that will get our attention. It goes back to the unveil of the DC100 concept at the 2011 Frankfurt Show - which pointed to a new Defender line-up. And now its the turn of the Discovery Vision Concept, on the eve of the New York International Auto Show that's got me talking.
Last year I was witness to the same show being the launch-pad for the Range Rover Sport - and no less than Mr James Bond himself drove the car in to the big reveal event at the Penn Station in downtown Manhattan. So how do you top that? Well quite simple, you get a ship - not any old ship, but a US Navy Aircraft Carrier, get on to the Hudson River, marry in a tie-up with a space-flying plane, add some pizazz by throwing Richard Branson into the mix - is this sounding good so far? Yeah I thought so!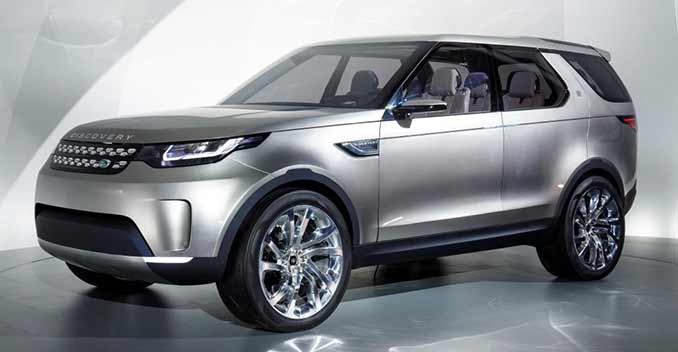 I will get to why Virgin Galactic was at the show, first let's talk about the car. What we are being shown now folks is a Concept that indicates a future 'family' of vehicles. Land Rover began this journey towards a modern fleet with the Range Rover Evoque in 2011, followed that up with that up with the new generation of the flagship - the mighty Range Rover itself in 2012, and finally the new Sport I referred to in 2013.
All three cars have won acclaim, awards (including NDTV's) and are racking up sales worldwide. So with the top half of the family taken care of, it was time to get cracking at the utility and leisure end of things. So as expected we get this concept. The new family of vehicles will include new additions of course, and the first of those will be announced in just under 24 hours at the JLR press conference at the New York International Auto Show.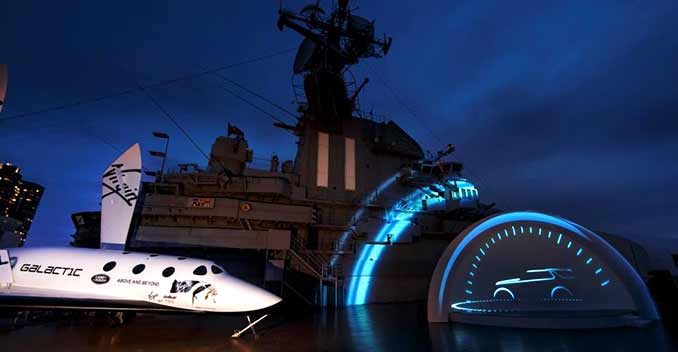 But what the concept points to is a step up in terms of quality, features and technology, and looks that show a definite relation to the Rangeys. Now to me that is a bit surprising - the extent to which the family look is being carried over. And so I hope when the production models come, they will bear a distinct identity that separates them from the Range Rovers - looks wise.
But having said that, the concept looks agile, near-production ready frankly, and very sharp. Design elements such as the stepped roof have been carried over, but the focus has been on versatility as well says the company. Gerry McGovern heads the design department at LR, and says, "The Discovery Concept vehicle represents a Vision of our future family of leisure SUVs. Its modern, relevant and compelling design is a significant shift from Discovery as we know it, while well considered practicality, configurability and Land Rover's capability seamlessly blend to create a highly desirable vehicle that connects on an emotional level."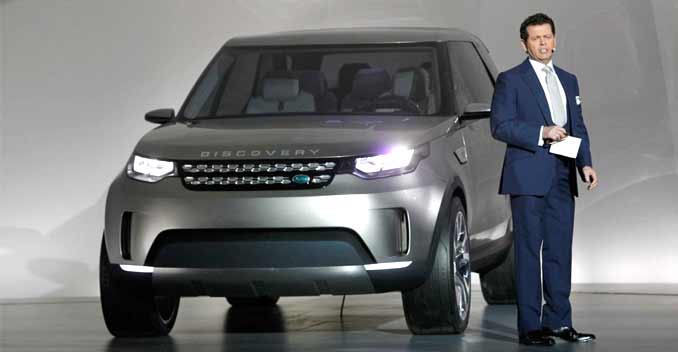 There are more things to talk about on-board the concept though. Land Rover is revealing a slew of new technology applications that its future vehicles (not just the Discovery) will get.
The Discovery Vision Concept has the next-generation of Human-Machine Interface technology - so you get smart-glass that allows all windows and windscreens to be an interface for augmented reality systems. There is also connectivity to the outside world, and between passengers with video conferencing options, and the ability to operate car systems through gesture controls.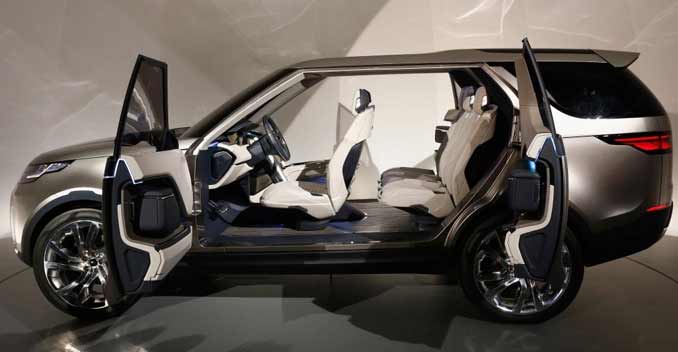 Object-tracking and beam-dipping headlights are powered by laser light technology - similar to what we saw from Audi recently. The car also uses actual laser beams to help guide and navigate terrain and tight gaps. Land Rover is also showcasing the next-generation of its patented Terrain-Response system. But what fascinates me is the use of cameras to show you what the car is driving over - literally the portion usually hidden under the hood of the car as you drive. This is projected by means of a head-up display onto the windscreen, so you see more of what lies before you and it's like having a transparent hood.
Lasers are also employed by the new 'Wade Aid' sensory system that will tell you the depth of a water body before you attempt to traverse through it, ensuring you don't go deeper than you should.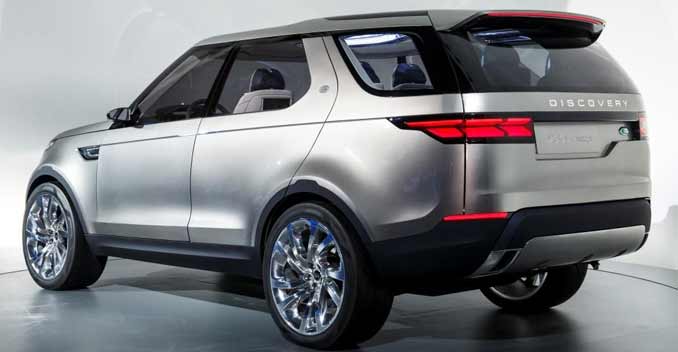 And if that wasn't enough to get you impressed, you also get seats that can be configured into various seating patterns, and all through a touchscreen menu interface. The car can go from the standard seven-seat layout to a six-seat, five-seat or even a four-seat option!
Okay a quick word on the tie-up with Virgin Galactic. Yes that's the same once-seemingly hare-brained scheme from Branson that envisioned commercial space flights for passengers. Now closer to reality, SpaceShipTwo, the world's first commercial passenger carrying spacecraft, was displayed alongside the Discovery Vision Concept. The idea is that once the programme gets under way, all the future passengers will use Discovery vehicles, when they arrive for training and their actual departure into space - at Virgin Galactic facilities in New Mexico, USA.
So if Land Rover's aim was to impress and shout out a new vehicle family line - it seems to have certainly achieved that. And here we thought this year would belong to Jaguar with the F-Type Coupe coming to market, and the soon-to-be-revealed XE sedan. While we look forward to that sedan at the Paris Motor show later in the year, I will initially be looking to tomorrow's announcement of the first Discovery product that we can expect to hit markets in 2015.
From the looks of things, JLR will be keeping us interested and busy for some months to come. And it's all happening at the right time for the two brands. Just as rivals like BMW are also looking to expand vehicle lines, segments and technologies. And what could possibly be boring about that right?
For the latest auto news and reviews, follow CarAndBike on Twitter, Facebook, and subscribe to our YouTube channel.