Racing drivers are fit. Automotive journalists for the most part are not. Considering the fact that most of us drive around the whole day and then sit in front of a laptop to tell you how the car (or bike) felt leaves little time to get out and actually exercise. But mostly, we are all a bunch of slightly spoilt, lazy fellas who love their respective food and drink and of course love our cars and bikes. In fact, most of us do find any excuse to ride or drive even if our actual commute is a just few hundred meters. So when we got an email invitation from Maruti Suzuki to join them in a cricket match, some very worried faces were noticed at the Car And Bike office.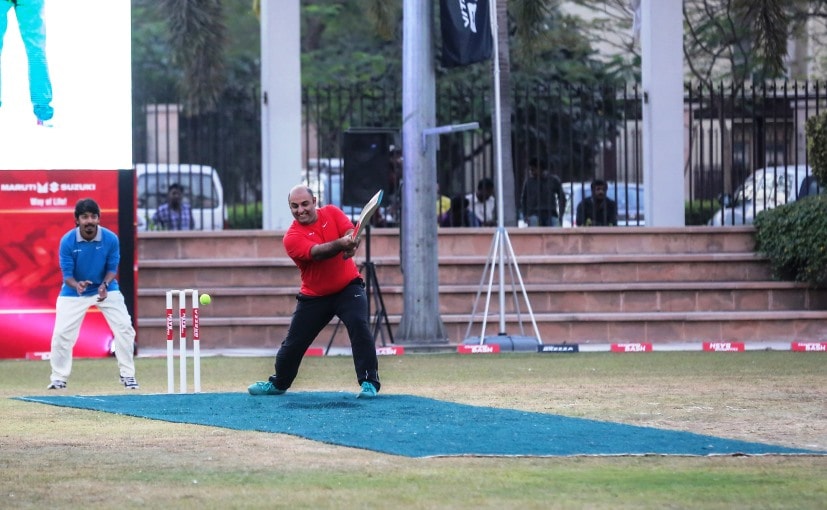 When asked who plays cricket, everyone simply put on their headphones and decided to ignore the question - as answering it would mean a degree of physical exercise and running about. But after much ignoring the elephant in the room, a couple of us had to take one for the team. So Ronak and I bundled ourselves into a car and drove to the Jaypee Sports Complex on the outskirts of Delhi all the while wondering how much physical activity we would have to do. Worried faces and hushed conversations ensued through the journey only to be met with a sigh of relief when we found of that we would be joined by our equally unfit colleagues from other media houses. And so we were herded into two teams, given a bunch of sports wear and sent off to the changing rooms to get ready for our match. And we still had no idea what we were getting into.
8.79 Lakh *
On Road Price (New Delhi)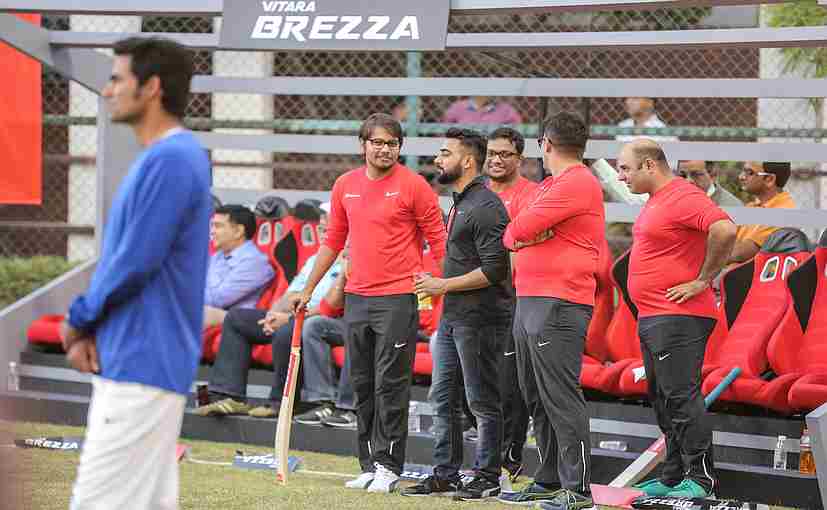 As we stumbled out of the dressing rooms dressed purposefully in our team colours, Red or Blue - track pants and tight dryfit t-shirts galore, the unfit-ness, which was embarrassing at first turned into a mass of giggles. Everyone clearly had some high 'unsprung mass' in all the wrong places making sure that our 'kerb weights' affected our 'power to weight ratio'. But why were we here and why were we dressed in a blue-white or a red-black combination? Well, mainly because we were about to play a game of friendly (yea right) cricket, with and against some of our media colleagues in order to celebrate the huge success that the Maruti Suzuki Vitara Brezza has been. And since you can actually buy a Brezza in a blue-white or a red-black combination right out of the factory, what better team colours than that.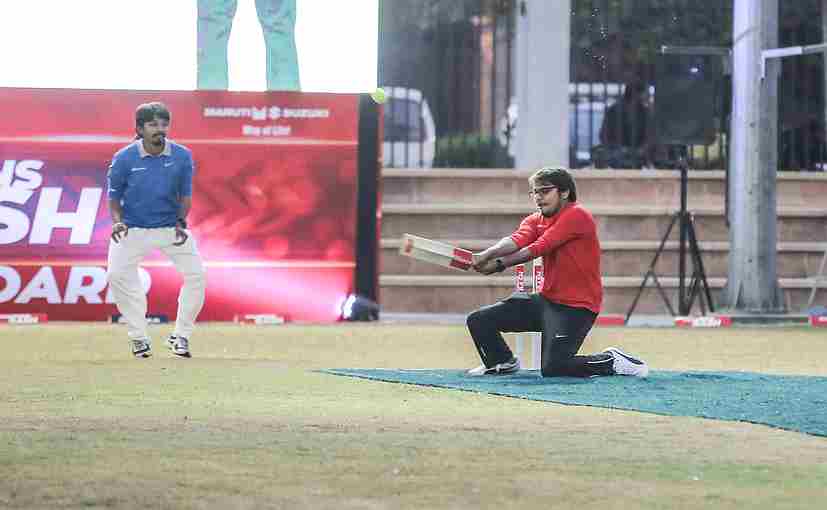 Of course, the game of cricket was quite entertaining, for both us players and the people watching - where else would you see your rather portly scribe actually run around a field trying to stop a tennis ball on its way to scoring four runs! We were joined by some cricket legends, namely, Mohammed Kaif and Ashish Nehra and even though they did seem quite out of their element playing with us utter amateurs, their sense of love for the game and overall sporting spirit was definitely quite admirable.
The team we represented, Team Red, won the game by the slimmest of margins with some stellar performances by most. But thank god for our day jobs as clearly, all of us would have been horrible cricketers.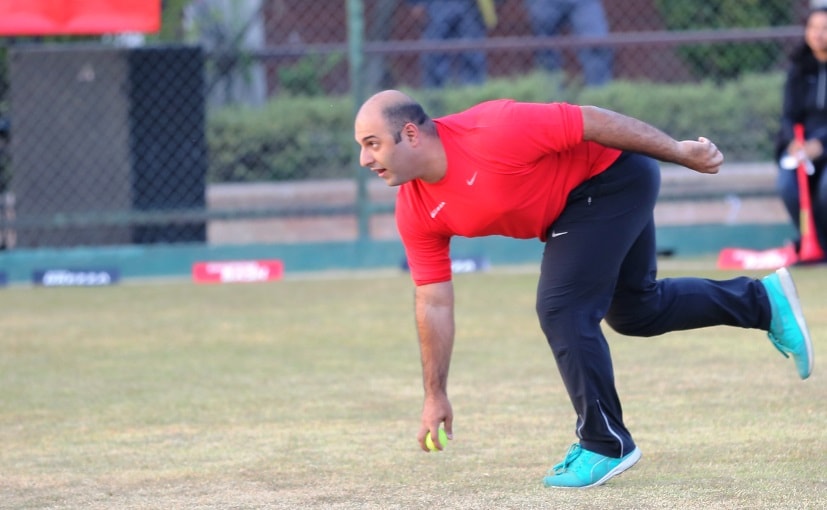 But now let us get to why we were actually there.
Maruti Suzuki
, apart from sending us an invitation to play this game of cricket also sent us an invite to use the new iCreate software and customise a Vitara Brezza. Post the match - if we survived it - the car would be shown to us in the flesh exactly how we customised it on the website. Of course, blue being one of our official Car And Bike colours, we gravitated towards the blue and white car in the first place and went on to customise it both inside and outside adding some cool little bits like flared wheel arch extensions, body graphics and some bumper accents to make our Brezza stand out from the crowd of over 80,000 compact SUV that Maruti have already sold since the launch in March earlier this year. Of course, considering the limited number of cars that Maruti can make every month even at full capacity, waiting periods do exist and with total booking crossing 1.72 lakh in about 8 months from launch, the Brezza has been a runaway success for the juggernaut automobile manufacturer.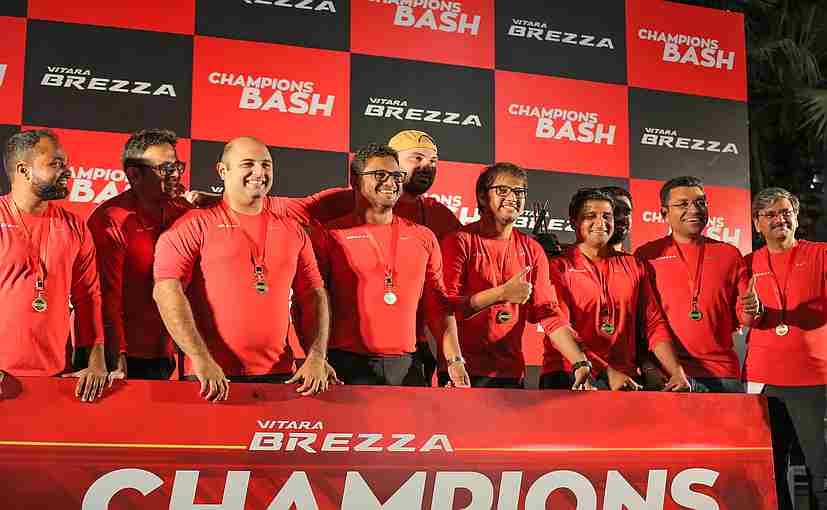 0 Comments
Customisation is a good thing in our opinion. Not only does it offer the chance to a young customer to get a slightly unique vehicle that stands out from the crowd but more importantly, if gives that customer a chance to own a one-off car without the hassles of going to a third party vendor to do the work. Also, considering the fact that most consumers don't mind spending that extra amount of money at the time of purchase instead of spending it later, the chances of more and more people opting for the iCreate program for the Vitara Brezza looks promising. Now we haven't actually gone all-out crazy since we were given a fixed budget to spend on the customisation, but the car we have configured is pretty much as close to what I would have spec'd up to if I was in the process of buying a Brezza. So stay tuned and we will tell you all about what we have on our refreshed Vitara Brezza very very soon.
For the latest auto news and reviews, follow CarAndBike on Twitter, Facebook, and subscribe to our YouTube channel.