The 2018 Dakar Rally reached half time completing Stage 6 with both Indian teams showing decent progress over the day. Hero MotoSports rider CS Santosh was back in action mode traversing through the high altitude region as he completed the stage in 38th position and 56th overall. Teammate and Dakar rookie Oriol Mena did considerably better finishing the stage in 23rd place and 21st overall. Sherco TVS' lone surviving rider Joan Pedrero, however, led the Indian contingent as he went on to complete Stage 6 in 16th position and 15th overall.
Also Read: Dakar 2018: TVS Sherco Rally Team's Aravind KP Crashes Out In The 5th Stage
Unpredictable weather played the real cards yesterday and the first part of the 6th stage from Arequipa to La Paz had to be cancelled owing to bad weather and foggy conditions. The revised 6th stage was limited only to a 194 km of timed section from the original planned stage of 313 km with the riders tackling everything from snow, freezing temperatures and rain, at an altitude of 4800 metres.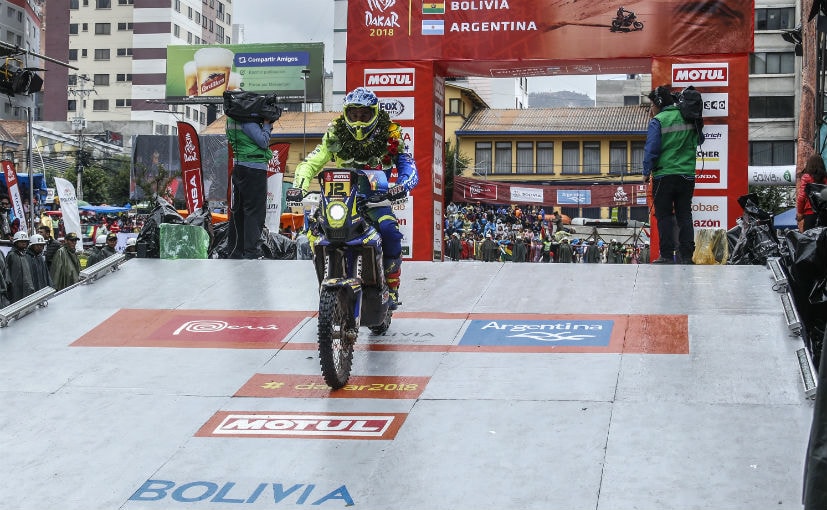 With a well-deserved rest to look forward to, Hero rider CS Santosh said, "Bolivia has always been the turning point in the Dakar. It was really cold start in the morning and a very long liaison, and then it started to raining making things worse. We didn't have dust today so I knew it was my best chance to pass a few guys and I tried to make the most of the opportunity. Overall good day and I brought the bike home. Now we rest for one day and then get ready for the final leg of the Dakar".
Also Read: Dakar 2018, Stage 4: Aravind KP Dropped To 33rd; CS Santosh Recovers To 56th Despite Crash
With consistent progress, Sherco TVS rider Joan Pedrero said, "I am very happy to be back on track in Bolivian territory. I feel good and for me, the race starts now. I am going to attack as much as possible and make up some places. It was very difficult in Peru, but now we have returned to Bolivia and I will be able to give it my best!"
Meanwhile, Aravind KP is recovering from his nasty crash of Stage 5. The Indian rider had to cut his Dakar run short this year as well after a crash broke his ankle. Nevertheless, KP is making good progress to recovery and said, "Post yesterday's crash, I am feeling better now after getting medical attention. I would like to thank all my fans and well-wishers for their love and support all through Dakar."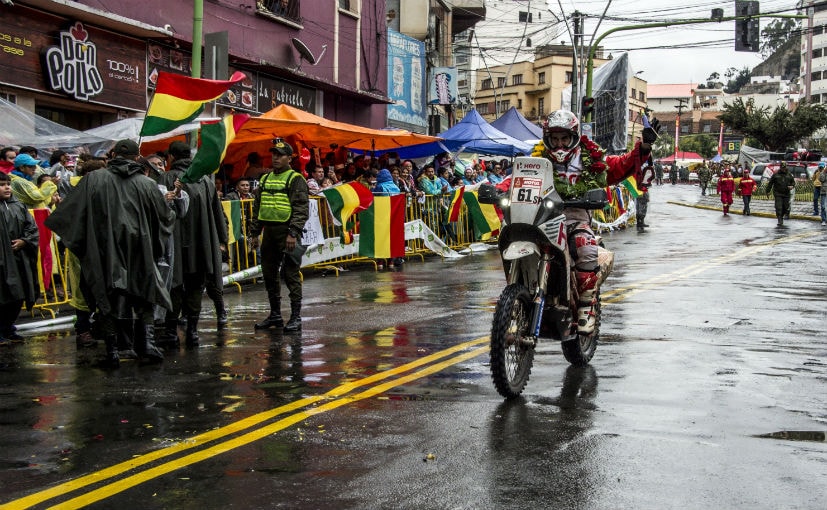 Also Read: Dakar 2018, Stage 3: CS Santosh Drops To 56th After Fuel Blunder; Aravind KP Finishes 29th
Aravind will need surgery for his ankle once he comes back to India. Prior to KP, Sherco TVS also lost Adrien Metge on Stage 2 after injuries to his shin. At the Hero camp, Joaquim Rodrigues is out of contention after a nasty crash in the opening stage.
With 8 stages to go, the 2018 Dakar rally will move from La Paz to Uyuni on January 13. This will also mark the rally's first marathon stage of 425 km. The regulations in this stage do not allow riders to receive any assistance from the crew at their overnight halt at Uyuni.
Also Read: Dakar 2018, Stage 2: CS Santosh Drops To 28th; Aravind KP To 32nd
0 Comments
The next stage will move the rally from La Paz on 13th January for its 1st marathon stage of 425 km to Uyuni. As per the regulations, the riders will not be able to receive any assistance from the crew at their overnight halt at Uyuni and will be on their own.
For the latest auto news and reviews, follow CarAndBike on Twitter, Facebook, and subscribe to our YouTube channel.