SsangYong Motor - a Mahindra group company has unveiled the Tivoli - a compact SUV, in Seoul. Mahindra Group Chairman Anand Mahindra joined M&M's President, Automotive division Pawan Goenka, and SsangYong Chairman Yoo-Il Lee at the launch. The car is based on the XIV-Adventure concept that SsangYong had showed at the 2014 Paris Motor Show. This is based on the same new shared-compact-platform that will also spawn Mahindra models in India this year as well. The Tivoli is also expected to be brought to the Indian market once the right-hand-drive version is readied by mid-2015. SsangYong says the new platform will help it add 100,000 unit sales - which exhibits how crucial the Tivoli as the first offering is to SsangYong's turnaround strategy.
The Tivoli is the first new model from SsangYong in years, and features a host of new bits - including a new 1.6 litre petrol powertrain and new transmission. The part that interests me is that it is also built differently to other SsangYongs, with over 70% of its body being made up of high strength steel. Further safety enhancements on board come from 7 airbags and ESP. It is going to be positioned below the SsangYong Korando in the company's portfolio. SsangYong has invested 350 billion KRW (Korean Won) to develop the car, over 3 and a half years.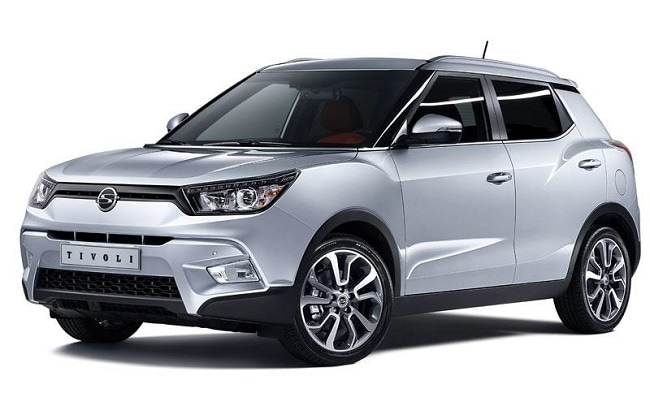 The car looks modern and attractive, emulating the design of the XIV concepts. It also makes good use of the wheelbase (2600 mm), with cabin room being maximised. SsangYong claims the Tivoli is widest in class at 1795 mm. Inside the cabin, the design is fairly fresh, with touch screen controllers and car-type switches. The interior trim is available in three colours - black, beige and red. The car also has a flat-bottomed steering wheel for a sporty appeal. The second row of seats folds down fully to offer extra cargo space.
Engines at launch in Korea will be led by the new e-XGi 160, a new engine that is the result of three years of development. It offers 124 bhp and 157 Nm of torque. Claimed fuel economy figures are 12.0 kmpl for the automatic variant and 12.3 for the manual. The Tivoli has the optional 2nd gen AISIN transmission, which SsangYong claims is as efficient and quick as a dual-clutch box. We will have to wait to test that claim when we drive the Tivoli.
Prices for the Tivoli in Korea start at 16.3 million KRW, which is about Rs 9.3 lakh. So this makes the Tivoli very enticing for us in India doesn't it? It is 4195 mm in length, which means Mahindra would need to plan to shave off around 200 mm on the version it plans for India, to gain the small-car excise duty benefit. Stay tuned for more on the Tivoli and it's India plans!